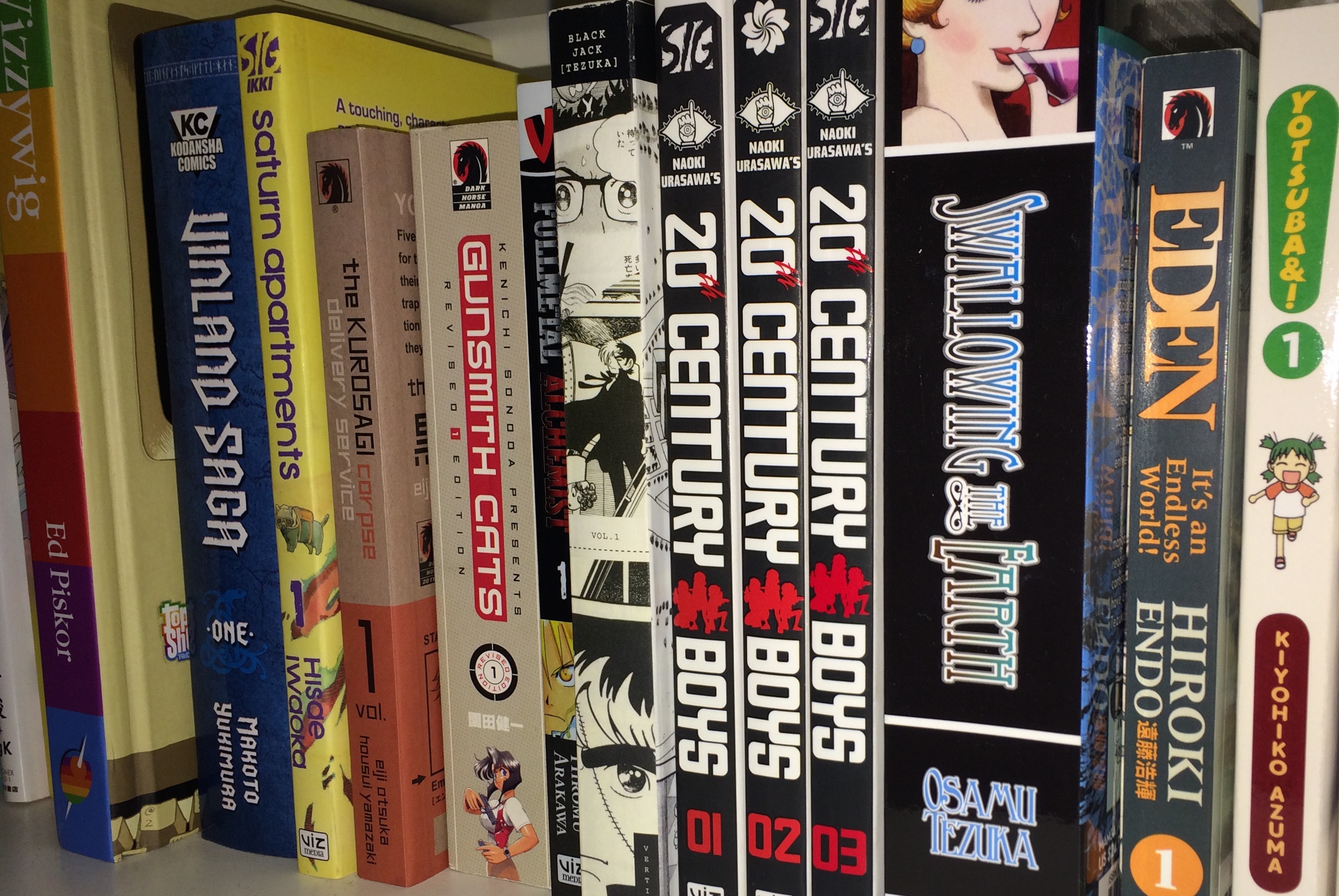 Marvel's "Endgame" victory lap and its unveiling of "Phase 4."  The future of "The Walking Dead" on TV and on film. The final "Game of Thrones" panel with the cast.  I went to none of the panels that featured these things. As is the case with all of the Comic-Cons that I attend, my focus is generally on one thing only:  The Comics. So I went to a lot of panels featuring comic creators, publishers of comics and manga, manga critics/fans, and even those offering scholarly analysis of manga and manga-influenced titles.  Were they any good? Yes and no. Find out which was which below.
IDW Publishing:  The Next 20 Years
Editor-in-Chief and "Transformers" writer James Roberts led this panel which was more about the company's offerings for the next year than the next twenty.  Still, it was an informative look at IDW's mix of creator-owned and licensed titles with such oddballs as "Star Pig" and "Wellington" being mentioned before news of the latest "G.I. Joe" relaunch, a new "Addams Family" adaptation to go along with the new movie, and a miniseries based on the videogame "Read Only Memories."  Oh, and Roberts reiterated the news that Rob Liefeld would be doing a "Snake Eyes" comic which is either an inspired pairing of creator to material, a new kind of creative bankruptcy, or both. More to my liking was the announcement that Joe Hill and Gabriel Rodriguez would be reuniting for a new "Locke & Key" one-shot called "Nailed It" next year, while Hill and "Punk's Not Dead" creator Martin Simonds were also mentioned to have a new project to debut this winter.  The teaser image featured a microphone spotlighted on what looked to be a bloody stage with the creators' names on it. It's scarce info to go on, but Hill's comic work has always been strong so this is worth keeping an eye on.
Image Comics:  Bestselling Horror Comic Books
Even though I went to a panel like this last year, I decided to attend the 2019 version this year.  Why? Because this year's edition had Kieron Gillen as one of its panelists.  His contributions didn't disappoint as he started off by making a joking response to the moderator's lengthy and difficult question about how the panelists approach horror on the page.  Immediately after making that remark, he realized that he had committed himself to giving a proper response to it. Gillen's responses were obviously the most fun for me here, but the other panelists also had interesting things to say as well.  "Infidel" writer Pornsak Pichetshote had some interesting things to say about what it means to put a horror protagonist through hell. He noted that the reality of what he was going to do to "Infidel's" protagonist didn't become real until artist Aaron Campbell delivered the first illustration of her.  "Bitter Root" co-writer Chuck Brown also noted the importance of research in writing, while also noting that it was the best and worst part about writing his series. While there was plenty of stuff in the Harlem Renaissance to enthrall him, there was also a lot that had him take long breaks to decompress as he read more about it.
DC:  Tom King
Given the reception that his "Batman" and "Heroes in Crisis" runs have had over the past year, you'd be forgiven for believing that the writer would be in for a hard time at his spotlight panel.  This was something that the moderator touched on, along with King himself and his effective co-panelist, artist Mitch Gerads. Yet when people came up to ask him questions they were generally supportive of the creative choices he made in those titles.  That was honestly surprising, considering the amount of vitriol surrounding the writer's treatment of Wally West in "Heroes in Crisis." Maybe it's a sign that the furor is only down to a few aggrieved fans, or just not important enough for people to call the writer out on in public.  It was an entertaining panel overall, with King proving to be a profanely funny and engaging presence. I'm also sure his anxiety about the upcoming Eisner awards was also assuaged when he wound up winning four, including best writer, at the ceremony on Friday.
Skybound:  In Conversation With Robert Kirkman
Basically a spotlight panel for the writer and probably the highlight of the convention for me.  Kirkman has always come off as an easygoing guy whenever I've seen him speak and this time was no exception as he strode out onto the stage in a red-and-white buttoned shirt and jeans.  He said hello to the audience and nervously asked them if they'd heard any interesting news lately. Specifically, anything that would give them cause to be angry at him. But the crowd got a laugh his statements and Kirkman quickly relaxed and began the Q&A session.  The questions were wide-ranging from the origins of the comic and the writer's infamous pitch, to how much input he has on the TV show, and to whether or not he'd ever consider going back to the series again. In a specific response to that last one, Kirkman said that his way back into the world of "The Walking Dead" was Negan since he was explicitly left alive at the end of the series.  The writer said that he'd think about revisiting the series if his career suddenly starts tanking when he turns 42 (Spoiler: He's almost 42).
I also got to ask Kirkman a question too.  It started out as a general one about how he avoided tropes and convention over the course of the series before he was interrupted by the previous questioner who needed him to explain to his girlfriend who Ed O'Neil was.  When he came back to me, I asked Kirkman if there was one part where he found it really challenging to break with convention. He picked Abraham's death, which was originally planned to close out an issue. Realizing that's how most deaths have gone down, Kirkman decided to kill him off in the first third.  Which made for a more shocking and surprising exit for the character in my opinion.
Manga Publishing Roundtable
From the highlight of the convention to the lowlight.  Not that the information provided by the representatives of companies such as Viz, Kodansha, Yen Press, and Denpa was uninsightful.  All of them had plenty of interesting things to say about trends in the marketplace, how to market a title, and the ever-present menace/nuisance that is scanlations.  I would've loved to have heard them talk more about these things, and they absolutely could've. That is, if they hadn't spent TWENTY-FIVE MINUTES -- nearly half of the panel's length -- on their own introductions and recommendations!  I get that these are things they want to do and I'm sympathetic to people like Kodansha's Ben Applegate who tried to sneak in a third recommendation in the form of posing with copies of "Vinland Saga" in his picture. Still, for a panel advertised as a "Publishing Roundtable" these introductions and recommendation should've taken no more than five minutes total.  If this is how the panel is going to play out from now on, I might just be better of skipping it in the future.
Berger Books and the Writer's Room
Actually a combination Berger Books/general Dark Horse panel as it included Christopher Cantwell and Nnedi Okorafor (who have titles at Berger Books), Jody Houser (who writes "Stranger Things" and "Critical Role"), and Jeff Lemire (writer of all things "Black Hammer").  Karen Berger herself presided over the panel as moderator and did a good job asking questions and getting good answers out of her panelists. Perhaps not surprisingly the best anecdotes came from Cantwell and Okorafor. The former opened up about how his struggles with depression informed "She Could Fly" and gave more insight into hs upcoming title "Everything" which made it sound less like a "Needful Things" ripoff and more like an intriguing suspense story.  Okorafor also told us about how an awful TSA experience at LaGuardia Airport informed her series "Laguardia," a sci-fi allegory about aliens coming out of the airport of the same name in the future. That title had fallen below my radar, but hearing Okorafor talk about it does make me want to pick it up in the future.
Image Comics:  Masterclass Artists
It's worth noting that an Image artists panel today is a much, much different beast than what one 25 years ago would've looked like.  For starters, I can say that most of the books produced by these artists are either worth a look or actually buying. On hand were Aaron Campbell of "Infidel," Kit Seaton of "Norroway," Stephen Green of "Sea of Stars," Sandford Green of "Bitter Root" and Dustin Nguyen of "Descender/Ascender."  Of the artists on hand, Greene made the best impression with anecdotes about the time difference problems in working with a writer on the West Coast while he's based on the East Coast, and about having most of the same last name as co-panelist Stephen Green. The difficulties and positives of working with a writer was something that came up frequently on the panel, with Nguyen praising writer Jeff Lemire for his flexibility and other panelists making *wink, wink, nudge, nudge* jokes about how certain writers can be an outright pain to work with.
Comic Arts Conference #7:  Manga Around the World
The "Comics Arts Conference" panels at Comic-Con are a bit different than the regular ones.  Where the majority of them involve a creative type or types talking about their work and life, these panels involve scholars talking about a specific subject as it relates to the topic at hand.  In this case it involved discussions on how Jiro Kuwata's "Batmanga" related to the sentai genre, how Japanese manga tropes found their way into the Israeli webcomic "IDF Sempai," and how Boys Love manga is stigmatized in Chile.  The thought of a scholarly approach to manga appealed to me, but the panelists either didn't dig too deep into their subjects or were limited by the amount of time they had to speak on them. As such the only one of the topics that wound up interesting me was the talk about "IDF Sempai" and that's mainly because the comic itself appears to be a cute, comedic, and deeply irreverent take on life in the Israeli military.  There was apparently a Kickstarter to fund a print version of the webcomic, but only in Hebrew. No word on if we can expect an English edition of it in the near future (or ever).
Best and Worst Manga of 2019
In discussing this panel with Steve I said (in the smuggest, most hoity-toity voice possible) that, "I should've been up there too because my choices would've complemented theirs greatly."  He rightfully called me out for having issues with their opinions, but longtime readers of this blog would note that there wasn't a whole lot of overlap between the stuff I like and the stuff the panelists like.  Of the manga they selected as the best of the year, we only had "Jojo's Bizarre Adventure" (Best Continuing Manga for Kids/Teens), "Golden Kamuy," "Again!!" (both for Best Continuing Manga for Adults), "H.P. Lovecraft's At the Mountains of Madness" (Best New Manga for Grown-Ups, and not something I have yet but it's on my "to buy" list), and and "The Girl From the Other Side" (Most Underrated) in common.  "Mob Psycho 100" also got a nod as one of the Worst Manga, but that category has become less of a repository for the panelist's hate than titles that just don't work for them. Surprisingly, "Emanon" also got a nod as one of the Most Underrated manga. What would I have included in this panel? Nods to "Kaguya-sama" and "Yotsuba&!" for Best Continuing Manga for Kids/Teens, and "Die Wergelder," "The Ancient Magus' Bride," and "Delicious in Dungeon" for Best Continuing Manga for Grown-Ups.  So even if I'm not on that panel, at least I've got this blog!