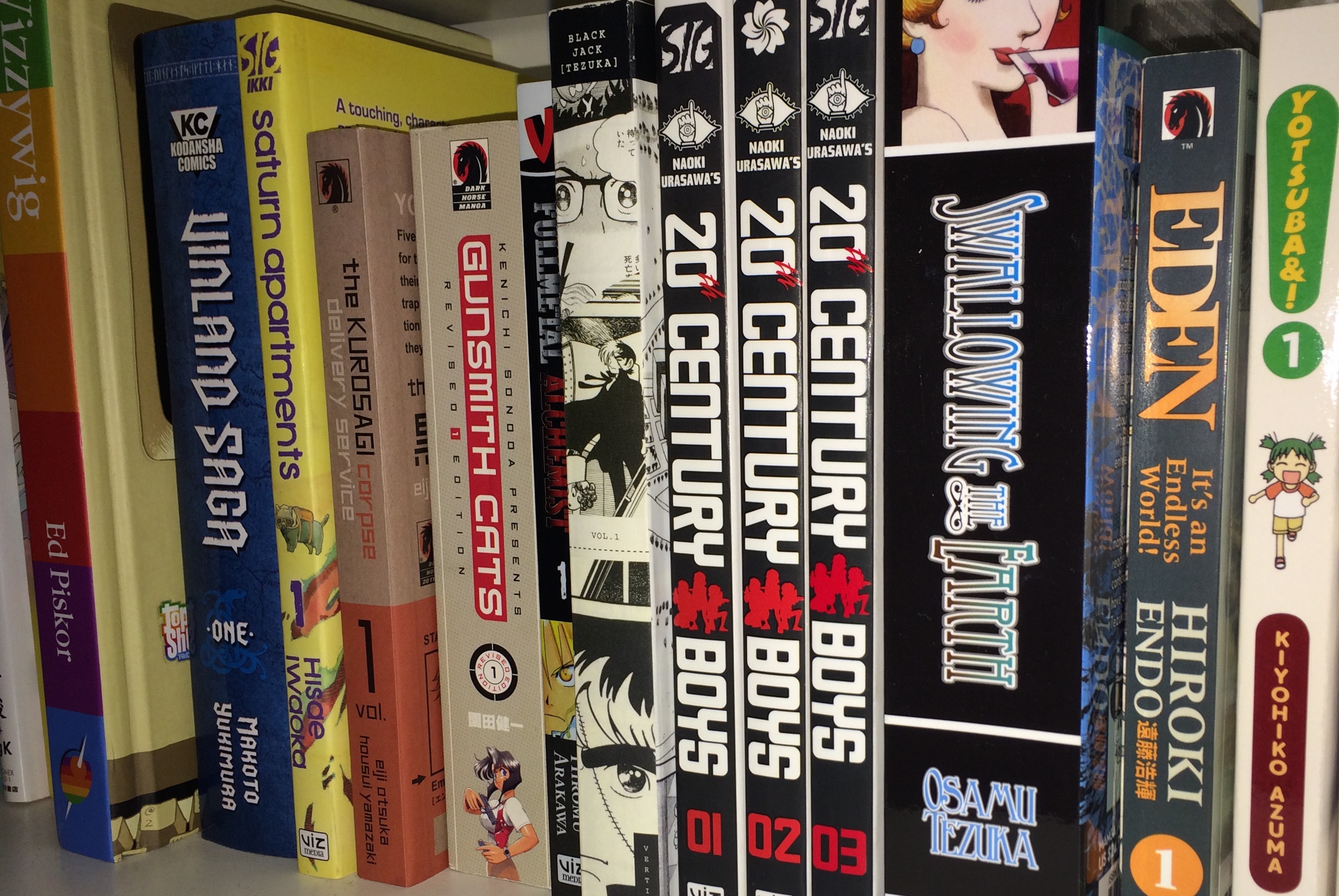 Another year, another Comic-Con.  While it's still an insanely crowded experience where you have to line up incredibly early if you want to have a chance of getting into the biggest panels, there's still plenty of fun to be had with the smaller panels on offer.  Which were most of the ones that I wound up attending. So if you're interested in the difference between a Dark Horse Manga panel featuring Yoshitaka Amano and a Yoshitaka Amano Spotlight panel put on by Dark Horse, finding out how Joe Quesada and Jimmy Palmiotti convinced Garth Ennis to write "The Punisher," and whether or not we'll see another digital volume of "All-Rounder Meguru" then read on!
Thirty Years of Dark Horse Manga/Spotlight on Yoshitaka Amano:  I'm summarizing these two panels together because they were basically the same.  Despite its name, the "Thirty Years of Dark Horse Manga" panel was essentially the dress rehearsal for the Amano "Spotlight" one as they basically covered most of the same ground.  Editor and localizer supreme Carl Horn talked about how Dark Horse has published more of Amano's works in English than any other and took us on a brief tour through the artist's history, from his start as a character designer at Tatsunoko, to his defining work on "Vampire Hunter D" and the first six "Final Fantasy" games, with a specific mention of his work on "Sandman:  The Dream Hunters" as well. Amano noted regarding that project, through Michael Gombos, Dark Horse's Director of Asian Licensing, who acted as his translator at both panels, how that project was really a collaboration between him and Neil Gaiman. Rather than ask Amano to re-draw pictures that didn't quite fit his script, Gaiman re-wrote the story instead as the two would go back and forth on this.
While the interview content was much the same between the panels, which also included an extensive preview of Dark Horse's upcoming "Amano:  Behind the Fantasy" book, there were some notable differences. At the "Manga" panel, Amano did a couple of quick sketches towards the end featuring dragons, a moogle, and Vampire Hunter D.  However, at his "Spotlight" panel the artist did a live painting for the last fifteen minutes of the panel, and the results were pretty great. As for the difference between the two panels, it was mainly one of attendance.  While the "Manga" panel wasn't even half full the "Spotlight" panel was in a room of the same size and was PACKED. To the point where Comic-Con staff were having to scout out the empty seats in the room to accommodate everyone.
We Believe in Horror:  This was an Image panel spotlighting their horror titles.  The main creative team of "Infidel," writer Pornsak Pichetshote, artist Aaron Campbell, and colorist Jose Villarubia, was there in addition to "Gideon Falls" writer Jeff Lemire, "Leviathan" writer John Layman, and the editor of "Gideon Falls" and "Wytches," Will Dennis.  These Image panels can always be counted on to be interesting at least in this was no exception. Layman talked up the "Godzilla From Hell" concept of his new series and showed off some AMAZING art from Nick Pitarra. The art was great enough to get me to shelve my concerns about how, with the artist working on this series, we're not going to be getting more "The Manhattan Projects" anytime soon.  Layman did indicate that Pitarra's schedule only had him available for a year, so expect this to be a 10-12-issue maxiseries. Also interesting was the moderator's question to the "Infidel" team regarding, "How do you draw a racist ghost?" which Campbell offered an impressively in-depth answer that went into the different techniques he used to draw the ghost versus the rest of the characters in the series.
Marvel:  Cup O' Joe -- Marvel Knights 20th Anniversary:  Joe Quesada has been doing these "Cup O' Joe" panels at the con for years and I've never attended any of them before now.  It's usually just a news and Q&A thing, but this year was different. Joined by his friend, inker/writer Jimmy Palmiotti, Quesada went into how he and Palmiotti started up the Marvel Knights imprint back in the 90's.  It was a fun trip down memory lane remembering the glory days of the imprint that launched with acclaimed, influential, and best-selling runs of "Daredevil," "Black Panther," and "Inhumans," along with, uh… "The Punisher's" ill-fated reinvention as a Heaven-backed killer of demons.  Which eventually led to Garth Ennis and Steve Dillon's classic run on the character, so I guess it worked out in the end.
Quesada and Palmiotti had lots of great anecdotes to share from the time, like how Michael J. Fox was the secret inspiration for Everett K. Ross in "Black Panther."  Or how they nearly walked away from the imprint when Marvel tried to run a shelved "Moon Knight" story under the "Marvel Knights" banner without their approval. I also worked up the nerve to ask them about how they got notorious superhero-hater Ennis onboard with "The Punisher" in the first place.  Turns out that the Quesada and Palmiotti regularly threw gatherings at a local pub in New York that were frequented by all kinds of local comics creators and they got to be friends with Ennis that way. Palmiotti also revealed that he still has the original art from Dillon's run where a polar bear takes off an unfortunate mobster's head.  As I noted, "You can't sell that, it's a classic."
No word from either of the panelists about the upcoming "Marvel Knights" one-shot featuring work from Donny Cates and other up-and-coming creators.  If I had to guess I'm sure they're flattered by its existence but maybe a little disappointed that it's not immediately leading to a full-on revival of the imprint.
2000 A.D:  Simon Bisley:  The main thing I took away from this panel was that Bisley looks exactly like you'd expect him to.  As his art has a rough, burly, over-the-top look to it, so does the man himself with his dark glasses, scraggly beard, and tattooed arms.  Unfortunately the panel itself was kind of a rambling affair with Bisley and his moderator kind of going all over the map in a way that lost my attention partway through.  Hanging out at this panel at least gave me a chance to finish reading the latest volume of "Usagi Yojimbo" so it wasn't a complete loss.
DC:  Justice League:  So this was the year that I finally attended a couple of big Marvel/DC panels.  I'm not sure I want to make a habit of it, but this one was fun. Mainly because of writer Scott Snyder's boundless enthusiasm for his work on "Justice League" so far.  Such was his joy that he couldn't resist spoiling some key upcoming moments in his run. A few of them involving Batman. While what he's doing does sound like a lot fun, it's weird to hear that the big breakout character from "Justice League" is going to be… Batman, because Snyder is writing him as the League's crazy uncle who has the craziest plans and best lines.  Oh, Snyder also announced that he and Jock would be doing a "Batman Who Laughs" miniseries later this year. I didn't think this character was really that special, but the artist and writer generally do good work together. They're also introducing a new Nightmare Batman in this series who is basically Bat-Punisher so there's that to look forward to as well.
As for the other titles in the line, James Tynion IV talked up "Justice League Dark," which I honestly find hard to get excited about after his very by-the-numbers run on "Detective Comics."  I'm still interested in Josh Williamson's "Justice League Odyssey," but mainly because the art from Stjepan Sejic looks INCREDIBLE. Then there's Adam Glass and Bernard Chang's "Teen Titans" which sounds fine.  I've never been a big "Teen Titans" fan so it'd take more than what they offered at the panel to get me excited about it.
Best and Worst Manga 2018:  What used to be a mainstay of my Comic-Con experience stopped being one after I lost my badge in 2014.  After that experience broke my habit of checking it out each Saturday, I found it to be more fun to leave the con early that day and hang out with my friend Steve instead.  As this year's panel was held on Friday, I decided to stick around to see what it was like now. What I found was a fun little diversion that probably won't get me to stick around to see it again if it moves back to Saturdays.  It featured a six-person panel of Brigid Alverson, Zac Bertschy, Chris Butcher, Rob McMonigal, Megan Peters, and Rachel Thorn, with Deb Aoki moderating it and keeping everyone to a strict 45-second time limit in speaking about their picks.  Why such a strict time limit? That's because there were eight different categories for this panel: Best New Manga for Kids/Teens, Best Continuing Manga for Kids/Teens, the same two categories again but for Grown-Ups, Worst Manga, Most Anticipated New Manga, Most Wanted (Not Yet Licensed) Manga, and Underrated But Awesome Manga.
I'm not going to get into all of their picks, but it was nice to see "Delicious in Dungeon" selected as one of the best Continuing Series for Kids/Teens.  "Golden Kamuy" also got a nod for Best Continuing Series for Grown-Ups, and "Monthly Girls' Nozaki-Kun" was named as an Underrated But Awesome Manga. Much to MY surprise, "Genshiken:  Second Season" wasn't named as one of the Worst Manga. In fact, I haven't read any of the Worst Manga, but "Fire Punch" and "Golosseum" sounded like promising "so bad they're good" reads.  I'm also on board with "Fist of the North Star" being one of the Most Wanted manga. Maybe the upcoming English release of the new game, "Paradise Lost," will give the franchise the visibility it needs to bring the manga over here.
Kodansha Comics:  The disappointing thing about this panel was that they didn't announce any new manga titles that I'd consider "must haves."  Sure, "Which Hat Atelier" from Kamome Shirahama sounds and looks nice, and my procrastination with regards to picking up the remastered "Battle Angel Alita" volumes is going to be rewarded when the entire series is re-released in a box set later this year, but all of the new titles they announced can be summed up with a shrug as far as I was concerned.  What did look interesting was the new "Ghost in the Shell" anthology which is taking the same tack as the "Attack on Titan" anthology by having non-Japanese creators tell stories in the same universe. The ones they showed off looked quite promising, so I'll definitely pick this up when it arrives later this year.
When the Q&A session rolled around, I got up first to ask the panelists about the status of "All-Rounder Meguru."  After pointing out its erratic release schedule (monthly for the first three volumes, every other month for vols. 4 & 5, six months between 5 & 6) I asked them to make sure it wasn't cancelled and to find out if it was on a six-month release schedule for new volumes.  The panelists, Ben and Michiko, were emphatic about the fact that it wasn't cancelled and promised that more volumes would be forthcoming. Unfortunately they couldn't confirm a regular schedule for the series and said that I should just keep watch on their main site for updates regarding the release of new volumes.  I did get to come up and pick a reward for asking a question off of their table and wound up with the first volume of "Wotakoi: Love is Difficult for Otaku" for my trouble. It's pretty enjoyable so far.
Matt Taylor:  Most of the Posters I Have Made:  If it weren't for the fact that this panel was in the same room as the Kodansha one, that there was nothing else interesting going on at the time, and that I didn't feel like going back to the convention floor, I wouldn't have bothered with this panel.  I'm glad I did, though, as I was treated to an overview of Taylor's career as an illustrator for book covers, posters, and film posters that was both fun and informative. Taylor offered plenty of insight into his creative process and how he developed posters for titles as diverse as the "Fargo" TV series, the film "Brick," "Star Wars:  The Force Awakens," and this year's Comic-Con guide cover. The two panelists who were on hand also did a good job with the questions they asked and the additional commentary they provided regarding their experiences with the man. All in all this was a surprisingly enjoyable panel that I'm glad I stuck around for.
Marvel Comics:  Next Big Thing:  I went to this one mainly to kill time before the Amano "Spotlight" panel on Saturday.  For that purpose, it did the job just fine. Editor-in-Chief C.B. Cebulski did his best to get the hype train rolling for "Infinity Wars" showing off covers and art and spotlighting the "Infinity Warps" which are amalgamized characters like Doctor Strange and Captain America as the Soldier Supreme.  That's cool and all, but I was disappointed to learn that fellow panelist Donny Cates' idea for a mix of Black Bolt and Deadpool (Deadbolt) was shot down. Cates also got to talk about the "Cosmic Ghost Rider" miniseries, which looks to be an intergalactic road trip between the title character and Baby Thanos after the former fails to kill the latter in his bed.  Sounds like fun and it was easily the most interesting thing I took away from the panel.
jason@glickscomicpicks.com