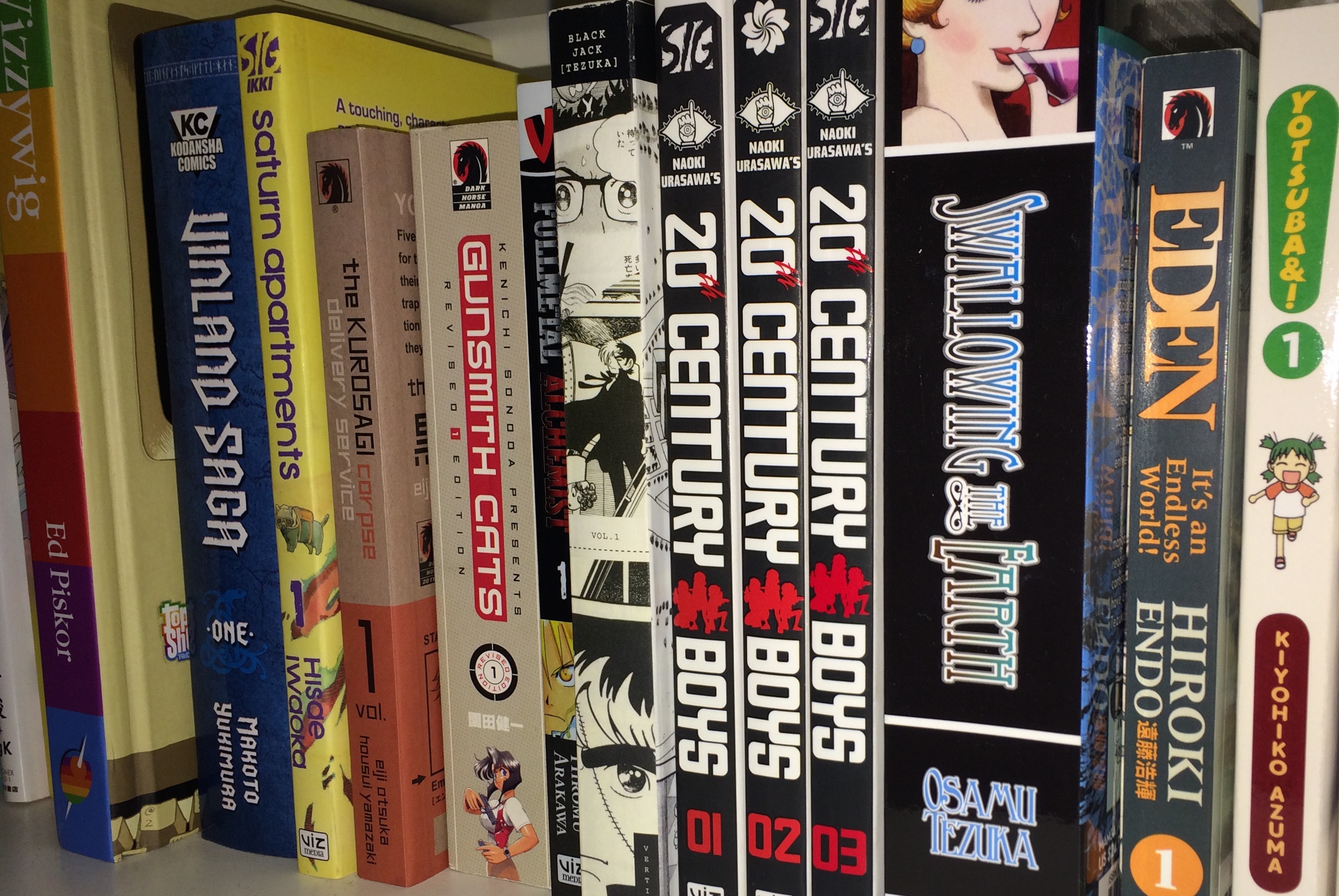 Yeah, I'm honestly surprised that this volume even exists.  I remember hearing about how mangaka Kiyohiko Azuma had to be cajoled into finishing the last story in the previous volume after putting the series on hiatus for a year.  After hearing that I figured he either had a terrible work ethic or was just plain tired of working on the adventures of everyone's favorite green-haired five-year-old. As the series was episodic to the core, I was fine with vol. 13 being the last we saw of it since it was just as good as the twelve that preceded it.
So imagine my surprise when I read that vol. 14 came out in Japan earlier this year.  Now that it's finally arrived on these shores I can say with certainty that "Yup, it's another volume of 'Yotsuba&!'"  Which is to say that it's another quirky, charming affirmation of all the little joys that life has to offer. It's hard not to enjoy seeing Yotsuba make necklaces with her dad Yosuka and their friend Jumbo, watching her perform yoga (with amusing effortlessness) with Fuuka and Hiwatari, and become a princess through her own cleverness as well as Asagi's.  As with every volume, there's enough quirkiness and reminders -- best seen here through Yotsuba's selfish agonizing about what beads to share with her dad while making a necklace -- to keep things from becoming overwhelmingly saccharine.
There's also something else here that we've never seen in "Yotsuba&!" before:  an honest to god arc! That's right, four of this volume's chapters deal with Yosuke (he who is Yotsuba's dad) and Yotsuba's trip to Tokyo and the sights they encounter there.  The prep work for the trip is also fun too since it gives us another chance to see Yotsuba match wits with her nemesis Yanda. I would've liked to have seen more variety in the actual Tokyo trip as they only visit Harajuku, a park, and a fancy hotel with an AWESOME buffet.  There's still plenty of fun to be had in what we get as Yotsuba masters the art of putting a ticket into a turnstile, has a crepe with her dad, saves the world from aliens, and is gobsmacked with amazement at the aforementioned buffet. It's also nice to meet Koharuko, Yosuke's sister, who's a nice no-nonsense addition to the cast an one I'd like to see more of in the next volume.  Whenever it comes out.