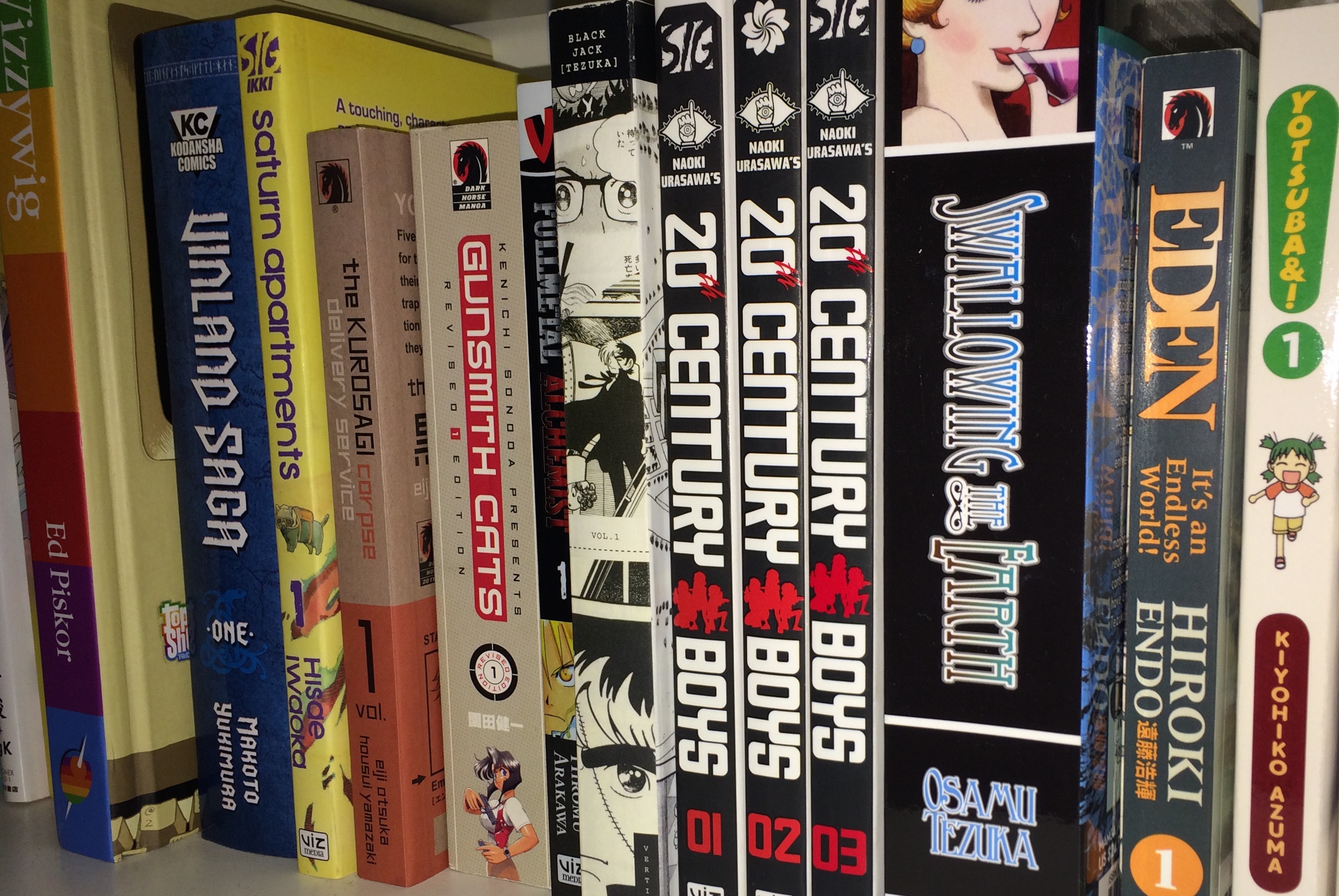 Okay, so I meant to get this retraction up earlier, but other commitments *cough*BORDERLANDS*cough*RE-READING 18 VOLUMES OF "MONSTER"*cough*GENERAL LAZINESS*cough* conspired against me.
Anyway, that bit I wrote two weeks ago about Miracleman being Norman Osborne's "secret muscle" – completely wrong. As it turns out, the "MM" that Rich Johnston was referring to was "Secret Wars" veteran "Molecule Man." While I understand he has a place in the hearts of many fans of 80's Marvel comics, he's also gifted/burdened with a power that makes him almost impossible to write in a shared superhero universe. That power being the ability to rearrange molecules into any form he wants. It'll be interesting to see how writer Brian Michael Bendis has wrangled this character and his powers into a believable plot element for the upcoming "Siege" event, but that's why I like waiting for the trade – you get to hear how these things work out before putting your money down. That said, the fact that Osborne's secret muscle isn't Miracleman has diminished my interest in this storyline considerably. More shenanigans with Osborne and his "Dark Reigin" after the break.
New Avengers vol. 10: Power – I'm back on the wagon after taking two volumes off while the series filled in "Secret Invasion" backstory. As this volume is pretty much the starting point for the "Dark Reign" storyline, I was expecting to see more action than I did. While the opening chapter, "Secret Invasion: Dark Reign" has lots of engaging chatter and setup for future events courtesy of Bendis and artist Alex Maleev, the actual "New Avengers" issues are pretty "meh" in comparison. In the three issues collected, we see the team re-formed, Luke Cage get his daughter back, and the team throws down with The Hood's gang of supervillains, but remarkably little is actually achieved. There are some good moments as the team gets formally introduced to the new Captain America, and reacts to Osborne's "Dark Avengers" (while finding out that Wolverine has a son in the process), but remarkably little progress is made in telling any kind of story. Which is too bad because…
Invincible Iron Man vol. 2: World's Most Wanted book 1 -- …this is an excellent showcase for what mileage can be gotten out of the "Dark Reign" setup. With Stark Industries on the brink of collapse, and S.H.I.E.L.D. being re-formed as H.A.M.M.E.R. under Osborne's watch, Tony Stark has reached his lowest point in a long while. Making matters worse, his plan to keep the Initiative database (which contains the identities of every costumed superhero in the U.S.) out of Osborne's hands has made him... well, look at the title of this volume. While Tony's plan to keep the database safe by storing it in his mind and slowly wiping it all away (with a subsequent loss of intellect) requires a certain suspension of disbelief to accept, the rest of the story is grade-A superhero action courtesy of writer Matt Fraction and artist Salvador Larroca. The ensuing battle of wits between Osborne and Stark's camps is truly entertaining to watch, and all the action sequences are never less than "thrilling." Overall, this isn't just something that I'd recommend to fans of the character or superhero comics – but if you liked last year's movie and don't read comics, then I'd recommend this to you too. Speaking of series that have hit their stride…
Claymore vol. 15: At this point, there's very little chance that Norihiro Yagi's saga of demonic creatures and the girls with big-ass swords that kill them will ever escape being "Berserk Lite" in my mind. However, it still works pretty well as violent fantasy manga "comfort food" and this volume was a particularly tasty meal. After swiftly resolving the cliffhanger from the last volume Claire and company (I'd give more names, but Yagi's biggest weakness as an artist has been the way most of his characters tend to look alike) sit back and have the next phase of the plot explained to them. As expository speeches go, this one wasn't bad, and while one of the revelations came as no surprise (the Organization really are the bad guys) the subsequent twist on that was actually quite ingenious (it turns out that the world of "Claymore" is much bigger than we've been led to believe). In addition to this, we finally get to find out what Raki has been up to since the "Battle of the North" and if he and Claire ever meet up again, his new travelling partner will make their reunion a violent one at the least. Toss in the surprise return of a long-forgotten character at the end, and you have a series that has me anticipating the release of the next volume… NEXT JUNE! Come on Viz! You haven't caught up to the Japanese release yet, so there's no reason for us to wait THAT long for the next volume. *takes deep breath* Well, at least we won't have to wait too long for other series…
20th Century Boys vol. 5: Of the two mangas by Naoki Urasawa being released by Viz, the other being his Astro Boy remake "Pluto," this is easily the better of the two. The first half of this volume focuses on Kenji's efforts to gather his friends together and plan to take down the mysterious "Friend," and it's well-done if a bit predictable (though seeing the modern-day versions of Yanbo and Mabo was quite a surprise). Things really get interesting when the series jumps ahead 15 years to 2014 to focus on Kenji's niece Kanna, who has grown up to be the type of frighteningly competent heroine that Urasawa loves to write (see also: Nina in "Monster"). Seeing her stop a gunfight by dressing down the attackers' poor tactics is great and there's no easier way to win me over to a story than to show me a protagonist who has their act completely together. While I was less convinced about the leap forward in time as a storytelling device, the fact that I'm actively speculating about what happened to Kenji's group in 1999 makes me think that it was a good choice in retrospect. And while I can't wait to see more of Kanna in action in the next volume, other series aren't as fortunate to have protagonists as capable as her…
Slam Dunk vol. 6: The match between Shohoku and Ryonan finally wraps up, and even though it's not a televised game, the down-to-the wire action was still pretty exciting on the page. While Hanamichi is still too much of an idiot for my tastes, the fact that he's improving as a player makes him a little more palatable. Mangaka Takehiko Inoue also makes things more interesting by introducing a new character that might be even more of a violent troublemaker than Hanamichi is. Not a great "Shonen Jump" title, but it's getting better. Slowly. Still, when it comes to Takehiko Inoue and basketball, his other title is the one I'd recommend to anyone…
Real vol. 6: Ostensibly this is about wheelchair basketball, but it's really about three teenagers with varying degrees of mental and physical handicaps. You've got Nomiya, who is so much of a hothead that he got kicked off of his school basketball team and subsequently quit school, Togawa, a rising star in the field of wheelchair basketball, and Takahashi, Nomiya's former teammate who was recently paralyzed from the waist down in an accident. It's Takahashi's story that's the most compelling of the three and the one that has (rightfully) been the focus of the last two volumes. While the easy way to handle his story would be to portray Takahashi as a determined hero with an indomitable spirit (right out of a "Shonen Jump" manga) who will regain the ability to walk through sheer will, Inoue takes a much trickier route with him. While he has shown some resilience in the face of his tragedy, the realization that his life will never be the same has pretty much crushed his spirit and caused him to give up on his rehabilitation. The return of his father, who ran out on him and his mother years ago, hasn't helped as he's now a beaten-down potter as opposed to the heroic businessman Takahshi remembers him as. Though Takahashi's struggle has been fascinating to watch, the series was set up as a three-character drama, and while Nomiya gets one good scene in this volume, Togawa and the rest of the wheelchair basketball team's story feels like it's going nowhere fast. While it would be nice to see Nomiya and Togawa's stories get the same treatment that Takashi's gets, this series is still plenty engaging as it is.