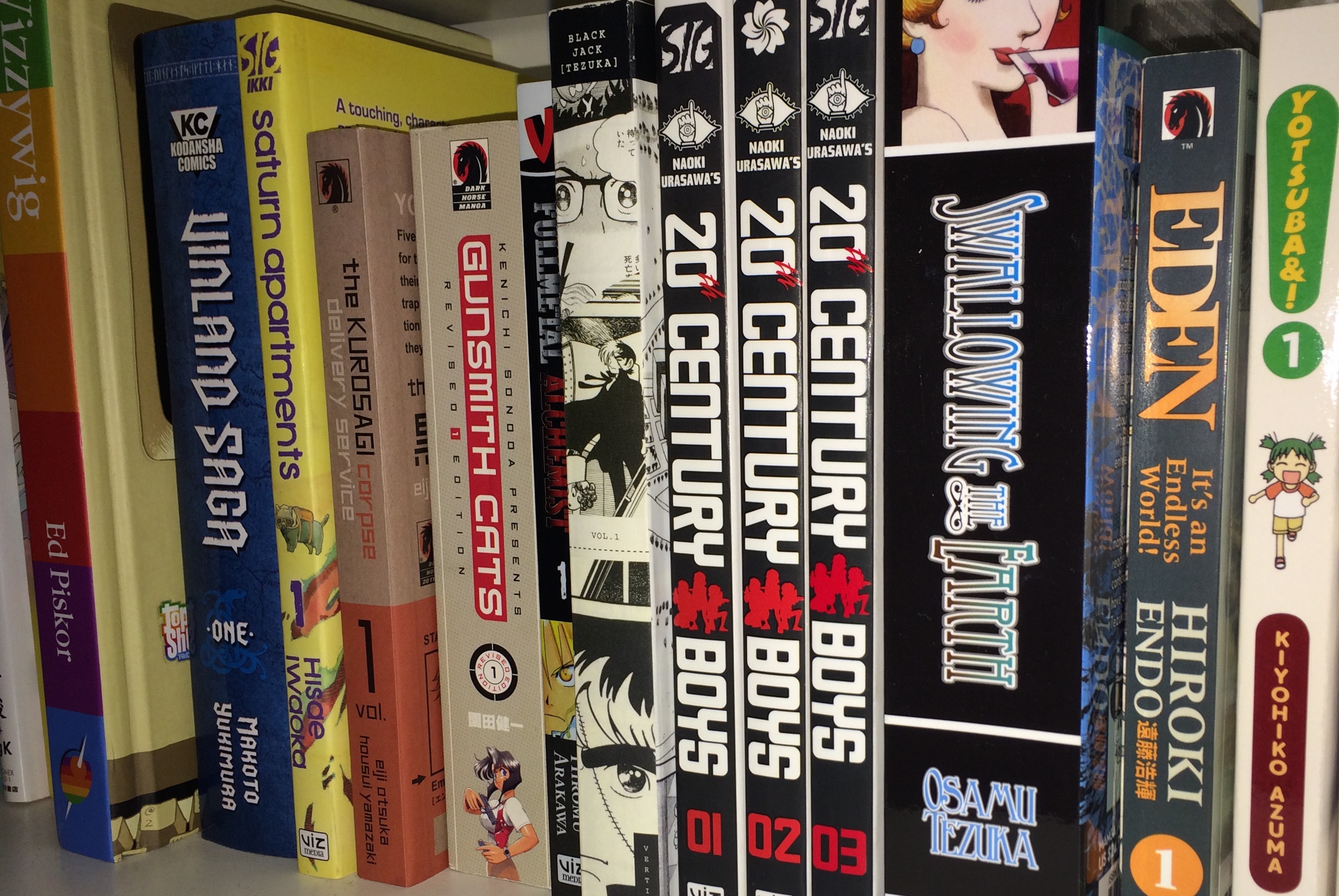 Since its inception Dark Horse Comics has been owned by one person:  Co-founder Mike Richardson. As of last October that's no longer the case.  Dark Horse received a large investment from Vanguard Visionary Associates, a Hong Kong-based firm.  The stated intent behind this investment is to allow Dark Horse to fund the production of films and TV series based on the comics it publishes and to sell its comics and other products on a larger international scale -- especially in China.  "Creating new ideas" was also mentioned as one of the things this investment was meant to facilitate, and I can only hope that it means "more original comics" from the company.
What does this mean for Dark Horse itself?  Bigger and better things if those TV and film expansion plans pay off.  Best case scenario is that the company turns into a one-stop shop for comics publishing that can be spun off to other media all while being creator-owned.  Worst case likely involves Vanguard exerting more and more control over Dark Horse to run it the way they want and destroying the company's spirit before the company itself.  Along the same way that Electronic Arts tends to do that for all of the companies it acquires (R.I.P. Origin, Pandemic, Visceral…)
What would I like to see happen from this deal?  A "Kurosagi Corpse Delivery Service" TV series. Carl Horn mentioned that this was something that Dark Horse was looking at in one of the liner notes for a past volume.  These days, selling a TV series based on a comic book series is a much easier prospect and think "Kurosagi's" quirky supernatural horror-comedy vibe stands a good chance of finding an audience in this geek-friendly landscape.  It's also probably the ONLY way to get the series enough exposure for Dark Horse to start publishing it again, and that's my main reason for wanting to see it happen. (I would've gone with "Eden" here, but I'm trying to keep things realistic since a tech-heavy sci-fi series like that would likely be a more expensive prospect.  Of course if "Kurosagi" does well this would be the next title I'd like to see them pursue.)
Dark Horse:
Anthem #1:  Getting back to all the companies that have been dissolved after they've been acquired by EA, BioWare has apparently been the exception to the rule.  This is largely due to the success of their "Dragon Age" and "Mass Effect" series; at least, that was the case before "Mass Effect: Andromeda" crapped the bed on its arrival last year.  Now their latest series "Anthem," an online service game in the vein of "Destiny," is being described as a make-or-break title for the company. Personally, they lost me at "online service game in the vein of 'Destiny.'"  So while the comic is of no interest to me, there's always the possibility of it finding an audience if "Anthem" hits the ground running when it comes out at the same time as the comic next year. Synergy!
Aliens:  Dead Orbit HC:  An oversized hardcover edition of James Stokoe's miniseries featuring the art in high-resolution and bonus process material.  Seeing Stokoe's art in greater detail is definitely an attractive prospect. Except that I'm not really one to double-dip on anything, let alone a comic series where the story wasn't as interesting as the art.
Berserk:  The Flame Dragon Knight:  No, it's not a spinoff manga.  This is a light novel about one of Griffith's apostles, Grunbeld.  If the name doesn't ring a bell, he's the one who destroyed the sanctuary where Schierke's teacher resided.  He hasn't made much of an impression or played a significant role in the story beyond that, so I'm kind of curious as to why he's the subject of this light novel.  Maybe he's just writer Makoto Fukami's favorite, or this is just the first in a series of light novels that will flesh out the stories of Griffith's other apostles.  Either way it's still something to tide us "Berserk" fans over until vol. 40 hits these shores next year.
DC Comics:
Absolute Dark Knight (New Edition):  Oh boy, talk about an oil and water pairing here.  This edition puts "The Dark Knight Returns" and "The Dark Knight Strikes Again" under one cover.  While the former is a stone cold classic, its follow-up can be most charitably described as "entertainingly terrible."  (We're not going to talk about the third volume.) They're also polar opposites in tone and execution, which means that you're likely to enjoy one or the other but probably not both.  I can see the case for putting them together like this to illustrate creator Frank Miller's creative evolution (or devolution as some would say). Still, there doesn't seem to be much reason for this edition to exist when you can pick up either volume in softcover or digitally.
The Authority by Ed Brubaker and Dustin Nguyen:  There was a time when "The Authority" was the hottest superhero team at DC.  Then DC started to directly meddle in the latter third of Mark Millar's run and things went downhill from there.  After the mature-readers ongoing series from writer Robbie Morrison flamed out, this maxiseries from Brubaker and Nguyen was meant to get the team back in the spotlight.  It started off promisingly with the Authority in charge of the U.S.A. following a crossover event. Unfortunately Brubaker didn't really want to pursue that particular direction and steered the series back into a familiar storyline of the team breaking up due to the schemes of an old enemy.  So, is there a reason to own this series? Well, Nguyen's art was pretty nice and still a good deal more appealing here than his current painted work in "Descender," so there's that.
Catwoman by Jim Balent Book Two:  I'm mentioning this because it collects "The Catfile," one of the few (only?) storylines from this era to be collected before these editions.  It's a fun storyline that sees the title character forced into stealing for a secret international criminal organization. It goes about as well for this organization as you'd expect by the end.  I can't vouch for the other stories in this collection, but "The Catfile" is a solid read.
The Joker Bronze Age Omnibus HC:  Lots of Joker tales from the 70's are collected here, from writers such as Denny O'Neil, Len Wein, Gerry Conway, Doug Moench, and Elliot S! Maggin.  The reason I'm mentioning it here is because this is one of those collections that gives us an issue that has never been published before! That would be the tenth issue of the Joker's ongoing series from the era.  It's not something that would convince me to pick up this 800-page omnibus, but if you've got fond memories of the character from this era then keep this in mind.
The Wild Storm vol. 3:  In which John Lynch, former director of International Operations, hits the road to warn the people involved in his blackest op that it has finally been found out.  If you've got a long enough memory for all things WildStorm then you might remember that Lynch was the mentor to its signature teen team "Gen13." I'm not sure if we'll be getting that team's formation filtered through the unique perspective of this series, but it wouldn't surprise me.  I'm just glad to know that this third volume is only a few months away and that the fourth and final one should be out later next year.
Image Comics:
Dead Rabbit vol. 1:  This was advance-solicited for March, but I think it's been advance-cancelled by now *rimshot*.  You see, "Dead Rabbit" is also the name of a New York bar and they've sued Image for $2 million for copyright violation.  While Image has issued a mandatory recall of the comic's first two issues as a result of this, don't expect any retailer to follow through with sending them back.  Not when they can flip them on Ebay for ten times the cover price now that the lawsuit has made these comics a collector's item. Some of this speculator activity has even spilled over to the bar itself as its menus are even going for top dollar on the online auction site.  This is still bad news for creators Gerry Duggan and John McCrea as they're likely not going to benefit from any of this until the lawsuit is resolved. That said, this is something that they probably should've seen coming…
High Crimes:  I mentioned this a few years back when the hardcover edition was published by Dark Horse.  It's story of a couple of travel guides/graverobbers finding a bunch of state secrets on a corpse sounded interesting but I, uh, never got around to getting this for one reason or another.  Now a new paperback edition is being published by Image and it looks like you're getting the same material as the hardcover edition… for the same $20 price tag. A quick check over at Amazon shows me that the Dark Horse hardcover is still in stock and on sale for $12.78.  Well, now I know which edition to pick up. For reals this time.
Leviathan vol. 1:  It's a story we're all familiar with.  You throw a party, then at some point you go out on a beer run and your friends summon a kaiju demon from hell while you're gone.  It's happened to all of us and John Layman and Nick Pitarra have done the difficult work of adapting this time-honored scenario to the realm of sequential art.  Which, based on what I saw at Comic-Con, earlier this year looks AMAZING! If you thought Pitarra went full gonzo with his work on "Manhattan Projects," "Leviathan" looks like it's on a whole other level.
Curse Words vol. 4:  Queen Margaret:  I'm assuming that this volume's title is related in some way to how the character found out that she's actually the progeny of Wizord and Ruby Stitch at the end of the previous volume.  Still, the most important takeaway from this solicitation: Margaret is back to being a koala on the cover! I've always been partial to those marsupials and I was disappointed to see her change form over the course of the series.  But she's back now and everything's right with the world. Well, not really. Just with this one thing.
Rumble vol. 5:  Things Remote:  In this volume, immortal swordsman turned scarecrow Rathraq seeks to reclaim his missing heart.  I certainly hope he finds it because I'm not sure if we'll be seeing another volume after this one.  "Rumble" has always been sales-challenged and while it was great to see this series brought back with David Rubin as the artist, Rubin indicated in vol. 4 that his schedule only allowed him to do ten issues.  With the last of those collected here, is this the end of the road for Rathraq and company?
Stray Bullets:  Sunshine & Roses vol. 4 -- The Salad Days:  Vol. 3 is in the mail and if it's as good as the first two volumes… You know, I don't want to think about that.  I'll just count my blessings that this volume's arrival in February will mean that we've received four volumes of "Sunshine & Roses" in the space of nine months.
Thief of Thieves vol. 7:  Closure:  The final volume, and not a moment too soon after vol. 6 showed this series running out of gas.  Cause for concern: Regular writer Andy Diggle is being replaced with Brett Lewis. I liked his Russian super-soldier series "The Winter Men" though it remains to be seen if he can deliver a slick, twisty crime-caper of the sort this series has specialized in.  Fortunately regular artist Shawn Martinbrough will be on hand to give us some sweet style to go along with the great visuals he's delivered on this series.
Marvel Comics:
Savage Sword of Conan #'s 1&2:  *facepalm*  Okay Marvel, I understand.  You've just got the "Conan" license back and you're looking to exploit it to its fullest to shore up any weaknesses in your marketshare.  Doing this -- and by this I mean launching ANOTHER "Conan" series the month after your first one -- is not the way to do it. "Star Wars" gets away with having multiple monthly titles and miniseries because they're all different and the franchise is strong enough to support them.  "Conan" on the other hand doesn't have the same name recognition, so giving us ANOTHER ongoing series whose only distinguishing feature appears to be its creative team (writer Gerry Duggan and artist Ron Garney) strikes me as a recipe for failure. I seem to remember there being plans for ANOTHER "Conan" ongoing alongside these two, which again has me wondering if Marvel will even be publishing one "Conan" title this time next year.
Avengers:  No Road Home #'s 1-3 (of 10):  The "No Surrender" writing team of Al Ewing, Jim Zub, and Mark Waid team up for another weekly "Avengers" story.  There's not much story to go on, save for the fact that Nyx the Queen of Night has brought darkness to the universe and it's up to a team of Avengers to bring back the light.  "No Surrender" was fine even though it lacked the inventive cleverness of Ewing's "Avengers" titles. Maybe this one will fare better since the writers aren't tying up three different "Avengers" series and are telling a self-contained story.  We'll see.
Daredevil #'s 1&2:  Chip Zdarsky and Marco Checchetto take on Ol' Hornhead.  Not sure how I feel about that since Checchetto strikes me as a great choice, but Zdarsky has always come off as "that funny artist guy."  I'll probably have to check out his other superhero work on "Spectacular Spider-Man" and "Marvel Two-in-One" to see if I want to read this.  Or not.
Uncanny X-Men #'s 11-12:  It bears mentioning this month that the X-Titles are taking a cue from the "Age of Apocalypse" and going on hiatus for the "Age of X-Man" while five miniseries take their places.  Except for this one, which looks to involve the newly returned Cyclops (I'd say SPOILER, but is it really?) and Wolverine (His return was never a spoiler.) looking to rebuild the team in the wake of the "X-Men:  Disassembled" storyline. Matthew Rosenberg is writing, which is a promising thing now that I've read "Kingpin" and "4 Kids Walk Into a Bank," with Salvador Larroca making his long-awaited return to the Marvel Universe and the "X-Men."  Good to have you back Salva.
Speaking of Wolverine's return, that gets collected here with the unsurprising title of Return of Wolverine.  It's being written by the man who killed him, Charles Soule, and illustrated by the other man responsible for his death, Steve McNiven, along with Declan Shalvey.  Much as I've liked Shalvey's work on titles like "Moon Knight" and "Injection," he seems like an odd choice to complement a detail-heavy artist like McNiven. Also, this is going to be Soule's last "Wolverine" story for the time being, which has a nice symmetry to it.
Oh, and X-Men:  Disassembled gets a collection this month as well.  Expect a podcast about this when it gets in my hands.