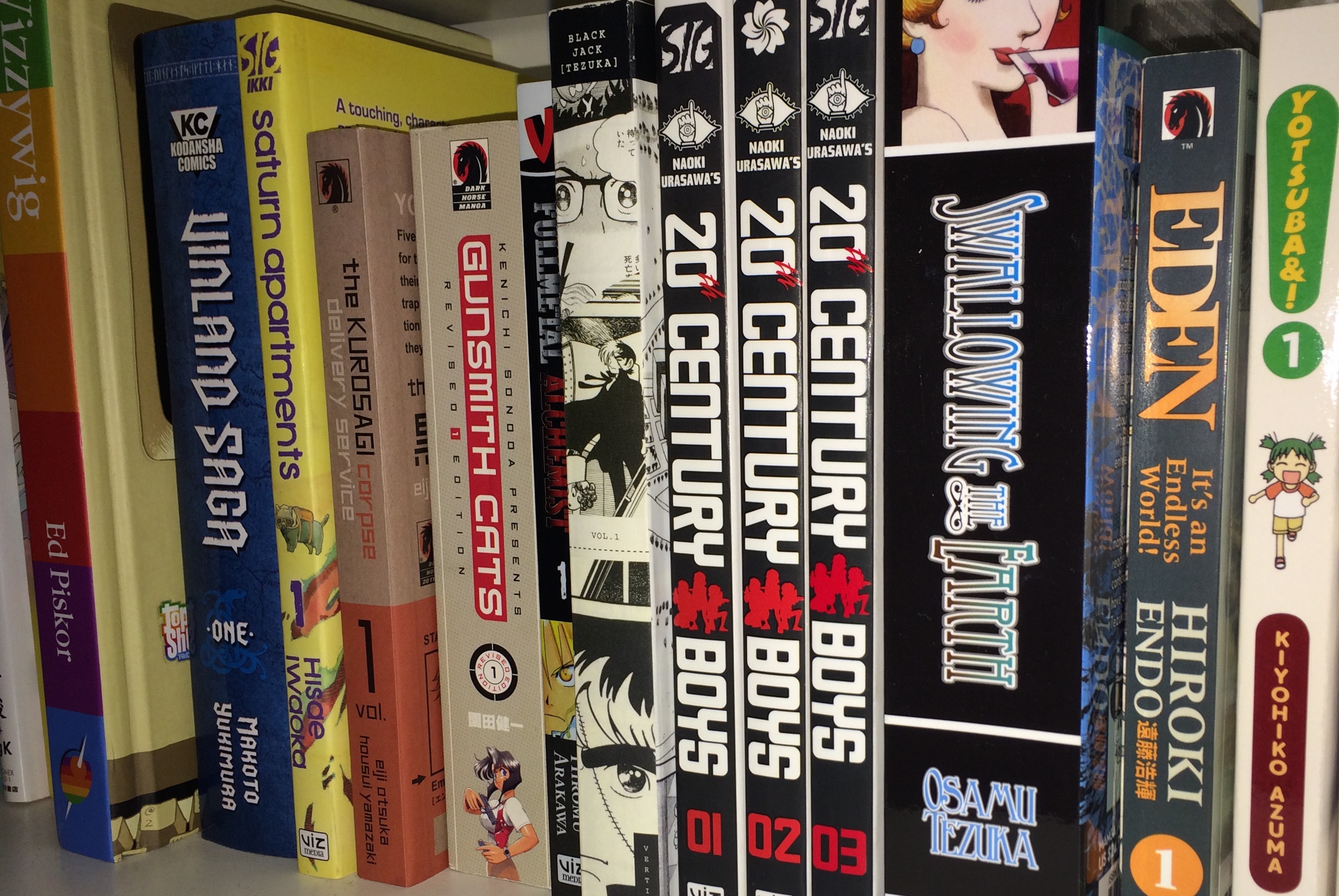 The reason you don't see much shoujo manga featured on this site is mainly because I'm a guy.  Shocking, I know.  I do have a friend who was a fiend for the stuff and I could browse through her library and check out all the stuff that looked interesting.  I wouldn't have read titles like "Paradise Kiss," "Mars," or "Skip Beat" without that particular opportunity.  These days, life (mainly parenthood, twice over) has caused her to re-prioritize and I'm left to my own devices in regards to finding good titles to read in a genre that is geared almost entirely towards teenage girls.  Yet the best stuff transcends age and gender and I was hoping that this title would have that kind of quality.  It did at first and now I'm wondering if it'll be able to get it back.
Takeo Goda is as big and burly as they come.  His massive physique and intimidating face not only make him a fearsome opponent in judo, but the right kind of guy to step in and save the day when words and a pretty face won't cut it.  That's how he meets the incredibly nice Yamato after he saves her from the advances of a molester on a train one day.  She's incredibly grateful and delivers him a cake she baked as thanks soon afterwards.
It would be the start of perfect "meet cute" if it wasn't for the fact that Takeo has spent his whole life seeing the girls he liked fall for his impossibly nice bishounen friend Sunakawa.  Naturally, he thinks that Yamato has fallen in love with Sunakawa and vows to see their relationship succeed because he's just that great a guy.  Lucky for him, Sunakawa really is as nice as advertised and knows exactly what to do to get this relationship going.
The opening story to this series is really a mini-masterpiece as far as I'm concerned.  Writer Kazune Kawahara sets up the "Man vs. Self" conflict within Takeo quite well as the main challenge he has to overcome is the idea that a girl could actually like him.  She also fleshes out his personality well enough to the point that his exaggerated reactions and misconceptions feel plausible and endearingly comedic rather than annoying.  Genre conventions are also done away with as the love triangle you'd expect to form between Takeo, Sunakawa, and Yamato never takes form.  Really, it's actually quite refreshing to see someone like Sunakawa in the best friend role and actually be a best friend to the protagonist.
Best of all is the fact that Takeo and Yamato wind up as a couple by the end of the 100-page opening chapter.  This is not a spoiler -- it happens to all of the protagonists in shoujo manga.  Just not this quickly.  Yet it works beautifully here and doesn't drag out their courtship or misunderstandings to an interminable length.  Takeo and Yamato are together and now we can move on to the more interesting matter of seeing whether or not they'll be able to stay that way.
At least, I thought it was going to be more interesting.  "My Love Story!!" doesn't completely lose its way after that incredible first chapter, but there is a clear decline in quality.  The next story involves a misunderstanding that arises when Takeo says he won't lay a finger on Yamato until they're older, except she wants to hold hands now.  We're also introduced to Sunakawa's older sister who has had the hots for Takeo for a while now, and her anguish over seeing him in a relationship is at least played to good comic effect.  Then we get to the second volume and we get more predictable storylines involving what happens when Takeo and Yamato get their friends together for a mixer, Takeo starts training for a judo tournament, and Takeo's plans to give Yamato a birthday to remember fall on the same day that Sunakawa's father is set to go in for surgery.
None of these storylines are bad by themselves.  The judo one justifies its existence through the climactic match in the way that it showcases the Power of LoveTM in a way that's both dramatically satisfying and believable in the context of martial arts.  It's just that all of them involve simple misconceptions or minor conflicts that are usually cleared up with a minimum of fuss and have the couple re-affirming their feelings for each other in a saccharine lovey-dovey kind of way.  These kinds of stories get old real quick and wind up producing a drama-free narrative.
This is why most romance stories end when the fated characters become a couple.  After all, the hard part's over.  All that's left is the "Happily Ever After."  While "Fables" has done some good work with dissecting that particular trope, most of the romances I've enjoyed in comics have involved the characters learning how to make a relationship work over time.  Seeing Jon and Suzie work through their issues has been one of the best parts of "Sex Criminals," and the way Rei and Kira had to do the same puts what we're seeing in "My Love Story!!" to shame even if they are in different genres.  It's not manga, but the way the creators of the anime version of "Planetes" actually dug into the Hachimaki/Tanabe relationship and showed how these two could actually be together surpassed the Cliffs Notes version we got in the manga.
Doing a romance story about characters who wind up in a relationship early on doesn't have to be a narrative dead end.  Yet that's what it appears Kawahara has built for herself here.  She does get decent support from the artist, Aruko, who does a great job with capturing the characters' emotions but whose style is very much pro forma for the shoujo genre.  "My Love Story's!!" issues right now are more a failure of imagination than anything else.  There's plenty to do with a couple that has discovered happiness.  We're just getting a relatively dull take on it by the end of the second volume.  Maybe things will turn a corner one way or the other in vol. 3…