Episodes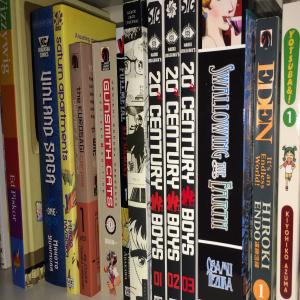 Friday Oct 23, 2020
Friday Oct 23, 2020
Stop me if you've heard this before:  A psychiatrist shows up at Arkham Asylum and begins to treat the Joker, convinced that they'll be able to resolve his madness, only for the Clown Prince of Crime to turn the tables on them.  "Killer Smile" isn't the story of Dr. Harleen Quinzel; however, it's the story of Dr. Benjamin Arnell, married family man who has spent three… weeks talking to the Joker about his problems.  As this is coming to us from writer Jeff Lemire, your best guess about what will happen to Dr. Arnell is likely to be right.  It's clear that the writer wants this to be a story about how a good man with good intentions can fall prey to the Joker's brand of corruptive madness.  The problem is that except for a decent twist halfway through, the story plays out exactly as you'd expect.  As crazy as the Joker may be, it's disappointing to see that the way he gets inside other people's heads turns out to be so ordinary.
The thing is, I was expecting the story to be half-baked in this fashion.  It's what I expect from Lemire these days.  The main reason I picked up this volume (on Amazon's most recent Buy-2-Get-1-Free sale) was because it featured art from the writer's "Gideon Falls" collaborator Andrea Sorrentino.  The artist invests some incredible effort in the story as he renders the flashbacks to Joker's crimes in a bright, clean style while giving the present-day sequences a shadowy and grounded look to them.  Sorrentino also has the story play out in some incredibly stylized ways, such as displaying the action over grinning teeth when Arnell starts to feel the Joker really getting to him.  This is all to say that the art is as impressive as I was expecting to see, which is arguably better than this story deserves.
If this was all there was to "Killer Smile" then it would just be an okay story in a really overpriced format.  However, it also includes the one-shot "Batman:  The Smile Killer,"  also from Lemire and Sorrentino.  I initially figured that this one-shot was commissioned to pad out this volume and would offer Batman's perspective on these events.  It's actually a follow-up to them that is ultimately more ambitious and less satisfying than I was expecting.  That's because Lemire and Sorrentino set up a new story to tell here and "The Smile Killer" is just a teaser for it.  Will they ever get around to it?  Probably, but ending a story that was advertised as a complete one with "To Be Continued…" really sours me on the idea of  following it any further.