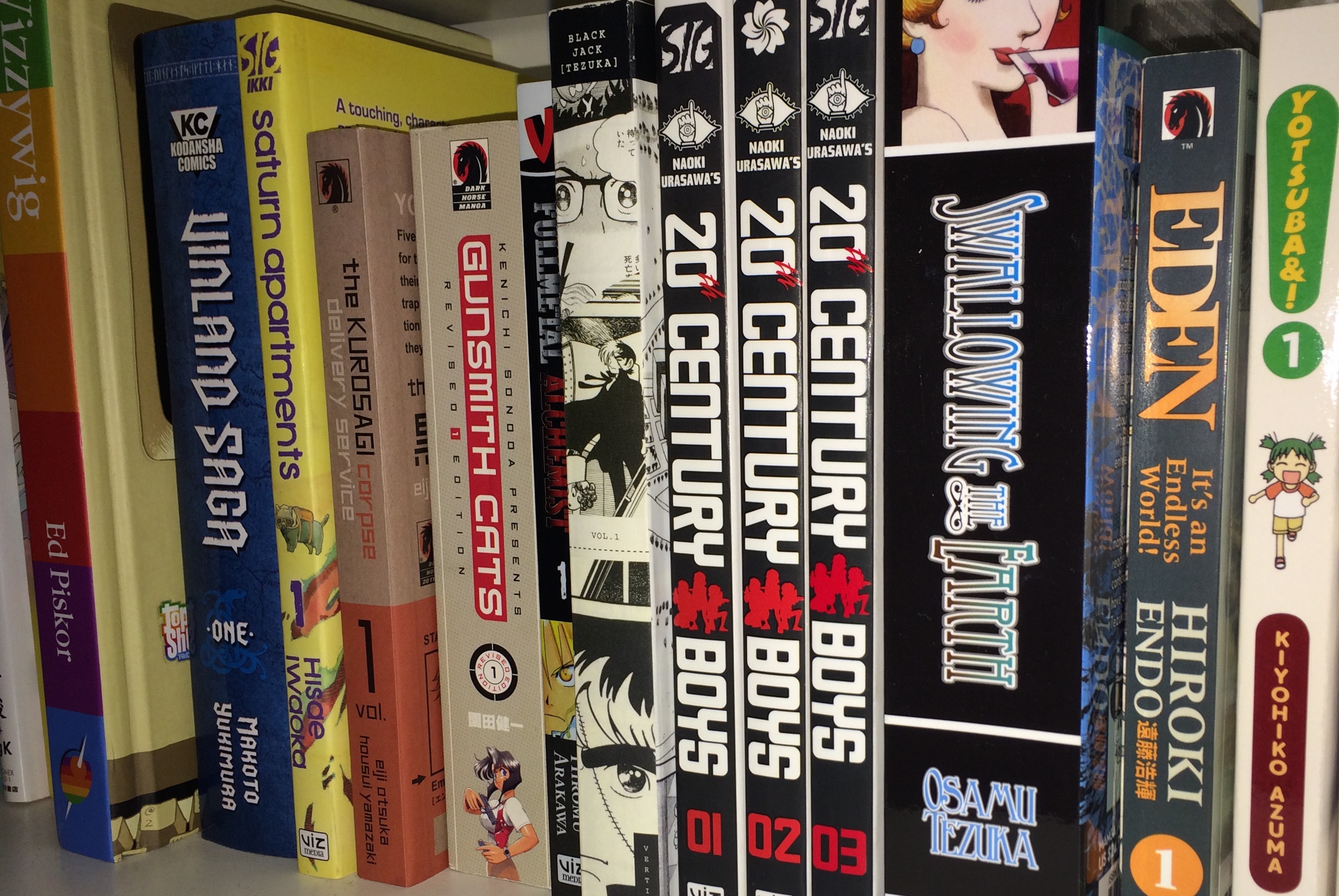 This volume collects one full arc, "Godkiller," and the start of the title story.  When I heard that this was how Marvel was going to package things, I found it a bit odd.  After all, how compatible is a story that deals with the fallout from "Avengers vs. X-Men" going to be with one that looks to be expanding on/retconning the character's origin story.  It turns out to not be that big of a deal in the end as Kieron Gillen has the first arc dovetail into the next quite nicely.  That, the change of scenery to outer space, along with the increased stakes and scale of this volume help lift it above the quality of the previous one.
Now that he's also a member of the Guardians of the Galaxy, Tony Stark has been living it up in space by going around, fighting pirates, saving aliens, and hitting on the females of the species he finds.  Oh, and also being targeted by the law-enforcement robots of the Voldi for killing one of their gods:  The Void Falcon.  Or as we know it:  The Phoenix.  Before he can be summarily executed for this act, Stark is visited in his cell by a Rigellian recorder robot named 451 who provides a cultural loophole that allows our protagonist to engage in ritual combat for his life.  Though Stark's fighting skills take him far, the deck is stacked against him even before 451's secret agenda is factored in.
"Godkiller" basically plays out like a particularly action-packed episode of any "Star Trek" series with its emphasis on cultural conflicts between alien civilizations and the lateral thinking that's sometimes required to deal with them.  With Gillen writing it, the story becomes a fun, almost jaunty affair with Stark giving us the right quip or witty comeback for pretty much every scenario.  451 is also interesting in his duplicity, even if he comes off as just a more well-meaning variation on the savvy ends-justifying-the-means schemer that was Unit.  It's his actions that instigate the arc's explosive climax and lead an angry and determined Stark to pursue him in the name of justice.  Though this lead-in is handled well, "Godkiller" stands on its own through its great mix of humor, action, and clever surprises.
Chief amongst these surprises is the fact that science fiction seems to really suit artist Greg Land here.  While those annoying grins are still here, they're kept to a minimum as he goes all-out with the alien technology on display here.  The outer-space battle that opens the story gets things started off on a particularly strong note and he remains in good form throughout.  If this is any indication, then it would appear that the key to making Land work as an artist is to put him on a cosmic book.  I'd say that "Guardians of the Galaxy" would be a good fit, but Bendis already has Nick Bradshaw working his magic there.
Anyway, Stark's pursuit of 451 leads him straight into the story of his "Secret Origin" and a team-up with Death's Head in the process.  (If you've read Gillen and Steve Sanders excellent "S.W.O.R.D." should-have-been-a-miniseries then I'll just say that their partnership is every bit as entertaining as it sounds.)  Things quickly go wrong and Iron Man finds himself at the mercy of his quarry.  In 451's first act of business after that, he shows his captive a movie of the man's dad, Howard Stark, apologizing to his son for something that he has done.  After that, the story jumps back and forth in time showing us the tribulations that Howard and Maria Stark went through in order to have a kid and Tony's efforts to try and get the upper hand on his captor and figure out just what game he's been planning all these years.
Howard and Maria make for an immediately sympathetic couple, in one part for the reason that their banter together allows you to understand where their son gets his way with words from.  Another part comes from the very sympathetic struggle they undergo to have a kid together.  Their troubles are summed up succinctly by a doctor who says that they should hope that her child doesn't come to term.  This sends Howard off to the far corners of the Marvel Universe seeking a cure in places like Kun-Lun and from the likes of the High Evolutionary.  His quest eventually leads him to an alien-run casino where he ropes in other notable Marvel characters of the era on a heist/rescue mission.
Gillen clearly has fun channelling the "Ocean's Eleven" vibe of these scenes, and I frankly would've liked to have seen more of them.  The "heist" itself is over and done with far too quickly for my liking and the setup invested in it.  Also, I'm not sure how I feel about the retconning being done to Stark's origin here.  Tony is noteworthy for the fact that aside from his armor he's still an average human, albeit an incredibly intelligent one.  What Gillen implies here is that not only was the character's intelligence the product of outside intervention, but so was his predilection to creating weapons of war as well.  To say that he didn't come by his achievements by natural means and was predisposed towards being an arms dealer feels like an unnecessary complication to Tony's origin at least, and a devaluation of his character at worst.  At this point I'm not sure that this is something I want to see, but the writer hasn't let me down yet and we have a whole six issues to go in that arc.  So what I'm saying is that it's early and things can change.
Art for this part of the story comes from Dale Eaglesham who provides solid, straightforward superhero art.  He's good with the various time periods and locales -- ranging from the "alien pustule" colony to Las Vegas of yesteryear -- and his character work is pretty solid as well.  If anything, his work here is too straightforward and doesn't really take any chances or try to liven things up with any stylistic flourishes.  Eaglesham still tells the story well, and that's still something to be appreciated.
So yeah, I did enjoy vol. 2 more than vol. 1 even with my misgivings about the retcons being applied to Stark's origin.  The high action and fun of "Godkiller" as well as the interesting cast of "Secret Origin" and their interactions together make for an engaging read, and show that Gillen clearly has a plan for his run on this title.  That's always good to see in any series and I'm certainly interested in seeing where it goes in the next volume when the full truth behind Stark's origin is revealed.