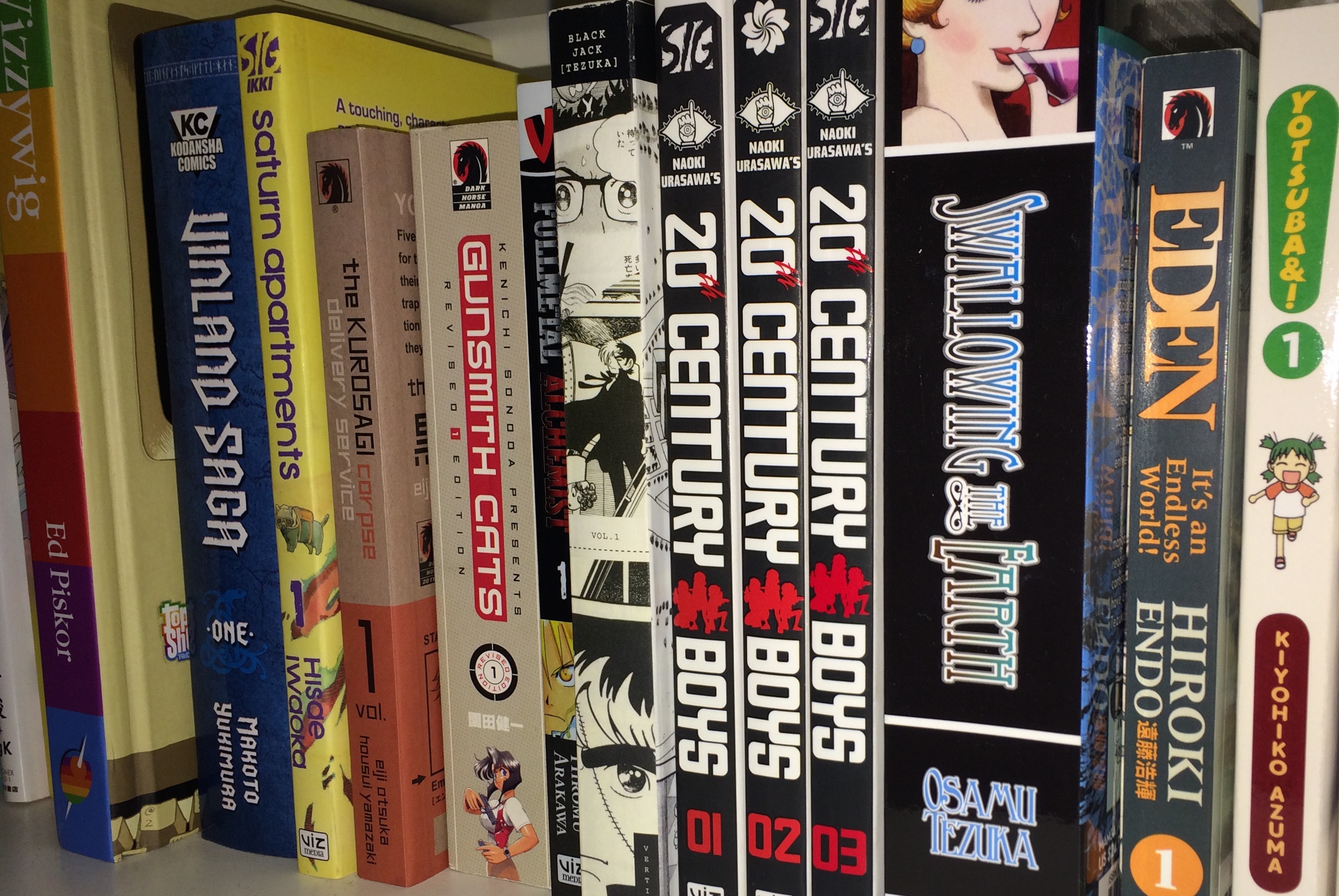 Something that escaped my notice last month:  A new series called Switch from Stjepan Sejic, creator of "Sunstone."  How could I gloss over a new title from a creator I like?  When it involves an apparent relaunch of "Witchblade," a series Sejic worked on for years, and I've had zero interest in ever since it launched.  As it turns out, "Switch" isn't exactly a relaunch of "Witchblade."  Yes, the titular artifact does find its way onto an unlikely bearer, but this time it happens to be a geeky high school girl.  While I'm sure that the standard superhero and fantasy tropes will find their way into this series in due course, the second issue describes the new wielder being courted by opposing forces with hilarity and awesomeness following in "Sejic-style."  If this series really can deliver on the sense of humor and irreverence present in "Sunstone" (and maybe even a little of the drama) then it might actually be a keeper.  The fact that it also began life as a webcomic, a la "Sunstone," does bode well for it.
The Autumnlands #7:  You know, I was starting to worry after I hadn't seen new issues of this series in the previous solicitations.  I can only assume that the fantastically detailed art from Benjamin Dewey takes a while is the reason for the delay, but no matter!  This was one of the best new titles I've read from Image this year and I'm very much looking forward to seeing where things go with this forthcoming second volume.
Black Science Premiere HC:  The Beginner's Guide to Entropy:  Collecting issues #1-16 (basically vols. 1-3) just in time for the new arc to start with issue #17.  While this series had a fantastic twist at the end of its first volume that had me chomping at the bit to find out what was going to happen next, it really hasn't delivered on that promise.  I'll be going into a bit more detail on that when I get around to reviewing vol. 3, suffice to say that it looks like writer Rick Remender is falling back into his old habits of grinding down the characters in his creator-owned work.  I honestly wonder how people who pick up this omnibus edition will feel when they get to the final page and see that just about everything the characters have accomplished HAS BEEN FOR NOTHING!  Yeah, that'd sure make me want to buy the next omnibus.
Citizen Jack #1:  Speaking of Remender, the guy who took on "Uncanny X-Force" after his defining run -- Sam Humphries -- has a new series for Image.  It's about Jack Noteworthy, a scandal-plagued small-town politician who is about to run for president.  You'd think that he wouldn't have a chance in hell…  Except that he does have a chance in Hell because he actually worships Satan and has recruited a demon named Marlinspike to help him with his campaign.  This would sound like the perfect recipe for satire, if it only didn't have to compete with the actual spectacle of Donald Trump's current run for president.  Reality may be more horrifying than fiction in this case, but I'm willing to give this series a go in the hopes that it'll at least be able to give me another reason to laugh at politics.
The Goddamned #1:  From the "Scalped" team of Jason Aaron and R.M. Guera comes their take on the Book of Genesis.  Specifically, the time before the Flood when mankind was giving God all sorts of reasons to wipe it off the face of the Earth.  Imagine lots of bad, bad people doing bad, bad things to each other, only without the veneer of law and civilization holding them back.  "Scalped" with the brakes taken off, in other words.  Hopefully it won't just be one big orgy of violence and Aaron and Guera have a long-term plan for this series, even if there isn't the hint of a direction for this story in the solicitation text.  They didn't let me down with "Scalped," so I'm willing to give them the benefit of the doubt here.
Huck #1:  In which a man with special powers uses them to do a good deed each day and the townsfolk help keep his abilities a secret.  Naturally, an outsider spoils everything by revealing the man's powers to the media, sending him on an adventure that will CHANGE EVERYTHING in the process.  This is coming from Mark Millar, so expect this setup to be delivered with a lot of superficial sentimentality and on-the-nose dialogue in the first issue.  What's really annoying here is that it's coming from "American Vampire" artist Rafael Albuquerque, and, on the surface, his involvement would appear to be just one reason why the schedule for that title has gone off the rails and necessitated another relaunch for a "Third Cycle" of that series.  Oh well, don't expect to read any more about this title here as I've got better things to do with my time.
Invincible #125:  Something else I forgot to mention last month:  Robert Kirkman isn't a fan of the ongoing series of "reboots" being done over at Marvel and DC, so he's naturally toying with the idea of doing one for his own superhero title.  The idea being that Mark Grayson has gone back in time to before his dad killed the Guardians of the Globe and came out as a villain.  Not only does he have the chance to avert this event, but he now has the chance to make a better future for everyone.  The obvious outcome for this story would be to have Mark realize that the future can't/shouldn't be changed and return to his present, save for one little change to show that his trip did have some consequence.  I'm sure Kirkman is well aware of this outcome and is only doing this story to toy with the expectations I've outlined.  I can't imagine how he's going to subvert this particular kind of story, so reading the forthcoming volume should prove to be quite entertaining as a result.
Morning Glories vol. 9:  Hrm… I can't say that I'm particularly excited about the arrival of a new volume.  Then again, I have read the previous eight so I guess I'm committed to seeing what happens when this crazy train reaches its end.  This volume collects issues #43-46, and writer Nick Spencer has said that the series was planned for a sixty-issue run.  The end is in sight, is what I'm saying.  I also think that I'll have to go back and re-read his "Superior Foes of Spider-Man," still the writer's best work, for purposes of detox when this is all over.