Episodes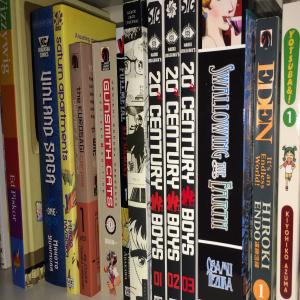 Sunday Apr 30, 2017
Sunday Apr 30, 2017
I've mentioned before that the best thing Rob Liefeld has done as a comic creator is to let other talented individuals like Brandon Graham and Alan Moore play around with the characters he's made.  However, he's also responsible for giving a lot of creators and industry people their big break when he co-founded Image back in the 90's.  One of these people is Eric Stephenson, a fact which I was reminded about when I saw the solicitation for Bloodstrike #1 Remastered Edition for which he did the scripting duties back in '93.  While I don't think anyone should be paying money for a remastered edition of an old Liefeld comic, even one that was done at the height of his popularity, it's certainly worth noting that Stephenson has gone on to much bigger and better things.  Like having been the publisher of Image comics since 2008 and a key player in "Image Central" prior to that.
What I'm getting at is that there's a decent chance that Image today may have looked very different, and produced much less noteworthy comics, had Liefeld not hired Stephenson to work on his terrible 90's superhero comics.  Funny how things work out sometimes in this industry, isn't it?
Sacred Creatures #1:  What does it say about me when I consider the description of this series, that of a young college grad and expecting father caught in the middle of a supernatural struggle to control the balance of power in this world, to be fairly boilerplate?  Creators Pablo Raimondi and Klaus Janson probably should've got someone to write better copy for the solicitation text here at any rate.  Still, I'm curious because I remember the good work Raimondi did as artist on the "Madrox" miniseries over a decade back and his subsequent quality contributions to the "X-Factor" series that followed.  He's been MIA for a while, so it's good to have him back if nothing else.
By Chance or Providence:  Becky Cloonan has self-published a series of three mini-comics over the years, one of which won her an Eisner.  Now the trilogy -- "Wolves," "The Mire," and "Demeter" -- are being collected in one volume.  All I can say is that this is great news for people like me:  people who like Cloonan's work and aren't really that keen on picking up single issues.
Curse Words vol. 1:  The moment of truth has arrived.  Will teaming up with Ryan Browne, creator of the deliciously gonzo "God Hates Astronauts" and artist on this series, allow writer Charles Soule to fully unfurl his freak flag?  This is after he's had to keep it in check while working on corporate-owned superheroes and trying to keep up the illusion that the characters in "Letter 44" are in a serious political/sci-fi thriller rather than a soap opera.  I certainly hope so, if only because the comics industry could do with more comics about evil wizards with koalas as their mascots.
Generation Gone #1:  Ales Kot likes to put a lot of crazy into his comics.  The problem is that sometimes he puts too much crazy into them and then the story of a damaged secret agent in a near-future world turns into a rumination on the last days of Allen Ginsberg.  This time around he's working with a co-writer, series artist Andre Lima Araujo, with the premise of what happens when young, underprivileged kids get superpowers.  Having a breakup fight inside a nuclear factory is just one thing, so I'm curious to see where they go from there.  Unless it winds up being a rumination on the last days of Oscar Wilde.  Oh wait, that's been done already…
God Country:  An old man suffering from dementia gets ahold of a magic sword from the eye of a tornado and proceeds to go about taking down the otherworldly beings that have been drawn to it.  Creators Donny Cates and Geoff Shaw previously gave us the fun "repo men for superheroes" series "The Paybacks" and this series sounds like quite a departure from that one.  It also appears to have been a successful departure as the issues that have come out already have been burning up the back issue market like nothing else.  So yeah, I'm curious to see what the fuss is all about.
Lazarus X+66 #1 (of 6):  Try as it might, "Lazarus" hasn't been able to maintain a regular shipping schedule since its launch.  Now regular artist Michael Lark is taking a break with the intent to return with writer Greg Rucka for the next arc starting in 2018 with the intent of shipping every issue on time.  Until then, Rucka and a host of co-writers and artists are delivering this miniseries focusing on different characters in the universe of "Lazarus."  It occurs to me that after "The Wicked + The Divine" did almost the same thing for its third arc, Rucka and co. probably could've gotten away with making this vol. 6 of their series.  Still, it's more "Lazarus" with the involvement of one of its principal creators and that's a good thing by any standard.
Mage:  The Hero Denied #0:  It begins!  Time to get in on the ground floor… if you're planning on buying this in single-issue form.  Naturally, I'll be waiting for the collected edition next year.  Or more likely in 2019.  On that note, the original series The Hero Discovered is being reprinted again in two volumes with the first one being solicited here.  Not quite as handy as the one-volume edition Image put out a while back, but still very much worth picking up if you can't find a copy of that edition at a reasonable price.
Solid State:  Nerd-rock god Jonathan Coulton and one of comics' preeminent wiseasses Matt Fraction have teamed up to make a graphic novel.  Spanish artist Albert Monteys drew the short straw and wound up having to illustrate the results of this collaboration.  This is a companion piece to Coulton's album of the same name and involves two guys who share the same name, separated by hundreds of years, and are standing at the end of man's beginning, and the beginning of man's end (respectively).  Coulton and Fraction are, individually, two very funny and clever guys so this is either going to be amazing or one of the biggest wastes of potential since that time Mamoru Oshii and Satoshi Kon teamed up to make a comic together.  Yeah, it could wind up just being mediocre.  Except Coulton and Fraction seem like the kind of guys who would steer a project off of a cliff if that was happening just to make it memorable.
Black Road vol. 2:  A Pagan Death:  Originally titled "A Fine Pagan Death" at the end of the first volume.  Magnus the Black's first adventure, taking on a rogue Vatican outpost in the North, comes to a close.  The first volume revealed him to be not much of a detective, so let's see if he can redeem himself by delivering some good old-fashioned ultraviolence against these villains.
Black Science vol. 6:  Forbidden Realms and Hidden Truths:  So which strain of Remender will we get in this volume:  The funny, uplifting side which has given this title its best moments?  Or the depressing one which grinds down its characters and makes their achievements feel worthless?  The solicitation text teases the reunion of the McKay family in their home dimension before they embark on an even more ambitious journey, so I guess it's going to be "A little from column A and a little from column B" this time out.
Kill or Be Killed vol. 2:  Continuing the developing journey of amateur vigilante Dylan.  Who is only being compelled to kill bad guys because of the demon who saved his life and certainly not because of mental illness with roots in his father's past as a weird sci-fi sex artist.  Vol. 2 is also a nice surprise in terms of the amount of issues it collects because after "The Fade Out" was originally delivered in four three-issue collections and the first volume of this also delivered four, I was kind of used to that being the new normal from a Brubaker/Phillips collaboration.  However, vol. 2 collects six issues and will likely make for a very satisfying chunk of reading when it arrives.