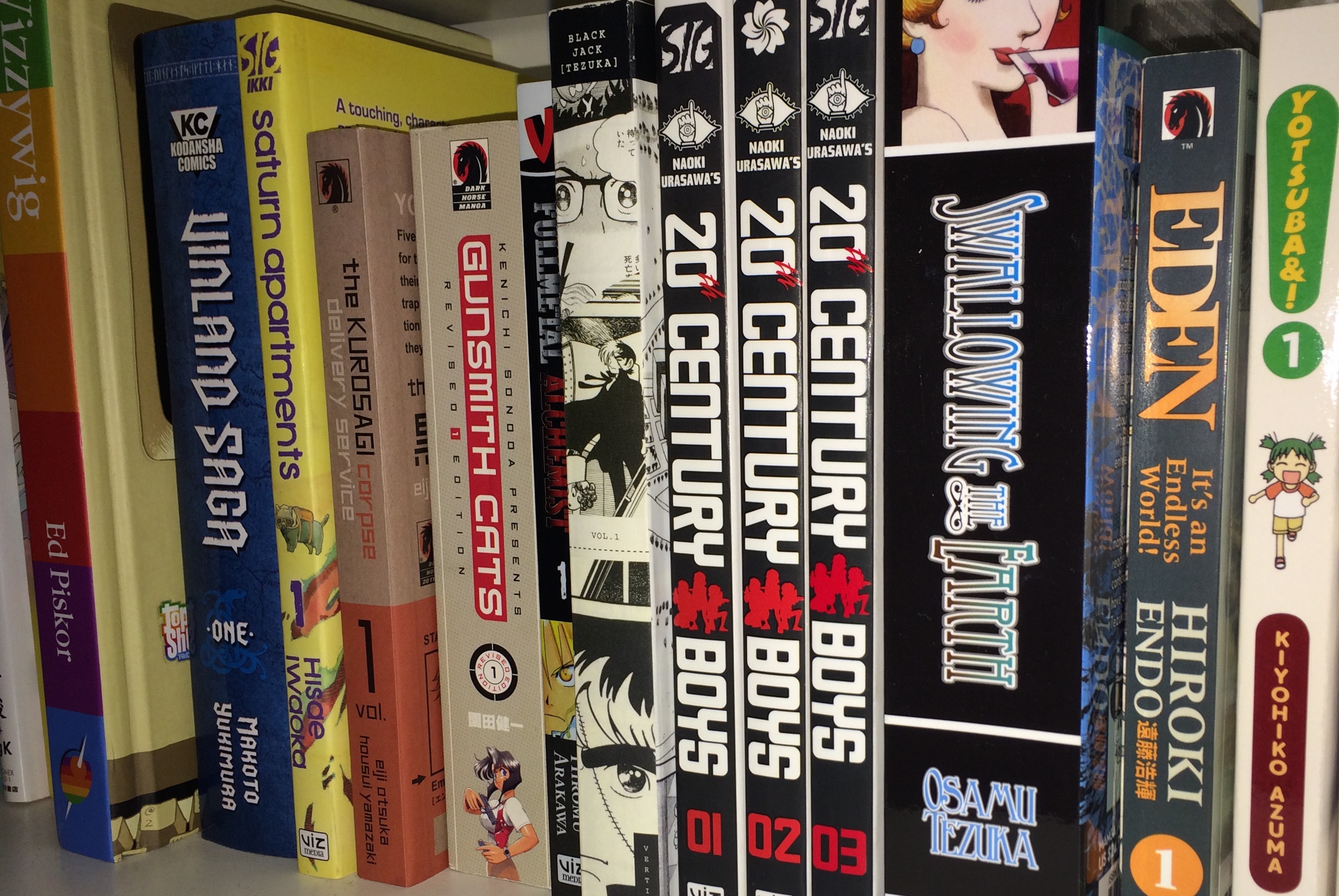 Above-the-Board Recommendation:
God Hates Astronauts Omnimegabus
Ryan Browne may be busy these days with his own projects and illustrating stuff other people have written, like "Curse Words" with Charles Soule, but his signature project in my opinion will always be "God Hates Astronauts."  Why does God hate astronauts?  That's not the question you should be asking here.  A better one to ask would be, "Why didn't this mad, mad series about awful puns, even worse superheroes, and bizarro sound effects that arose from the fevered stew of Brown's fetid imagination take over the world when it was first published?"  ...I may have answered my own question there.  However, if you do want to see what unrestrained insanity looks like in comics form, Browne has you covered with this omnibus.  In addition to collecting the three "proper" volumes of this series, you'll also get the "3D Cowboy's 2D Spectacular" graphic novel, and a collection of garbage-written miscellany all for the very worthy price of $40.
Arrowsmith #1 (of 6):  Writer Kurt Busiek and artist Carlos Pacheco's "WWI But With Wizards" series returns for another round after (What was it?  15… 20, years) a very long time.  A remastered hardcover of the original miniseries is said to appear in the following round of solicitations, so I'll keep my eye out for that.  What's more is that this represents the first stage of Busiek migrating all of his creator-owned titles to Image.  Not only does this mean "Astro City's" old home will be its new home again, but a continuation of his excellent "Autumnlands" series is promised as well.  That's what I'm most excited about, though if new editions of "Astro City" collections are on the offing, then I'll have to make sure to pick them up starting with vol. 4.
Joe Hill's Rain #1 (of 5):  Former IDW guys Chris Ryall and Ashley Wood have a new imprint at Image called SYZYGY, and the first title they're publishing through it is… an adaptation of a Joe Hill novella.  That they're not doing themselves.  Don't get me wrong, the idea of a lesbian couple who have finally decided to move in together only for the plans to be dashed by an apocalypse of skin-shredding crystals falling from the sky sounds like a killer setup for a story.  It's just that I'd rather see Hill doing the adapting since he's an accomplished comics writer himself.  Or maybe Ryall and Wood since it's their imprint.  Instead, the actual heavy lifting is being done by writer David Booher and artist Zoe Thoroughgood.  I've not heard of either of them before now, but maybe they are the right people for this job.
Saga #55:  I imagine that there are plenty of people who are a little bitter that it has taken so long for this series to come back from hiatus.  Especially after the cliffhanger that creators Brian K. Vaughan and Fiona Staples left everyone with at the end of issue #54.  More likely is the fact that this series has been gone long enough for everyone to get over their initial anger and start frothing at the mouth for it to return.  Which is to say that I'll be very curious to see what the initial numbers are for the return of what was once one of Image's best-selling series to an era where the numbers for a "best-selling Image series" have only gotten bigger.  As for me?  If I could stand on my head, I'd have done that while waiting for this series to return.  I can wait a little longer for enough to come out for vol. 10.
Bolero #1 (of 5):  From the solicitation text:
A woman running away from a broken heart discovers a mother-key into parallel universes. The rules are:
*    The key can work on any door.
*    The mother will only let you visit 53 universes.
*    Do not ask to speak to the mother.
*    Never hop more than 53 times.
In all honesty, I'm interested in reading this series just to see how that last rule comes into play, and what the rules are for breaking it.  Wyatt Kennedy writes and Luana Vecchio illustrates.
Monstress #36 & Nocterra #7:  I'm bringing both of these issues up because they're the start of new arcs for their respective series.  Coincidentally, the collections of their previous arcs are currently sitting in my "To Read" pile.  It's likely that you'll see the review of "Nocterra" vol. 1 before "Monstress" vol. 6, though.  That's because after five previous volumes of dense but entertaining storytelling, that series has finally convinced me to sit down and re-read the previous volumes so I can properly enjoy vol. 6.  Which, uh, is likely going to end on something of a downer cliffhanger if the solicitation text for issue #36 is any indication.
Cruel Summer:  In case you've been holding out for the softcover edition of this collection, your wait is finally over.  While I think that being able to read it a year and a half was worth picking up the oversized hardcover when it came out last year, at least this paperback edition should look nice on your shelf next to the other volumes of "Criminal."  Of which this is secretly vol. 8 in that series.  You'll still need to pick up issue #4 of the most recent series on its own if you want to read it, since it has yet to be collected in any form.
Mirka Andolfo's Sweet Paprika vol. 1:  The solicitation text gives the impression that this new series is about a businesswoman who just won't stop, relax, and make time for romance after her heart was broken in the past.  That is until a handsome delivery boy finds his way into her life and has her reconsidering things.  So far, so very 90's/00's romcom.  What the solicitation text leaves out is the fact that the cover to this volume shows Paprika to be a devil and Dill, the delivery boy, to be an angel.  Is this just artistic license?  Or is this series the secret romcom version of "Preacher?"  I was impressed by Andlofo's work on "Mercy" and this is her first solo project since that title.  So you can bet I'm going to pick up this collection to find out the answer.
Chu vol. 2:  (She) Drunk History:  Vol. 1 of this spinoff from "Chew" felt more like a very long first issue than the first volume of a new series.  It was still a very entertaining first issue and it left me dying to know how vol. 2 was going to turn out.  After all, we were promised Saffron Chu using her invalid bastard of a grandfather to track down a lost cache of Nazi gold.  Knowing this series, and writer John Layman's style in general, the story is only going to get stranger and weirder from there.  Good thing talented newcomer Dan Boultwood is on hand to illustrate it all.
Stray Dogs:  Dog Days #2 (of 2):  I know that I covered the first issue of this miniseries last time I did one of these.  In between then and now, I've finally had the chance to read "Stray Dogs."  Now that I have, I can see why writer Tony Fleecs and artist Trish Forstner decided to go the anthology route as a follow-up.  "Stray Dogs" ended on a note that indicated the story was very much wrapped up.  There's nothing wrong with that, though it suggests that the creators weren't prepared for how big a hit it would be.  Which is why it's very interesting to see that new dogs are being introduced here.  Mind you, this would only be an issue if the original miniseries wasn't as good as it was.