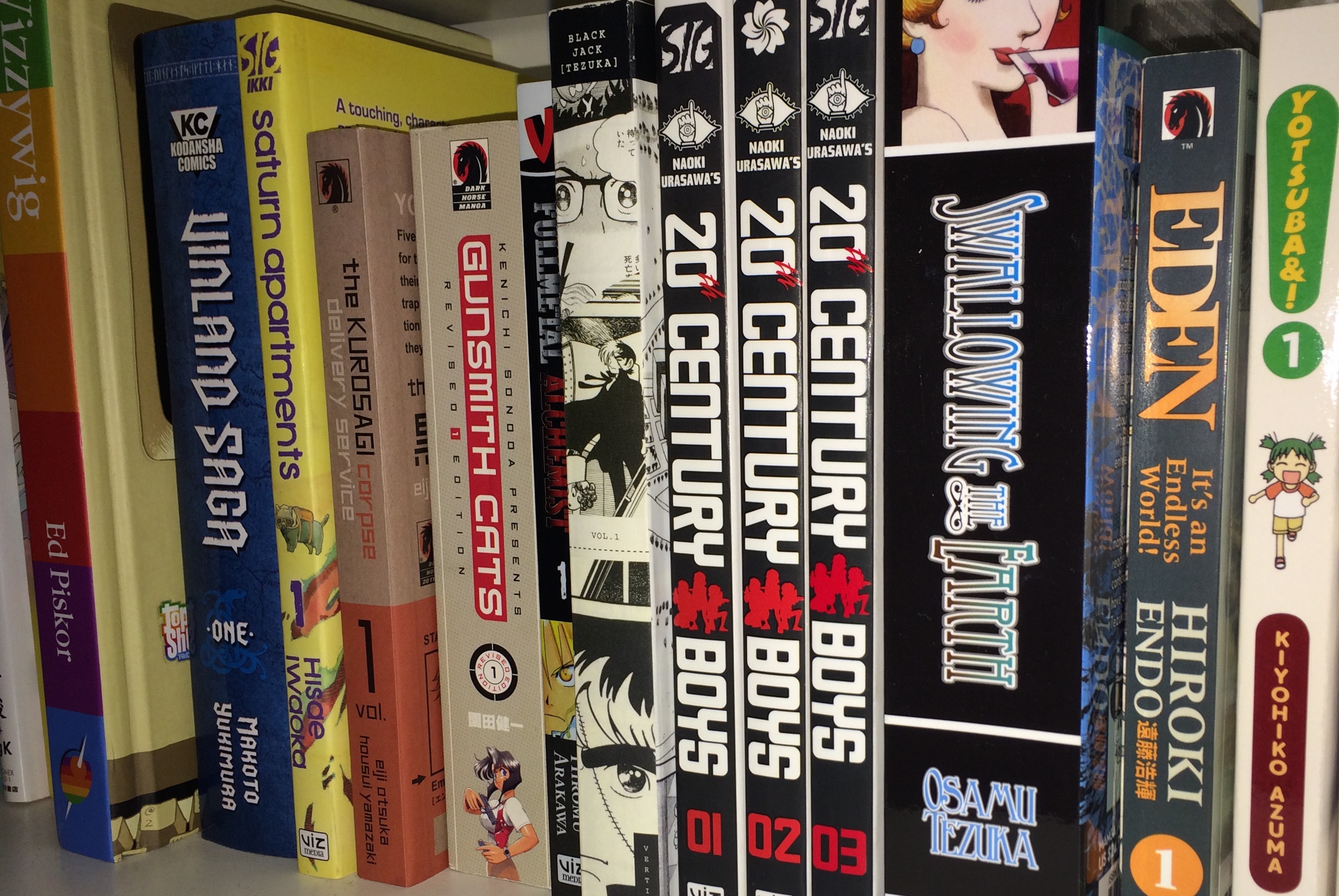 Above-the-Board Recommendation:
Radiant Black vol. 1
Nathan Burnett's life sucks right now.  How badly does it suck?  So much so that he's celebrating his 30th birthday by moving back in with his parents.  The good news is that he's about to find the power of the Radiant which will change his life forever…  Assuming that the cosmic beings who created it and the Red Radiant who has a mad-on for him don't kill him first.  This comes to us from writer Kyle Higgins and artist Marcelo Costa, and it's worth noting that Higgins has a long history writing "Power Rangers" comics for BOOM!  My initial impression was that this series was effectively a version of that long-running franchise with the serial numbers scrubbed off of it.  I haven't heard anything to suggest that I'm wrong, but "Radiant Black" has turned out to be a much bigger hit than I was expecting it to be.  Which means that it's time for me to pick up the first volume and see if the hype is real.
Echolands #1:  The solicitation text for this volume mentions a lot of stuff about Hope Redwood, a thief who lives in a world that has forgotten its past and how she's its only hope so long as she can evade a tyrannical wizard.  I don't say this often, but it's a good thing that I'm not picking this series up based on its premise.  No, this long-in-the-works series represents J.H. Williams III's return to comics after "The Sandman:  Overture."  Between his work on that series, "Promethea," "Batwoman," and more, Williams gained a well-deserved reputation as one of the most dazzling artists in the industry.  So it's safe to say that this series will be worth reading for the art alone -- and each new issue will be accompanied by a special edition showing the art just as it left the artist's studio.  All this being said, it'll be nice to see if Williams and co-writer Haden Blackman can deliver a story that's on the same level as the art.
King Spawn #1:  "Spawn Universe" is set to be Image's biggest-ordered title of the 21st Century.  It may only have that title for a couple months if it does a good job of selling this, which is the first new ongoing "Spawn" title since the original launched back in the early 90's.  I take note of these things and just roll my eyes.  It would be one thing if these sales milestones were being built on quality.  From the sidelines, it all looks like people have been waiting for more kinds of Spawn all this time… and the return of Todd McFarlane as an artist.  Of which he is one of many for this inaugural issue about a Spawn who is a king.  I really cannot be bothered to find out what more there is to this title than that.
The Me You Love in the Dark #1 (of 5):  An artist retreats to an old house in a small town to rediscover her muse, only to find out that it's not what she was expecting.  The muse, that is.  This comes to us from writer Skottie Young and artist Jorge Corona, who made a lot of buzz with their previous series "Middlewest."  I never got on board with it because Young proved to me with his previous series "I Hate Fairyland," that he was a far better artist than he was a writer.  "Middlewest" did represent a big tonal shift in his style, and Young looks to be taking it further with this miniseries.  I imagine King and Gaiman aren't being name-checked in the solicitation text for no reason.  So I think I'll give "Middlewest" a shot to see the writer really has turned a corner in how he manages his storytelling.
Second Chances #1:  Ever wanted to start over?  The Second Chances Hotline can offer you just that -- so long as you've got the cash, a proper referral, and a very good reason for wanting to start over.  These are the rules its proprietor, LeBlanc, abides by.  Which is why we're going to see them all broken at the start of this series as a shady figure from his past wants him to give a second chance to a person with chemically induced amnesia.  It's an intriguing, if predictable setup.  The question is whether or not new writer Ricky Mammone will be able to spice it up with some clever dialogue and plotting, and artist Max Bertolini can do the same with his art.
Moonshine #28:  The final issue.  Which is something that I didn't see coming.  The series has coasted by agreeably well for a while now on the basis of writer Brian Azzarello's agreeably eccentric storytelling and artist Eduardo Risso's always-stylish art.  Much like fellow Image series "Oblivion Song," I was content to enjoy what it had to offer even if it never felt like it was properly building to something.  Anyhow, former mob torpedo-turned-werewolf Lou Pirlo has returned to the big city and a whole lot of people are likely going to wind up dead as he settles accounts.  I'd tell you to flip a coin as to whether or not Lou is going to make it out of this series alive, but Azzarello is the kind of writer who is likely to give us an ending that would only make sense if that coin landed on its edge.
Old Head:  For those of us who thought that "Dracula Motherf**er!" took itself too seriously!  A former basketball player returns home to bury his mother and finds out about his destiny.  Which involves a decades-long feud with capital-D Dracula.  This comes to us from the man who wrote a lot of "Rick & Morty" comics as well as the criminally underrated "Assassin Nation," Kyle Starks.  I didn't know that I wanted to know about the decades long family feud between a basketball star's family and Dracule, but I do now after reading this solicitation.
Deep Beyond vol. 1:  "Mercy's" Mirka Andolfo co-writes this post-cataclysm series with David Goy and "Doctor Aphra's" Andrea Broccardo provides the art.  It's about a group of scientists exploring an abyss in order to save mankind, and after "Mercy" I'm interested in reading more from Andolfo.  However, what really got me about the solicitation for this volume was the analogy used to describe it.  The series is pitched as "The 100" (haven't seen it) meets "Low" (stopped reading after one volume) with a hint of "Death Stranding" (played it, but had to stop after an update caused it to repeatedly crash on my PC).  I'm just wondering how that analogy works and just exactly what constitutes "a hint" of "Death Stranding."  Is it because there's a Bridge Baby that lets people see the inhabitants of the abyss in this story?  I bet that's it…
Punderworld vol. 1:  Hades is the God of the Underworld.  Persephone is the Goddess of Growth and Renewal.  They've been crushing on each other for a couple centuries now and the latest gathering of the Greek Gods promises to provide enough camaraderie and liquid courage for the two to finally get to know each other.  Of course, these are the Greek Gods we're talking about and since they're more like us humans than most other divine beings, you can bet on something going wrong that may or may not leave hundreds of thousands of us mortals dead in the process.  This comes to us from Linda Sejic, wife of Stjepan, and creator of the mad-scientist romantic comedy "Blood Stain" that I still need to follow up on.  I mean, the premise for this certainly sounds fun, and it's also helped that all of the "Hades" I've been playing lately has primed me for more modern takes on the Greek Pantheon.
Two Moons vol. 1:  "Rumble" creator John Arcudi clearly didn't think that a series about a "Conan"-esque warrior whose spirit is thrust into the body of a scarecrow in the modern day and forced to fight his age-old enemies was too uncommercial of a premise.  Which is why his new series, with artist Valerio Giangiordano is about a former Pawnee tribesman fighting in the Civil War who finds out that he can't leave his origins behind and is now out to fight the supernatural threats that the war has dug up.  It's safe to say that this is not going to be for everyone.  However, as someone who bought and enjoyed "Rumble" I can definitely say that it sounds just right for someone like me.