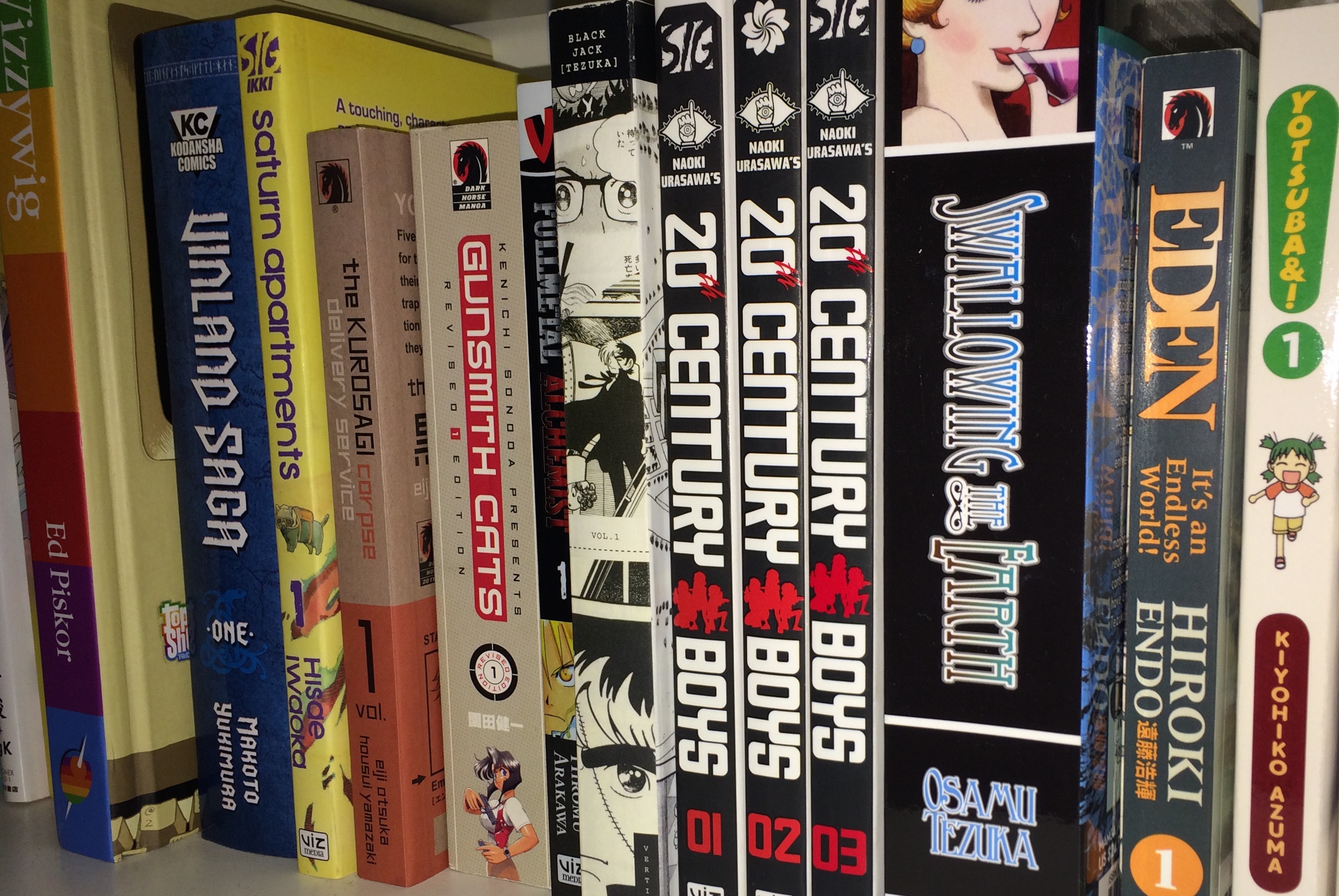 The fun thing about having the Image Expo earlier this month is that several of the titles announced are having their first issues solicited here.  It makes them seem less far off than originally announced, you know.  There's still a ton of other titles that we'll have to wait for later this year to get our hands on.  Scott Snyder and Jeff Lemire are teaming up for a graphic novel, "A.D.:  After Death," about what happens to our world when a cure for death is discovered.  "Paper Girls" is from Brian K. Vaughan and Cliff Chiang, and is about something strange that happens to four paper delivery girls the day after Halloween.  Vaughan also has what sounds like amusing Canadian propaganda in "We Stand On Guard" with Steve Skroce as civilians fight off invading giant robot U.S. forces.  Brian Wood has two titles:  The could-go-either-way-sounding "Starve" about mega-star celebrity chefs in the future with Danijel Zezelj, and the more straightforwardly appealing Viking story "Black Road" with Garry Brown.
Best of all, however, is the announcement that "Phonogram vol. 3:  The Immaterial Girl" by Gillen and McKelvie will FINALLY be coming out later this summer.  By the time it hits, it'll have been three years since it was originally announced.  Given the quality of their output since then, I think it'll wind up being worth the wait.
Savior #1:  I like to give Todd McFarlane crap for having only done "Spawn" and not doing anything interesting with it over the past two decades.  (Speaking of which, after the fiasco of announcing Brian Wood as the new writer of that title, Paul Jenkins was revealed to be the new "Spawn" writer at the Expo.)  After all this time, he's finally trying to do something different.  Written with frequent "Spawn" co-writer Brian Holguin, this series is about what would happen if an individual with powers like God's appeared in the real world.  Imagine John Arcudi and Peter Snejbjerg's "A God Somewhere" with a more religious bent.  McFarlane gets points for trying here, along with the fact that the first eight issues of this title are already in the can.
Kaptara #1:  Described as an epic story of punching and love from writer Chip Zdarsky and artist Kagan McLeod.  It involves a space expedition that goes horribly wrong -- because if it didn't, there would be no story!  The fact that those are the words from the solicitation text rather than snarky commentary from me makes all of the difference here.
No Mercy #1:  Writer Alex De Campi and artist Carla Speed McNeil follow a group of privileged U.S. teens who go to build a village in Central America before they attend college in the fall.  Much like the aforementioned "Kaptara," THINGS GO WRONG!  Only, based on the solicitation text, it sounds like they're going to go wrong in a horror/suspense movie kind of way.  The setup sounds promising since the teens are apparently coming to the country for good reasons.  Nothing like say, "Far Cry 3" where its protagonist and his very privileged friends found themselves at the mercy of a psychopath and without much of my sympathy.
The Tithe #1 (of 4):  It's a simple but appealing premise:  A hacker group known as Samaritan is robbing mega-churches of millions of dollars and giving the money to worthier causes.  The feds investigating the group are sympathetic, but want to put a stop to this before it gets out of hand.  Probably because they've read stories like this too and know that with the kind of money that is assumed to be involved here it's only a matter of time until Samaritan implodes in violence and murder.  Money does crazy things to people.
The Legacy of Luther Strode #1:  Judging by how the title character is channelling Super Saiyan Goku on the cover, it looks like shit is about to get real.  Five years after the events of the previous volume, Luther and Petra are finally ready to bring down the murder cult that ruined their lives.  That previous volume was essentially one big fight scene and a beautiful example of how to do (gory and violent) style over substance.  If you're into that kind of thing, it was excellent.  Now we just have to see if writer Justin Jordan and artist Tradd Moore can top themselves with this final installment of the "Luther Strode" trilogy.
Jupiter's Legacy vol. 1 & MPH:  Thanks to the massive delays involved in these two Mark Millar-written series (I'm not sure if the final issue of "MPH" is even out yet) they're both being solicited here.  I still haven't read the issue of "MPH" I got for free at this year's Comic-Con -- it never left the trunk of my car.  Maybe I should actually get around to reading it at some point to see if Millar's dialogue has actually gotten any better in the past few years.  Then again, why waste that time when I could be reading comics by writers whose dialogue I like?  The choice is clear.
Sinergy:  Mike Oeming and Taki Soma's series about a girl who can see monsters from another dimension after she loses her virginity is collected.  Maybe I'll pick this up, maybe I won't.  Frankly, the most notable thing about this is that it was apparently a miniseries (there isn't a "vol. 1" signifier in the solicitation text).  Maybe this means that the latest volume of "Powers" will be able to come out on a more regular basis?  Stay tuned true believers!
Southern Bastards vol. 2:  Gridiron:  I didn't think that Coach Boss was developed into a proper villain with the first volume of this title.  Yes, he caved the protagonist's skull in at the end of it, but there wasn't much to show why he was so feared by the townspeople.  That looks to change here as we're getting the man's life story now.  Should make for some good readin' after the quality of vol. 1.  Still, after the final page insinuated that we were going to see an Army-trained African American woman clean up Craw County I'm still itching to see the payoff on that as well.
Sunstone vol. 2:  Sweet!  Now I can stop squinting at all of the little panels in the backmatter of the first volume to see how the story is continued!