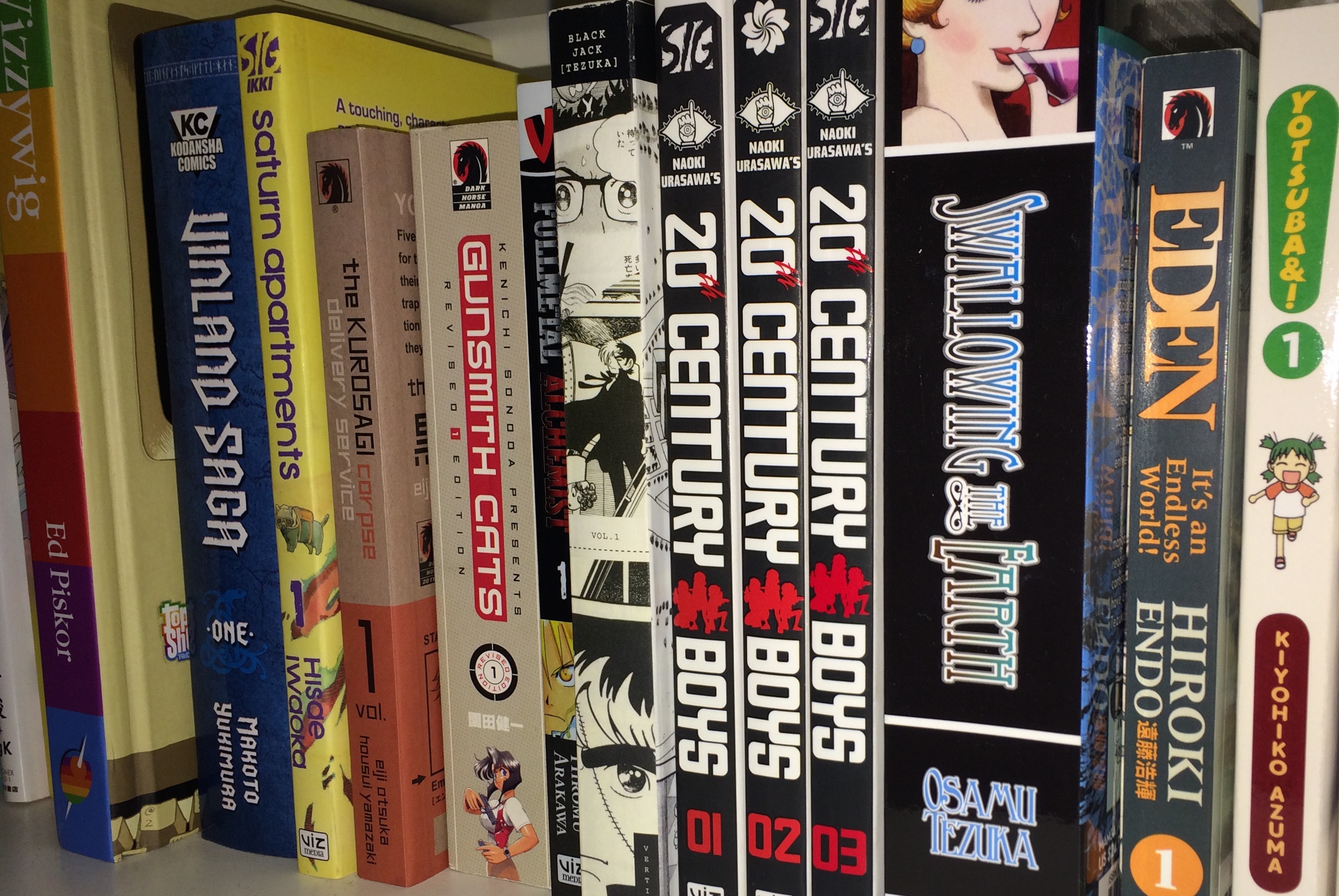 There's a new imprint on the DC block:  Black Label. If you've been wanting to read some out-of-continuity tales featuring the company's most popular superheroes by some of its biggest creators then this is what you've been waiting for!  Me? Well, I won't say no to reading more "Batman" stories from Scott Snyder and Greg Capullo as their Batman:  Last Knight on Earth features the Caped Crusader thrust into a hellish desert future with only the Joker's head in a jar for company.  We're also getting a Batman/John Constantine team-up story in Batman:  Damned from Brian Azzarello and Lee Bermejo, Wonder Woman Historia:  The Amazons from Kelly Sue DeConnick and Phil Jimenez, and the previously announced Superman:  Year One from Frank Miller and John Romita Jr.  There's also Wonder Woman:  Diana's Daughter by Greg Rucka and The Other History of the DC Universe from John Ridley, both of which have yet to secure artists.
All of these sound promising, though I will admit that a couple of them are morbidly so.  At this point in his career, the thought of seeing Miller tackling Superman's formative years engenders a kind of trainwreck fascination.  Maybe Romita Jr. will help keep him in line as his contribution to the latest "Dark Knight" project, "The Last Crusade," was the closest any of that title's spinoffs have come to capturing the spirit of the original.  Now, Azzarello wrote that one-shot and he's one of a handful of creators to have written both Batman and Vertigo-era John Constantine. I can't say I'm thrilled by the idea of these two heroes teaming up, but if this is going to be a mature readers project then maybe the writer can bring us the best of both worlds here.
Hawkman #1:  It's interesting to note that while the "Hawkman Found" one-shot tie-in to "Metal" which was meant to set up this new ongoing series was written by Jeff Lemire, this is written by Robert Venditti.  He's been doing solid work for DC over the years so it's not surprising to see him tasked with wrangling another ongoing out of a character who has a notoriously tangled continuity. What raises my eyebrow here is the fact that Bryan Hitch is illustrating it.  He's been doing more writing work at DC lately with "Justice League" and while he's a fantastic artist, any excitement regarding the quality of his work is usually tempered by the fact that he's notoriously slow. Giving Hitch the benefit of the doubt, I'll say we'll see three issues from him before he's off and a new penciller is brought in.
Justice League #'s 1&2:  Scott Snyder takes on DC's premier superteam and has them facing an impossible choice!  That kind of setup usually comes off as hyperbole here, but the writer's track record with DC characters is such that I'm actually a little curious as to what he's got in mind here.  Also, listening to him talk up the series at WonderCon over the weekend was a little inspiring too. I like the fact that the focus of this series is going to be Martian Manhunter, with Batman in the role of the group's "crazy uncle."  While two issues are solicited here it's not clear if this will be another twice-monthly ongoing DC title. That's because while one of them has shown in the past that he can hack a monthly grind, that would be Jorge Jimenez, the other was usually only wheeled out for special occasions during his time at Marvel, that'd be Jim Cheung.  To be fair, Cheung did illustrate the monthly "Clone Conspiracy" event, but he also required some help from Cory Smith to make it happen. Still, Snyder's involvement alone is enough to get me onboard a new "Justice League" title for the first time since Grant Morrison was writing it.
The Man of Steel #'s 1-6 (of 6):  In the wake of "Action Comics" #1000 we're getting this weekly series to lay out Bendis' take on Superman.  The writer has our hero facing multiple threats: Lois and Jon Kent have disappeared, a serial arsonist is threatening Metropolis, and a baddie by the name of Rogor Zaal from Superman's past has come to town.  Not a bad setup for a storyline, to be sure. The main thing working against it is Bendis' unevenness during his last few years at Marvel. This will either silence his critics and herald great things to come for the writer at DC, or be a mishmash of good ideas with misguided ones that, while being perfectly readable, will show everyone that his best days were at Marvel.  No complaints about the artists involved, with each issue showcasing a different star: Ivan Reis, Evan Shaner, Ryan Sook, Kevin Maguire, Adam Hughes, and Jason Fabok. Maybe don't go into this expecting much artistic consistency, but each issue should look fantastic on its own terms. Oh, and speaking of Sook...
The Unexpected #1:  The latest "New Age of DC Heroes" title features art from Sook… and Cary Nord.  That's right, the new line of superhero comics from DC that was meant to be driven by and a showcase for artists finally has a first issue where the artist in question wasn't able to complete the whole thing.  To be fair, this may have been because Sook was press-ganged into doing his "Man of Steel" issue. It's still not a good look for this new line, even if Nord is a pretty great artist on his own terms. As for the series itself, it's written by Steve Orlando and it's about a former paramedic who has to start a fight every 24 hours to feed the conflict engine in her heart which is drawing out two entities who want to either cut out her heart or save it.  That's a pretty complicated setup even before you throw in the fact that it's also advertising a superhero manhunt ranging from Thanagar to the Dark Multiverse.
Absolute Flashpoint HC:  An Absolute edition for "Flashpoint?"  Seriously? It was a so-so alternate present story that represents the least of what Geoff Johns can do as a writer.  The main reason it has any historical significance to the DC Universe is because it happened to be the story to end the current continuity and pave the way for the New 52.  A case of being in the right place at the right time as opposed to actually being any good. At least the art from Andy Kubert will look awfully nice in this glossy oversized format.
Batman:  Death and the Maidens:  Currently, this is the last story Greg Rucka has done to feature Batman in a starring role.  It's definitely one of his more memorable ones, which is undoubtedly one of the reasons they're bringing it back in print.  The setup here is Ra's Al Ghul is under threat from two fronts: A former lover named Nyssa who is out to destroy him, and Bruce Wayne who is buying up land that could form potential Lazarus Pits to make sure they can't be used for that purpose.  In an attempt to bargain with the man he once saw as a potential heir to his empire, Ra's offers Batman the chance of a lifetime if he'll spare one pit for his personal use: The chance to speak with his parents again. How can Batman pass up a chance like that?  While the story was good, as was the art from Klaus Janson, "Death and the Maidens" suffers a bit because its radical changes to Ra's status quo were almost immediately undone. This should serve as a warning to future comic book writers: If you are going to mess with a character's status quo, best stick around to see it through.
Orion by Walter Simonson Book One:  While Simonson will always be best remembered for his legendary run on "Thor," his early 00's run on the adventures of this New God has also received a lot of admiration over the years.  There's already been an omnibus edition of his run, but Simonson was a bit put out by the fact that the backup stories in each issue were put in a separate section at the back of the book.  Maybe this edition will correct that?
Superman Blue vol. 1:  Wow… so we've reached the point where DC thinks there's nostalgic appeal for the year when Superman had electric powers.  Okay. As Chris Sims found out over the course of his "Electric Bluegaloo" series at the late Comics Alliance, the stories involving Electro Supes are probably better than you remember.  Even if the whole concept was just one big gimmick to the point where it was simply handwaved away at the end. Still, now you can go read the comics themselves come June! Or be like me and go re-read "Electric Bluegaloo" now that I've been reminded about it.  RIP CA
American Vampire Omnibus vol. 1:  I think the vol. 1 in the title is cute.  That's because this omnibus collects the first 27 issues and two miniseries in the title's run.  All that's left to collect are the two anthology one-shots, another one-shot, and the eleven issues of the "Second Cycle" series.  Oh? You think there's going to be more of it once Scott Snyder and Rafael Albuquerque clear their schedules? Well, according to Snyder himself at his WonderCon spotlight panel the series is set to come back later this year.  From what little he said the title's "Third Cycle" will be a series of miniseries with batches of issues dropping monthly (hopefully) as he and artist Rafael Albuquerque complete them. It's nice to hear that Snyder's still planning to finish this series.  However, he does sound awfully busy with his current DC projects and the also-planned new "Wytches" series at Image later this year.