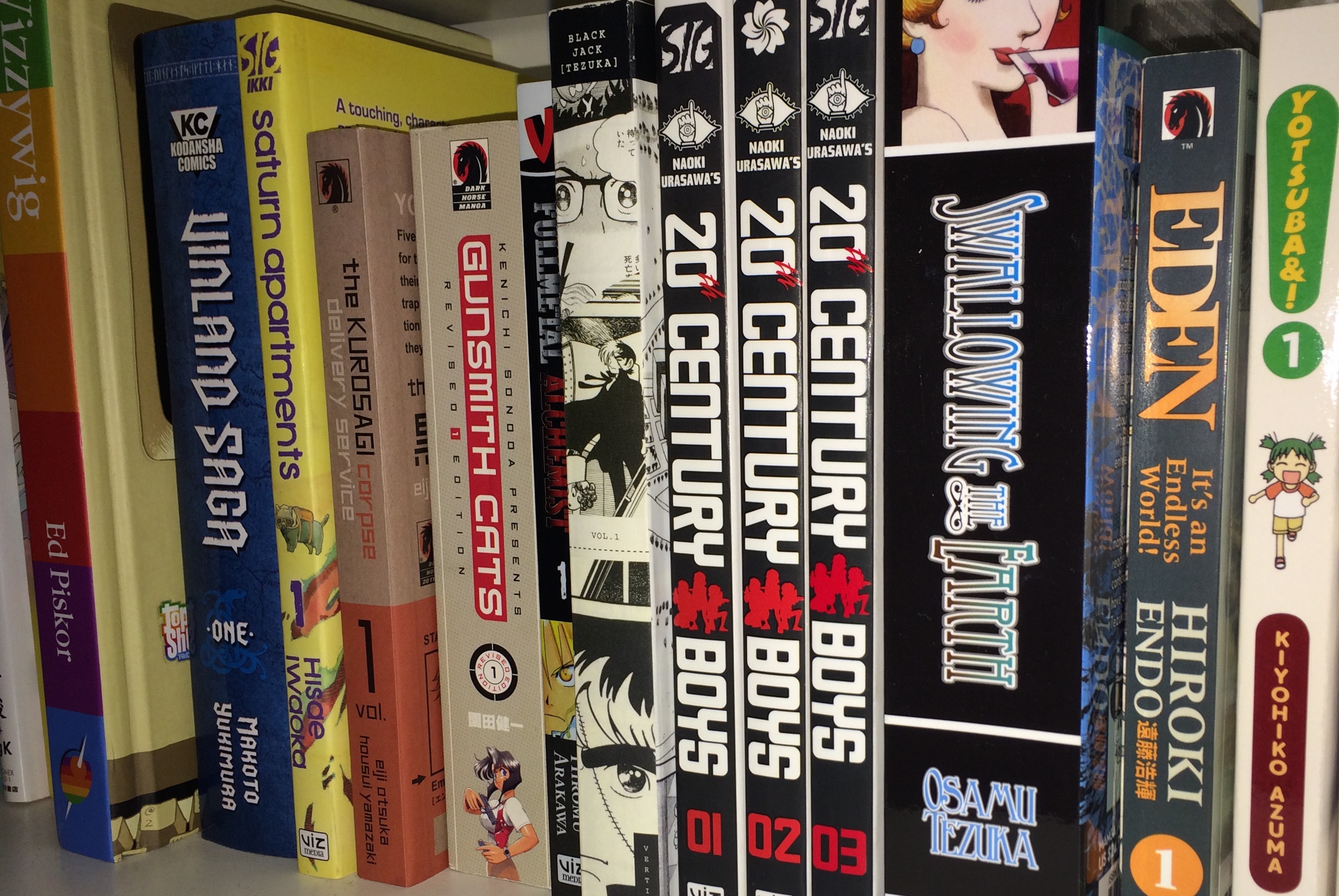 We've reached the end of the summer convention season and Dark Horse finally (FINALLY!) announced a new manga license.  Well, it's not a manga, actually.  You could probably call it manga-adjacent, really, given that its subject is best known as an illustrator/character designer.  The license in question is Yoshitaka Amano:  Beyond the Fantasy -- An Illustrated Biography, an English-language version of the original French edition published back in 2015.  "Beyond the Fantasy" will come in two editions, with the standard one being a 320-page hardcover that will retail for $50.  If you're willing to shell out $100 for the limited edition, then in addition to the hardcover you'll get a copy of Amano's sketchbook from his Paris trip, a signed card from the artist, two lithographs of his work from "Vampire Hunter D" and "Final Fantasy VI," and a blu-ray disc featuring scenes from his trip, an interview between the artist and the publisher of the French edition, and a painting session at his studio.  All-in-all it sounds pretty impressive.  Even if it is something manga-adjacent rather than an actual new manga license.
B.P.R.D.:  The Devil You Know #4 (of 5):  Hey, now that's a familiar face.  The solicitation text also mentions that Ashley Strode, the "Exorcist" of the most fill-in of "B.P.R.D." volumes, will have a role in this issue/miniseries as well.  I'm not sure if focusing on some of the least-satisfying aspects of the Mignolaverse is the best start for the post-"Hell on Earth" world, but at least co-writers Mike Mignola and Scott Allie are trying.  I'm not sure if they'll actually succeed, though I am committed to following the direction of this fictional universe for the time being.
Briggs Land vol. 2:  Lone Wolves:  After a very successful first volume, Brian Wood and Mack Chater return with another story about the secessionist group run by Grace Briggs and her family.  This time out, a chance encounter with some civilians on Briggs Land leads to a hostage situation that threatens everything the family has accomplished so far.  Oh, and Grace's ex-husband is plotting his revenge from prison after she wrested control of the family from him.  If the first volume was anything to go by, expect lots of excellently wrought tension in this volume as things go from bad to worse for Grace in this arc.
Dept. H vol. 3:  Decompressed:  So I picked up vol. 2 at Comic-Con and it's still sitting in my "to read" pile.  Yeah, the first volume didn't make me all that eager to start reading this right away.  I picked up vol. 2 in the hope that I'd see the kind of improvement that got me to keep reading "Mind MGMT" after a similarly disappointing first volume.  Vol. 3 does promise psychic jellyfish and a resolution to the murder that served as the core of vol. 1, so that's something to look forward to.  Assuming I sit down and read vol. 2 before this next one comes out in January.
Hellboy and the B.P.R.D.:  1954:  What's on Hellboy's monster-fighting agenda for this volume?  How about seeing him take on Yetis terrorizing an Arctic research team, taking care of a phantom monkey haunting an American family in the suburbs, and heading to Hong Kong for a showdown over a demon-attracting artifact.  All of this sounds quite promising, even more so when you consider that all the stories here are being co-written by Chris Roberson who I consider the heir apparent to John Arcudi's legacy in the Mignolaverse.  Also, Mignola teams up with Richard Corben again for a short story in case you needed more incentive to get this volume when it comes out.
I Am a Hero vol. 5:  By the time you read this, vol. 4 should have arrived for me on Tuesday.  Fortunately the solicitation text contains very little that could spoil my enjoyment of that volume, save for the fact that the core group of survivors is still alive in vol. 5.  That said, we're told that the outbreak is expanding into a new region:  Taiwan.  I don't think the "Dead Island" games provide the proper context for a zombie outbreak on an island nation, so I'm interested in seeing what mangaka Kengo Hanazawa has to say about it here.
Jenny Finn #1 (of 4):  Now here's a real oddity in Mignola's oeuvre as a creator.  Not only did he not publish this through Dark Horse, but it went through two other publishers before it wound up at his usual home.  "Jenny Finn" was co-written with Troy Nixey, who also provided the art, and was originally published through Atomeka Press in the mid 'aughts.  Then it was re-published by BOOM! back in 2011.  Now it finally arrives at Dark Horse where it will likely stay until the inevitable collected edition falls out of print and the creators take it to Image.  I'm not saying that's what will happen, but we'll see.  Anyhow, the miniseries is about the doom that follows in the wake of a young woman's arrival in London.  Said doom involves corpses covered in tentacles, plagues, and a killer stalking women in the night.  You know, the usual.  Those of you who have picked up this series in one of its previous incarnations should be advised that this edition will be the first to be in color, with the great Dave Stewart doing the honors.
Michael Chabon's The Escapist:  Amazing Adventures:  The Escapist in Chabon's Pulitzer Prize-winning "The Amazing Adventures of Kavalier and Clay" was a fictitious Golden Age superhero who fought the forces of tyranny through his escape artist abilities.  Seeing the comic-book potential in this concept, Dark Horse put out an anthology series showcasing the character's adventures from a host of comics greats including Brian K. Vaughan, Howard Chaykin, Harvey Pekar, Bill Sienkiewicz, and more.  I don't know why it took the publisher so long to put all of these stories into one collected edition, but that's taken care of now.  For what it's worth, this volume also advertises that it collects two never before collected stories and six unpublished stories as well.
Rasputin:  The Voice of the Dragon #1 (of 5):  Considering his critically important role in the "Hellboy" mythos, it's kind of surprising that it has taken this long for Rasputin to get his own miniseries.  Except that might not be what we're getting here.  The solicitation text tells us that a Nazi conspiracy and a dead member of a secret society send Professor Trevor Bruttenholm on his first mission:  To find the man who will soon bring Hellboy to Earth.  So this could very well be a kind of origin story for Prof. Bruttenholm as opposed to the solo Rasputin story it's being advertised as.  Still, as it's being co-written by Chris Roberson the overall story stands a pretty good chance of being good whoever its ultimate focus winds up being.  My only concern now is hoping that "Rise of the Black Flame" artist Christopher Mitten has tightened up his style after delivering only "okay" work on that miniseries.