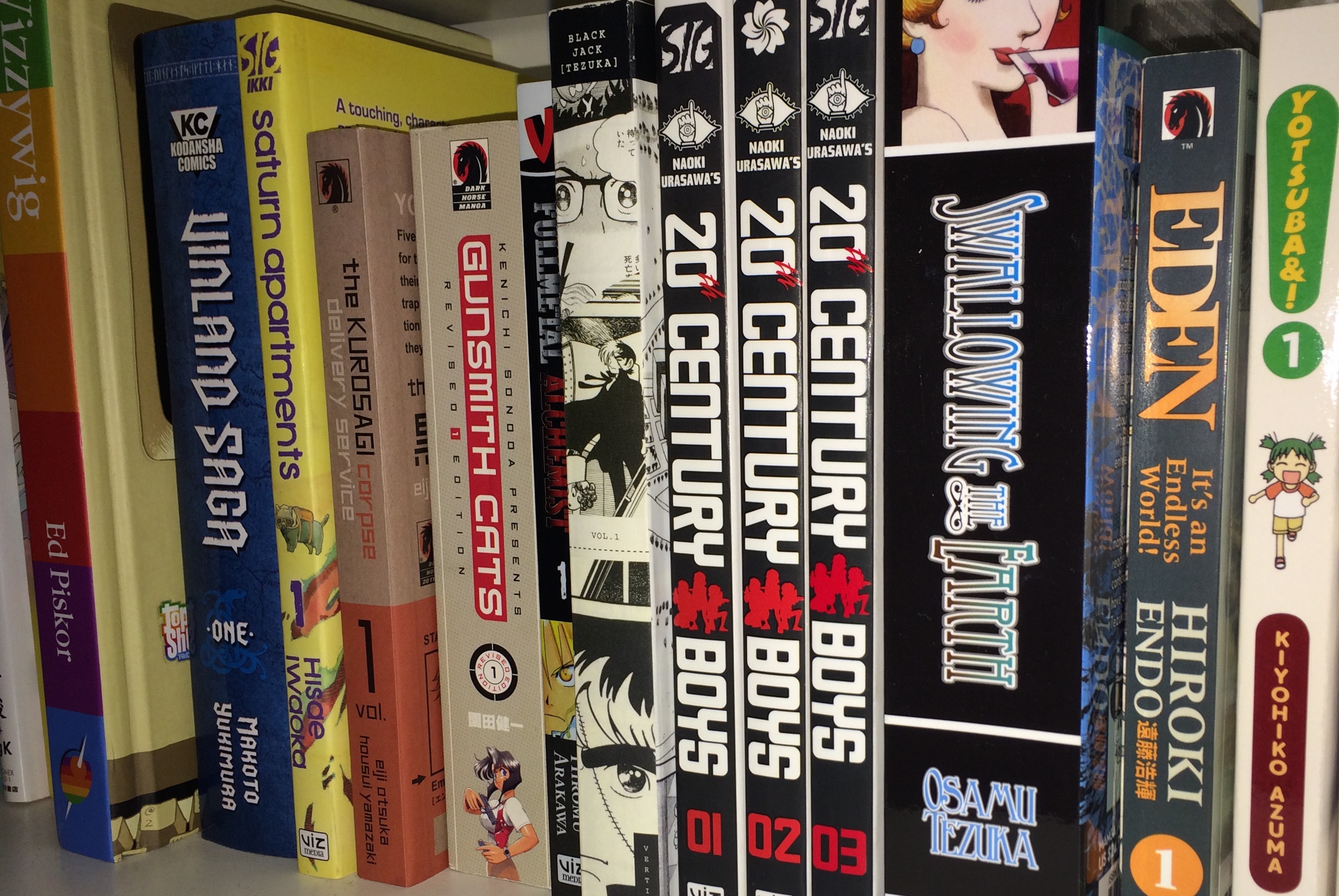 There's been some advance word on a couple of titles that bear looking out for from this company later this year:
After being announced at last year's Anime Expo, the first omnibus edition of "The Kurosagi Corpse Delivery Service" arrives in August.  (So, two solicitations from now.)  Easily one of the best manga still being published (very irregularly) by the company, and certainly the best localized of them, it has yet to really gain any sales traction in all the years it's been in print.  While there have been a couple spin-offs of the manga published in Japan, I'm just hoping the release of this omnibus edition gets more people to check it out and keeps the volumes of the main series coming at a more regular pace.
We also have a new work from brothers Gabriel Ba and Fabio Moon to look forward to as well.  Titled "Brothers," and based on a book by Milton Hatoum, it tells the story of Omar and Yaqub.  They're two siblings with strikingly different mindsets, and the story takes place after Yaqub has returned to Brazil following a particularly violent fight with his brother over their mother.  It doesn't have the high concept of their excellent "Daytripper" but everything they've done, creator-owned and otherwise, suggest that it'll be well worth reading when it arrives.
Abe Sapien vol. 6:  A Darkness So Great:  Yes, a new volume of this series is all well and good, but now I'm wondering when we'll get that volume that collects the single-issue stories that aren't from the regular art team of Sebastian and Max Fiumara.  Mike Oeming and Juan Ferreyra have already illustrated issues, and now Kevin Nowlan joins them with issue #23 solicited here.  You need at least five issues to make a collection in the Mignola-verse, so expect a solicitation after two more artists have pitched in here.
The Adventures of Dr. McNinja vol. 3:  King Radical:  It's been a while since the last volume of this series.  Yet at over 300 pages, it's clear that this webcomic has been preparing an epic storyline for the title character.  After all, how does one top a storyline where the good doctor was possessed by the magical spirit of a motorcycle that looked like it was designed by Lisa Frank and drove him to crush his nemesis King Radical?  The answer to that question would involve Dr. McNinja surviving his apparent death at the hands of a vengeful astronaut ghost and using the opportunity to infiltrate King Radical's criminal organization.  "But should he who fights rad monsters beware of becoming one himself?" the solicitation text warns us.  Probably, but Dr. McNinja has never been one to heed such warnings, much to the success of the series so far.
Baltimore:  The Cult of the Red King #1 (of 5):  More "Baltimore?"  Excellent!  Without art from original artist Ben Stenbeck?  BOOOOOO!  Mignola and Christopher Golden are still co-writing and the former has always shown good instincts for finding great artists to work with on his projects.  Still, incoming artist Peter Bergting has some big shoes to fill after Stenbeck's brilliantly moody and ominous work in the previous volumes.
Conan/Red Sonja HC:  Ugh.  A $20 hardcover for 96 pages.  There's a reason I picked up other "Conan" hardcovers like "The Jewels of Gwahlur" and "People of the Black Circle" in the half-off bins at conventions.  Even though the creative team of co-writers Jim Zub and Gail Simone with artist Dan Panosian is strong, it doesn't strike me as being strong enough to overcome the price/page ratio for this collection.
Fight Club 2 #1:  By any stretch of the imagination, this project shouldn't exist in the form that we're getting it in.  Sequels to novels are not a unique thing to comics, and some of them even come with the blessing of the author involved.  To have the author of the original work, Chuck Pahlaniuk in this case, actually write the comic book sequel to his original novel?  Unreal.  I can only assume that he must have come to Dark Horse with this idea and they set him up with artist Cameron Stewart to make this project happen.  I've only seen the film that the book was based on, but the setup as explained in the comic seems easy enough to grasp.  Regardless if I do get around to reading the original book, I think I'll be picking up the collected edition to celebrate its very existence.
Unless, you know, it turns out to be utterly terrible.  That could happen.
Gantz vol. 36:  The penultimate volume!  When the final one arrives it'll have tied "Berserk" for being the second-longest-running manga from Dark Horse.  ("Oh!  My Goddess" is the undisputed champ, being the only title they've published to break the 40-volume mark.  "Berserk" could break that too at some point, but we're not likely to see it happen within this decade.  Now where was I...)  Length aside, the real drama here is going to be whether or not this series can go out on a high note.  This has been a very uneven series up to this point.  However, mangaka Hiroya Oku seems to have his act together and has a plan for how things are going to go from here.  Vol. 34 just arrived today, so I'll either see that trend continued or be forced to eat these words in a few weeks with my review.
High Crimes HC:  Now here's a title that I've heard good things about and a hardcover with a good price/page ratio.  Disgraced Olympic snowboarder Zan Jensen has a side job running a high-altitude graverobbing business on Mt. Everest.  Certainly not the most glamourous way to make a living, but you gotta do what you gotta do.  Her life becomes exponentially more dramatic when she finds a body at the mountain's summit with a trove of state secrets on hand.  We're not told which state it is, but I'm interested enough to find out.  Particularly when it's 184 pages for $20.  *glares at "Conan/Red Sonja*
Kabuki Library Edition HC:  This is another title that I've heard about for years and never got around to reading.  Yes, there are a lot of them and I'm fortunate that publishers keep putting out new editions so I can keep making up for these lapses.  That said, I'm not sure if I'm going to take the plunge on this hardcover.  The price/page ratio is good, but aside from that one volume of "Daredevil" he wrote, creator David Mack hasn't done a whole lot of comics work to convince me that he's worth following.  This is supposed to be his definitive work, so maybe I'll find out why he's so respected after I pick it up.
Mind MGMT vol. 5:  The Eraser:  After everything went to hell for Meru and the rest of her group in the previous volume, things have to start getting better.  Right?  Maybe in some other series that wasn't heading towards its conclusion in the following volume.  Plus, the solicitation text lets us know that Meru will be seeking out a new mentor here:  the First Immortal.  Yeah… Given what we've seen of the other Immortals in this title, I can see that going real well for her.
Oh!  My Goddess Omnibus Book 1:  Instead of trying to jump-start interest in an ongoing series, the omnibi for this volume represent the company simply re-packaging this 48-volume series into a more manageable form.  After over two decades of serialization, it's the longest-running manga in America.  It's a seminal work if only for the fact that it showed American comics readers could get into a manga that didn't involve science fiction or graphic violence.  Mangaka Kosuke Fujishima published a lot of good stories through this title.  He also published a lot of boring and/or terrible ones that eventually got me to stop reading three-quarters of the way in.  I've been debating whether or not to pick up the last twelve just to see how it ends (being surprised that it now has an ending), but that internal debate is going to keep raging for a while yet.  As for everyone else, the series will be collected in sixteen total omnibi.  Only the first eight will actually be worth your time.
Usagi Yojimbo #145:  Now that the end of the series has been addressed, Stan Sakai returns to telling stories about Usagi in the title's "current" era.  Not much more to say here than "And all is now right with the world…"