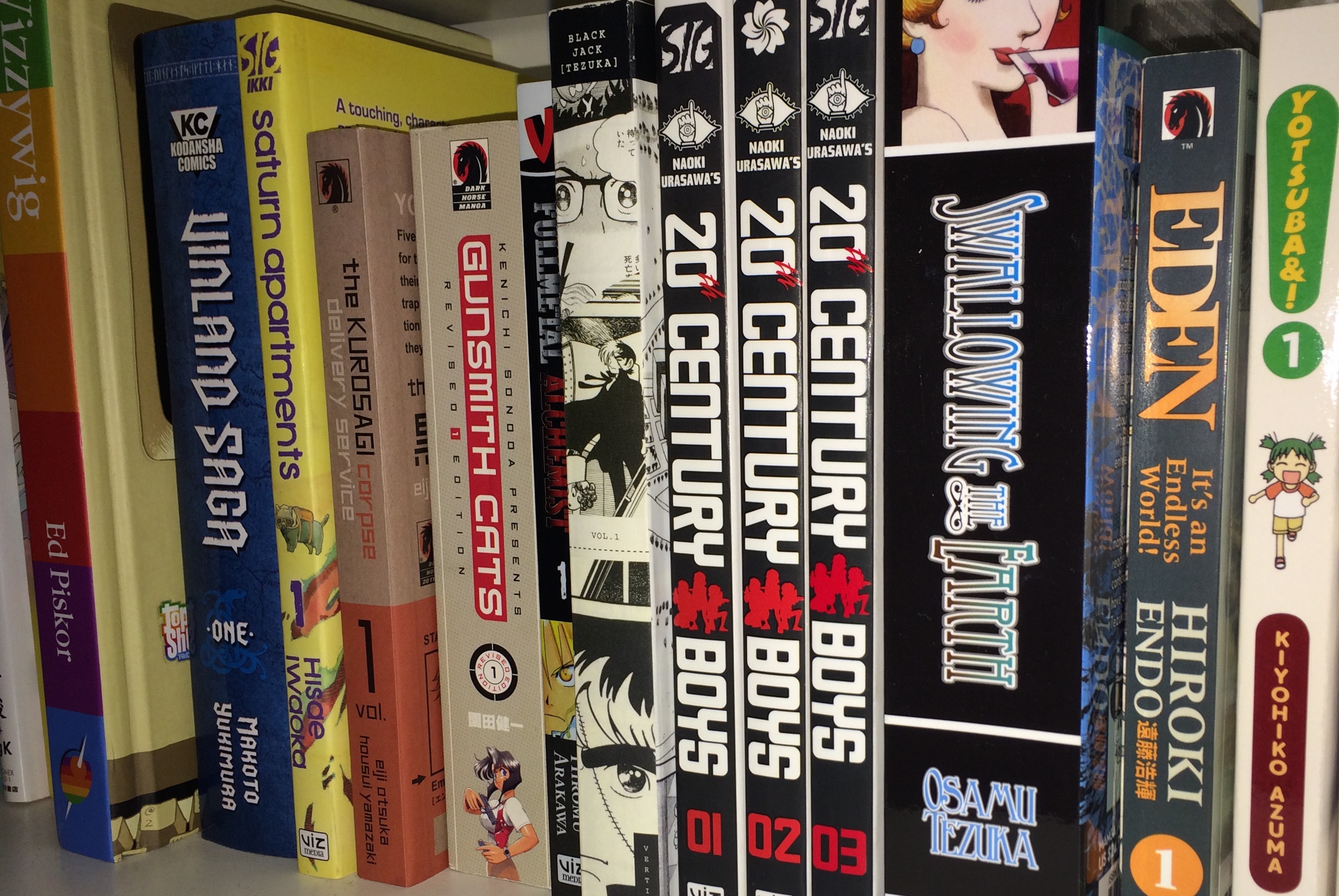 Above-the-Board Recommendation:
Elfen Lied Omnibus vol. 1
When it was announced that Dark Horse would be releasing this manga, my initial thought was "Why the hell is this being released now?"  The anime that was made from this manga was kind of a cult success back when it was released in the mid-aughts, mainly because of how it mixed slice-of-life cuteness with "Akira" levels of violence and drama.  It didn't make the same impact as that aforementioned title, let alone other defining works like "Evangelion" or "Cowboy Bebop." Which begs the question of why is the manga getting a new lease on life here in this day and age?
I got my answer in these solicitations.  It states that the Duffer Brothers, the creators of "Stranger Things," cited "Elfen Lied" as part of the inspiration for their wildly popular series.  Knowing this, you might be forgiven for thinking that Dark Horse's licensing and release this manga was part of the condition for getting the rights to publish "Stranger Things" comics.  That said, "Elfen Lied" has a special place in my memory for its more gonzo elements and the fact that the people who fansubbed it also included a content advisory warning along with the first episode.  I'll be picking up the manga to see how the manga compares to my memory of the anime.
Bad Luck Chuck #1:  I've not heard of writer Lela Gwenn and artist Matthew Dow Smith has always struck me as the poor man's Mike Mignola.  This series does have a clever premise to recommend it: Charlene "Chuck" Manchester is cursed. To the point where she makes her living hiring herself out as a living, breathing bad luck charm.  While this allows her to get by, bad luck never works in the way you want it to. Which is why Chuck is now trying to get an insurance investigator, a cult leader, and a crime boss (who is also a dissatisfied client) off of her back.  Something to file under, "This sounds promising."
Black Hammer '45:  From the World of Black Hammer #1:  Yes, that's really how this miniseries is meant to be titled.  As the title implies this is the latest "Black Hammer" spinoff miniseries and the first not to be written solely by creator Jeff Lemire.  Ray Fawkes joins Lemire as a co-writer for this series set during WWII as the Black Hammer squadron is formed to face occult Nazi threats.  You'll have to forgive me if I think this sounds a little similar to the history of another signature universe published by Dark Horse. Art comes from Lemire's buddy Matt Kindt, their first time working together since Kindt illustrated three issues of "Sweet Tooth" back when they were both at Vertigo.
Dept. H Omnibus vol. 1:  Kindt's series about a murder on an undersea research station is collected in the first of two omnibus volumes.  It's a good value for your money (twelve issues for $25), but this series was never as interesting or inventive as his previous one "Mind MGMT."  Which you can also pick up in omnibus form.
Doctor Horrible and Other Stories (2nd Edition):  If you were wondering how the recent Joss Whedon-written "Doctor Horrible:  Best Friends Forever" was going to be collected, here's your answer. I imagine there are some people who might be a little upset about the prospect of double-dipping to get that issue in collected form.  Unless you're like me and didn't pick up the first edition, making this new one an easy buy.
Emanon vol. 1:  Memories of Emanon:  Believe it or not "Elfen Lied" isn't the only manga series launching from Dark Horse this month.  This comes to us from "Wandering Island" creator Kenji Tsuruta and is set in 1967 as a young man meets and falls in love with a mysterious woman named Emanon.  I'm honestly surprised we're getting more of Tsuruta, but apparently that Eisner nomination "Wandering Island" snagged helped to raise his profile over here. I'm waiting for the second volume of "Wandering Island" to be published, but I liked the first well enough that I'll give "Emanon" a shot when it arrives.
God of War:  Chris Roberson and Tony Parker give us a prequel to the latest game which has been racking up "Game of the Year" accolades left and right.  I've picked it up too, but have yet to get around to playing it. I just got through "Assassin's Creed: Origins" and am currently going through the "Xenoblade Chronicles 2" DLC "Torna:  The Golden Country," but "God of War" is on deck as soon as I'm done with that. This miniseries? Roberson has done solid work with Mike Mignola on various Mignolaverse projects over the last few years, so I'm pretty sure this will be worth my time.
Grunt:  The Art and Unpublished Comics of James Stokoe HC:  A book focused on Stokoe's artwork?  JUST SHUT UP AND TAKE MY MONEY!!!
Invisible Kingdom #1:  You would've thought that creators as high-profile as G. Willow Wilson and Christian Ward would launch their new creator-owned series through Image.  That's what everyone seems to do these days. Chalk this up to the drawing power of Karen Berger as this is coming through her imprint at Dark Horse. This is a science-fiction series which follows a religious acolyte and grizzled freighter pilot who find themselves on the run from everyone after they uncover a conspiracy between a megacorporation and a religious order.  Ward's style hasn't always been to my liking, but Wilson can usually be counted on to deliver a solid read.
NieR:  Automata World Guide HC:  The appeal of the "NieR" games (yes, I've played both) and of Taro Yoko's work in general is that they find interesting ways to be depressing.  Bad things usually happen to good people, but these things can involve anything from robot suicide to murdering human souls gone feral. By the time of "Automata" the world of "NieR" was already past its third or fourth apocalypse so you can expect this guide to touch upon lots of stories that are as interesting as they are depressing.
Pros and (Comic) Cons:  A softcover anthology featuring creators Bendis, Kieron Gillen, Greg Pak, Jim Zub, Tini Howard, and Sina Grace writing about some of the more… interesting experiences they've had at comic conventions.  Michael Avon Oeming, Lucy Bellwood, Julia Scheele , Leonard Kirk, and more are on hand to illustrate these experiences in all their, uh, glory. I guess.