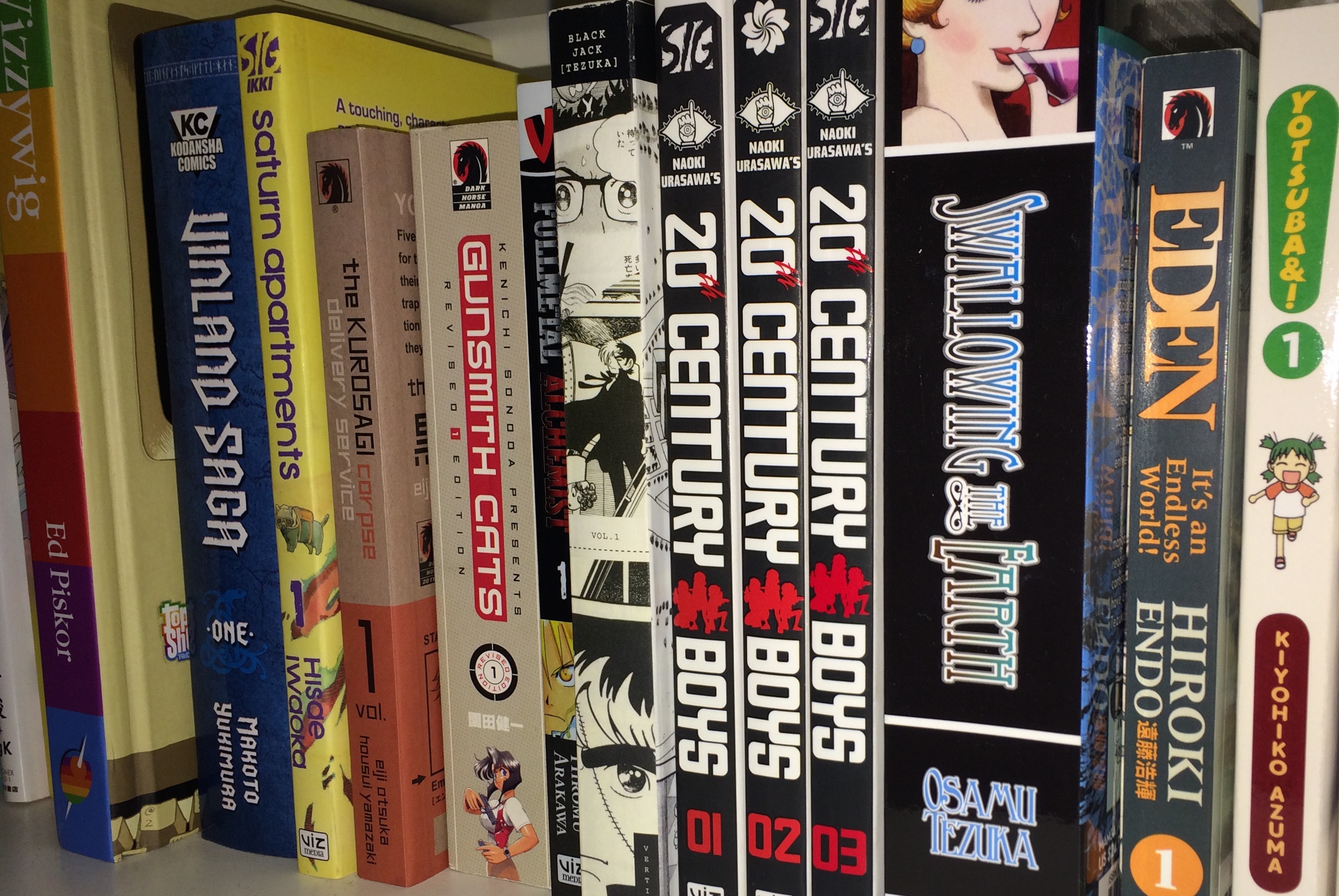 It's close to the end of the year, so let's revisit one of my ongoing concerns over the course of the year:  Sales for "New Lone Wolf & Cub."  Not only is this a direct sequel to the best-selling Dark Horse manga of all time, but its success may determine what kind of manga we see from the company in the future.  At the very least, there are a couple more series from original "Lone Wolf" creators Kazuo Koike and Goseki Kojima that have yet to be brought over here from Japan.
According to the numbers from sales analyst/writer of "Star Wars:  Knights of the Old Republic" John Jackson Miller's "Comichron" site, it seems that while we're likely to get all of "New Lone Wolf," the odds of us getting any more manga from Koike and his artistic collaborators are slim.  Vol. 1 sold 3,141 copies to comic shops in June, and vol. 2 sold 1,986 copies to the same outlets in September.  Granted, this is only a small snapshot of the title's overall sales -- it doesn't include sales to bookstores or online retailers like Amazon, which is how I got my copy -- Dark Horse's manga sales outside of comic book stores hasn't really been that strong.  According to the annual numbers from BookScan, that is.  Unless these volumes have demonstrated a significant long tail in the following months, then the demand for old-school samurai manga pretty much begins and ends with the original "Lone Wolf."
Then again, this is probably an appropriate fate for the series in question.  I just finished the third volume and it has yet to shake off the whole "enjoyable yet unnecessary" vibe that has surrounded the title from the start.  The plot has contorted itself in interesting ways, and Shigekata displays some hardcore commitment to the samurai ethos, but it has yet to really add anything substantial to the "Lone Wolf" saga beyond the fact that Daigoro survived beyond the end of the original series.  Maybe its handling of the child's development will set it apart.  For now, though, only the original series remains essential reading.
Oh yeah.  Talk about forthcoming Dark Horse titles kicks off after the break.
ApocalyptiGirl:  An Aria For the End Times:  Aria and her cat Jelly Beans are looking for a relic at the end of the world.  Sounds simple enough.  This graphic novel is described as coming from "underground sensation" Andrew MacLean, creator of the series "Head Lopper."  It's the description of that series from Multiversity Comics, cited here, that got my attention:  "Head Lopper is what you'd get if Mike Mignola wrote an issue for Brian Wood's Northlanders by way of James Stokoe's Orc Stain."  That's an awful lot of name dropping and comparisons for one series.  Still, I liked all three of those and I could always do with broadening my reading horizons.  I'll keep an eye out for this when it ships next year.
Flood!  A Novel in Pictures Fourth Edition HC:  Here's a title that I've seen mentioned for years in the back of various Dark Horse collections where they list other graphic novels that they've published and that the reader might be interested in.  Never had a good idea what it's about, beyond that whole "novel in pictures" bit from the title.  Haven't seen anything else from its creator, Eric Drooker, over the years either.  If you see a review of this edition in the future, take it as a sign that I finally decided to bite the bullet and get a copy to find out what it's about and if it's really special enough to warrant a fourth edition.
Frankenstein Underground #1 (of 5):  Mike Mignola teams with "Witchfinder" and "Baltimore" artist Ben Stenbeck for this series about Frankenstein's Monster.  Said Monster is underground, where we're told he'll encounter other strange creatures and the secrets to the universe.  Sounds very Mignola-esque for what it's worth.  No indication that it's connected to the larger Mignola-verse of "Hellboy" and "B.P.R.D.," so we're dealing with a stand-alone world here.  That's worked fine for "Baltimore" so far, though I'm more interested in what's happened to "Hellboy" over the past year.  After starting with a lot of fanfare, I haven't seen any issues of "Hellboy in Hell" solicited in quite a while.  Mignola must be dealing with a huge case of writer's block if he's going off to create another series while putting his signature creation on the back burner for so long.
Grendel vs. The Shadow HC:  Speaking of letting signature creations languish, I've also wondered when we'll ever see a proper continuation of Matt Wagner's "Grendel" after the adventures of Grendel Prime in the future.  That said, Wagner has been content to give us more adventures of original Grendel Hunter Rose over the years and that's no bad thing.  The writer/artist pits the character against legendary pulp creation The Shadow, and this seems like something that really plays to his strengths.  It's arriving in hardcover, but I think it'll justify the price and format.
Neverboy #1 (of 6):  It's about an imaginary friend who takes drugs to stay in the real world.  When they wear off, the forces that guard the borders between the real and imaginary worlds come to drag him back to where he belongs.  While this sounds like a decent premise, it's written by Shaun Simon and illustrated by Tyler Jenkins -- two creators who have previously underwhelmed me with their respective skills.  Don't expect to see this title mentioned again here anytime soon.
Panty & Stocking With Garterbelt:  Based on the insane series from Studio Gainax about two angels who were kicked out of heaven for decidedly un-angelic behavior, and now have to earn their way back by fighting the forces of evil.  Or something.  I never watched the series, I'm just paraphrasing the solicitation text here.  The only reason I mention it here is that this seems to be the kind of thing that manga editor/localizer extraordinaire Carl Horn would have a field day with in writing its English adaptation.  Whether or not I pick this up is pretty much entirely dependent on whether or not I see his name in the credits for that particular task.
Speaking of which, Tony Takezaki's Neon Genesis Evangelion is also being solicited here, and Horn is most certainly involved with that.  Given that he's been involved with ALL of Dark Horse's "Evangelion" manga so far.  Including the best of them, the comedic "Neon Genesis Evangelion Comic Tribute."  It's his work there on that title, along with the fact that Takezaki contributed the most consistently funny bits of it, that makes me optimistic for this full-volume edition of the mangaka's work.
Usagi Yojimbo:  Senso HC:  Usagi, his son Jotaro, and the Geishu Clan vs. Lord Hikiji vs. Martians.  Brilliant cross-genre climax to a series that has made remarkably few missteps in its decades-long history, or a huge mistake that will forever taint its legacy?  Expect a podcast about the answer when this collection arrives in May.