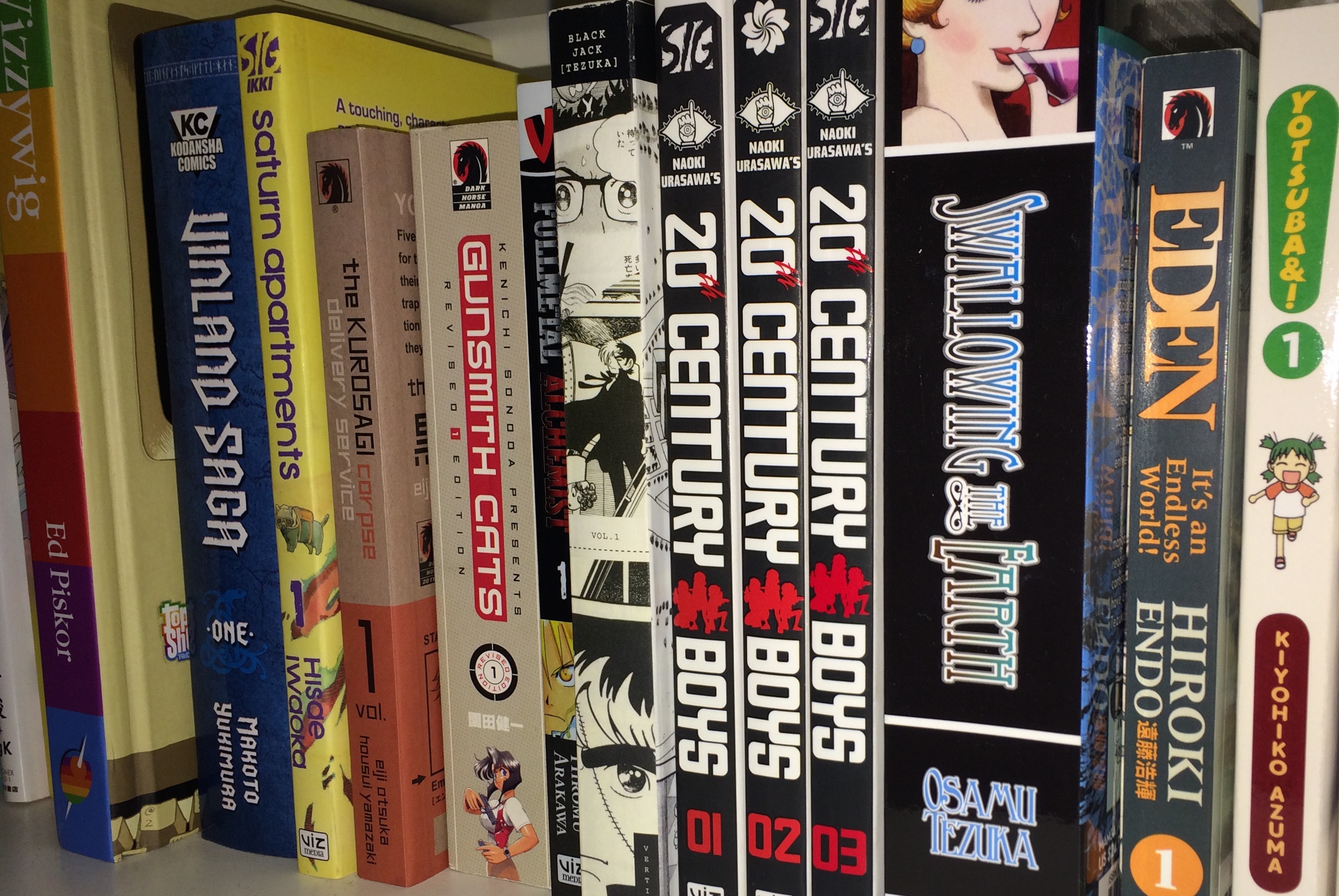 It's the end of an era in these solicitations as a long-running manga series reaches its final volume.  That's right true believers, Neon Genesis Evangelion:  The Shinji Ikari Raising Project vol. 18 will finally arrive on our shores this August (remember, Dark Horse collections are always advance-solicited by two months).  While there's still no definitive word on whether or not the company will make it to the same point with "Eden: It's An Endless World!" they were still able to publish eighteen volumes of increasingly tiresome and desperate "Evangelion"-based fanservice comedy.  Yeah, the first few volumes provided an amusing change of pace compared to the source material. As things went on, the only enjoyment I was able to get from it involved looking for commentary and in-jokes within the localization.
So yeah, as that last sentence implies I'll be picking up this volume.  The completist in me demands it. Everyone looking for actually decent "Evangelion"-based comedy is recommended to pick up the "Comic Tribute," "Tony Takezaki's Neon Genesis Evangelion," or "The Legend of the Piko Piko Middle School Students.  Or better yet, go out and buy all the volumes of "Eden" you don't have yet. It'd send a better message to Dark Horse about the kind of manga you want them to publish than more of this licensed crap.
Sword Daughter #1:  Brian Wood returns to writing about vikings, this time with "Briggs County's" Mack Chater in tow.  After their village was murdered by a group known as the Forty Swords, Dag and his infant daughter Elsbeth head off across Europe on a quest for revenge.  It sounds like the viking equivalent of "Lone Wolf and Cub," which after Wood's own "Northlanders" and "Black Road," definitely sounds like a good time to me.  That said, anyone hoping for more "Briggs Land" is probably going to have to wait until either Wood and Chater are done with this or the TV show that's said to be in development actually gets made.
Likely Stories HC:  Another entry into the "Neil Gaiman Library" at Dark Horse.  This time around, Mark Buckingham adapts a few of the writer's short stories into comics form.  Expect to see stories about bizarre venereal diseases, a creepy old woman who feasts on raw meat, a man obsessed with a woman from an adult magazine, and a story within a story about ghosts.  Even if Gaiman didn't do any of the adapting himself, all of the adaptations of his prose stories that Dark Horse has published have still felt unmistakably like him. I'm expecting no less from Buckingham, who has previously collaborated with the writer on several occasions.  Most notably, "Miracleman." The completion of which is still quite a ways off, last I heard.
Gantz Omnibus vol. 1:  I had a feeling this would be coming eventually.  This will be a three-in-one omnibus edition, for the first eleven volumes.  "Gantz" ran for thirty-seven volumes and that's not a number that divides by three.  Were I a betting man, I'd expect the last two volumes to contain two volumes each to round things off.  As for whether or not this is a series you'll actually want to invest in, that all depends on how in touch you are with your inner 15-year-old and how attracted it is to a series that thrives on blood, bombs, and boobs, Boobs, BOOBS!  (Points if you can get the reference.) If nothing else, the series definitely reads better in large chunks like this. So if you've wanted to give this series a shot this is the format to invest in.
I Am A Hero Omnibus vol. 7:  Meanwhile, in manga series that I can recommend without reservation, the narrative takes another diversion.  This time to France! Even if the previous diversion to Taiwan in vol. 5 felt like a bit of filler, it was still compulsively readable.  As for developments in the main plot, Hideo and company are slowly making their way into Tokyo, finding camaraderie and romance along the way.  Not for much longer, I'd imagine. I mean, one of the rules of the zombie outbreak is that you DON'T head into major metropolitan areas. As Tokyo is one of the biggest cities in the world, I'd like to think that Hideo's group has a really good reason for heading into it.  A cure for the ZQN outbreak? A supply cache that will allow them to easily fight off the hordes? A finished copy of the last "Rebuild of Evangelion" film? Or maybe Hideo still feels really bad about using his gun to kill off the ZQNs and wants to turn himself into the proper authorities?  It could be anything, really.
Sullivan's Sluggers HC:  Now this is an interesting reprint.  Originally solicited as a Kickstarter project, it quickly gained infamy when creator/writer Mark Andrew Smith ran out of funds after he failed to consider the additional costs of international shipping.  This led to shipping delays, controversial failed efforts to raise money through other crowdfunding ventures, and lots of angry fans. It got bad enough at one point that the graphic novel's artist, James Stokoe, eventually disavowed it, stating that it was just a work-for-hire gig.  To Smith's credit, everything eventually did get shipped and he's gone on to do other projects since. Dark Horse has apparently decided that the project is much less toxic now and that's why they're stepping in to publish this new edition. If you're a fan of Stokoe's work like I am then this is worth picking up just for the art alone.  The story, about a group of baseball players facing off against a town full of demons, is kind of half baked. To the point where it left me thinking about all the ways it could've been done better.
Harrow County #32:  The final issue of the southern-fried supernatural horror series from writer Cullen Bunn and artist Tyler Crook.  It's one of those series I've always been curious about checking out given the creators' history, but never got around to it.  With the series wrapping up now would seem to be a good time to do that… except that my gut tells me that Dark Horse will probably do some kind of omnibus collection of this series down the line.  Like they have with just about every creator-owned series they've published over the years. I think I'll wait and see about any word on that kind of edition before giving this series a look.