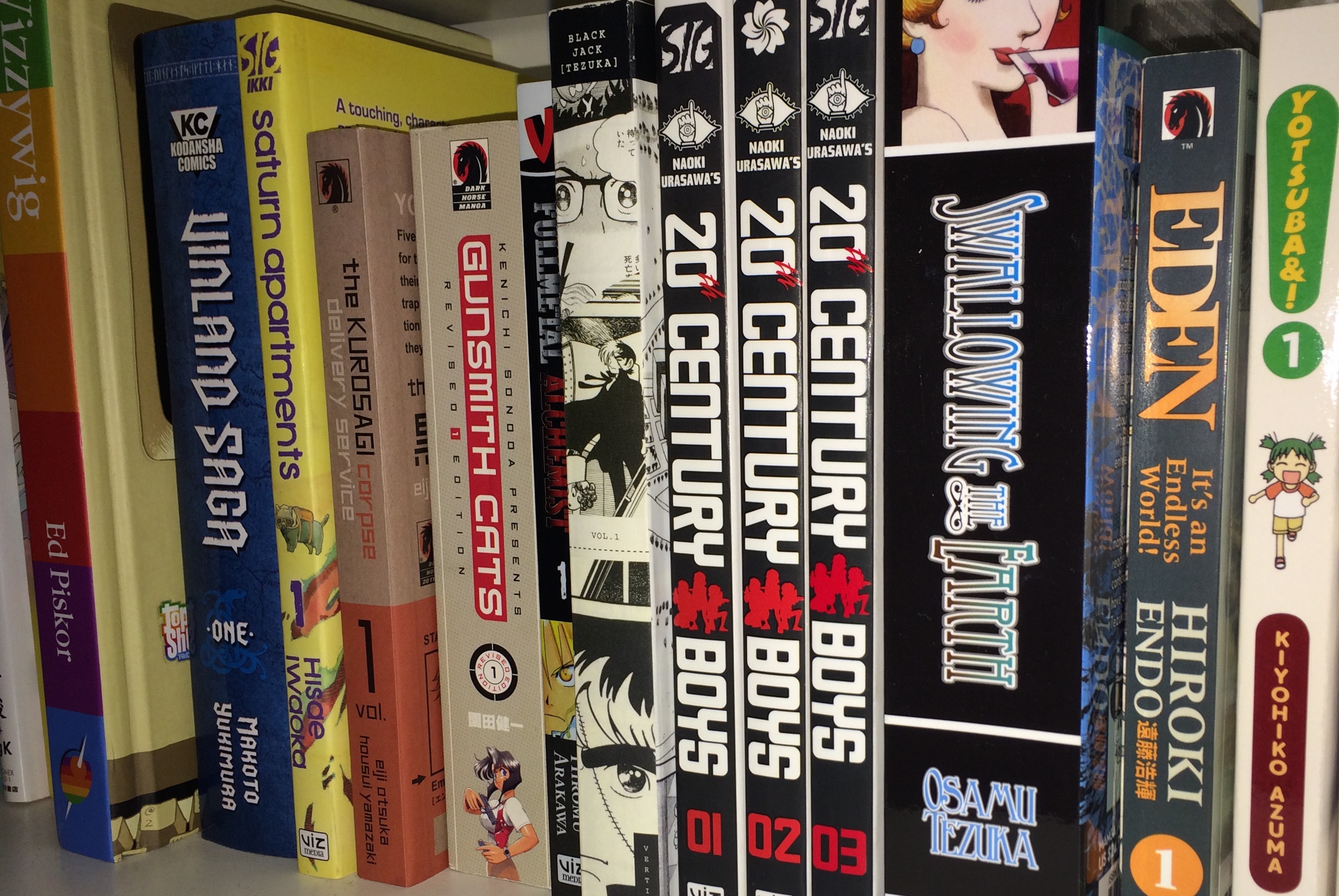 You could say there's been some good news on the manga publishing front at Dark Horse.  After a three year hiatus, vol. 4 of Kohta Hirano's Drifters is solicited here (for release in August) following a successful anime series last Fall.  While they're not solicited here, it's been mentioned elsewhere on the web that the final three volumes of Yasuhiro Nightow's Blood Blockade Battlefront will eventually be released here.  Possibly even in time for the second season of the anime.
Though this may seem like the start of a trend, you shouldn't get your hopes up.  The only reason we're seeing these series brought back from hiatus is because they spawned popular anime series.  It's probably worth reiterating the fact that even though Hirano and Nightow were responsible for two of the most popular manga from Dark Horse, "Hellsing" and "Trigun" respectively, that success was largely down to the popularity of their anime incarnations.  Having a popular anime is the best sales tool a manga can have in the States, but it's disappointing to see that Dark Horse couldn't leverage the success of Hirano and Nightow's previous series for their current ones.  So even though "Blood Blockade Battlefront" already has a manga sequel in Japan don't expect to see it out here unless it gets its own anime.
That being said, the first three volumes of "Drifters" were great.  Everyone who liked the anime should go out and buy them, and then pick up vol. 4 when it comes out in August so we don't have to worry about it going on hiatus again.
Baltimore:  The Red Kingdom #5 (of 5):  Now that's an ominous cover!  Particularly so since unless writers Mike Mignola and Christopher Golden have some sort of epilogue in mind this is going to be the concluding chapter of the "Baltimore" saga.  Expect lots of death here, with the title character possibly earning the eternal rest he's been looking for.  You know, if he's lucky.
Bankshot #1 (of 5):  New from Alex De Campi, writer of "Grindhouse" and "No Mercy," and artist Chriscross.  The solicitation text tells us that depending on how you look at it, Marcus King is either a terrorist or a modern-day Robin Hood.  One person has made up their mind on the matter and is planning on using King's darkest secrets against him.  While this doesn't sound like a recipe for violent escapism, we're also promised that King will punch an army of dudes and blow up a lot of stuff in his fight against this adversary.  With De Campi at the helm, I can get behind that.
Briggs Land:  Lone Wolves #1 (of 6):  Brian Wood and Mack Chater's series about an anti-government secessionist movement transitions to a "series of miniseries" format.  I'm still waiting on the collection of the first miniseries to be released, so I can't get too excited about this.  Still, the setup for this mini sounds promising.  One of the Briggs clan, Isaac, finds two backpackers who have wandered onto his family's land.  It's an innocent mistake on the backpackers' part, but we're told that Isaac is an Afghanistan vet and currently struggling to reintegrate into society.  Expect this honest misunderstanding to be resolved quickly and in a friendly matter and DEFINITELY NOT spiral out of control to the point where bullets start flying.
Calla Cthulu:  From the husband-and-wife writing team of Evan Dorkin and Sarah Dyer, and artist Erin Humiston comes this story that mashes together the protagonist of "Buffy the Vampire Slayer" and the mythos of H.P. Lovecraft.  Calla Tafali is your average high school student who also happens to have the blood of the Great Old Ones running in her veins.  This leads her to battle assassins and supernatural monsters on a regular basis, and fend off advances from her uncle, The King in Yellow, to join the "family business."  It's pitched as an all-ages adventure, so consider it as a kind of gateway drug for kids to get into Lovecraft.  To be honest, I'm really only mentioning this here because of its punny title which is kind of genius as these things go.
The Complete Elfquest vol. 4:  Collecting the rest of the "Hidden Years" series and… Hot damn!  We're getting all of "Shards" in this volume too.  A little context:  Several years back DC started reprinting "Elfquest" in manga-sized editions.  We got fifteen of these volumes before the publisher called it quits.  I'm sure declining sales were the main reason, but the story being told in these later volumes was growing increasingly strange and fractured without a clear direction.  A few years later a friend of mine loaned me some of the self-published collections that came after the DC volumes, which included the "Shards" saga that had the Wolfriders' longtime enemy Winnowill allying herself with the human warlord Gromhul Djun.  It was just the kind of focus the series needed to get its mojo back in my opinion.  And now it's being collected August!
The Dark Horse Book of Horror:  In case it wasn't obvious, it bears mentioning that Dark Horse loves anthologies of short stories.  While their namesake title "Dark Horse Presents" has been the longest running and most successful representation of this love, they've also published a number of stand-alone short story anthology volumes over the years.  Four of which, "The Dark Horse Book of Monsters, The Dark Horse Book of Witchcraft, The Dark Horse Book of Hauntings, and The Dark Horse Book of the Dead" are collected in this $20 368-page volume.  That's a great deal by itself, even before you realize that this contains work from Sean Phillips, P. Craig Russell, Kurt Busiek, Mike Mignola, Gary Gianni, Jill Thompson -- who are just the creators they listed on the front cover!
Matt Wagner's Grendel Tales Omnibus vol. 1:  How influential and popular was Wagner's "Grendel?"  Enough so that during the 90's, it was able to support a number of spin-off miniseries from creators other than Wagner that explored the universe he created from different perspectives.  The ones I've read were actually pretty good and this first of two omnibus volumes is also advertised as collecting previously uncollected material.  Also, a quick check of my library shows that I only own one of the miniseries collected here so re-buying it with this omnibus isn't really a deal-breaker.
The Strange Case of the Disappearing Man #1 (of 6):  I'm honestly struggling to make sense of the premise of this miniseries which comes off as a low-key high concept.  We're told that it centers around Scotland Yard Inspector Thomas Adye who is looking for a return to normalcy in his life.  This is after his run-ins with the likes of Edward Hyde and Jack the Ripper.  Except now Adye has found himself embroiled in a new case, that of the disappearing man.  Now, if the premise of this series is going to be "police inspector who investigates bizarre crimes tied to famous literature" that's fine, but you should come out and say it.  Particularly if his latest case is going to involve the Invisible Man.  Also, it just feels weird for his previous cases involving Mr. Hyde and the Ripper to be tossed off so casually here in the solicitation text.  Maybe this can still work, but the unknown creative team, of writer Cole Haddon and artist Sebastian Cabrol, has me feeling that I don't have to rush in order to find out if that's the case.