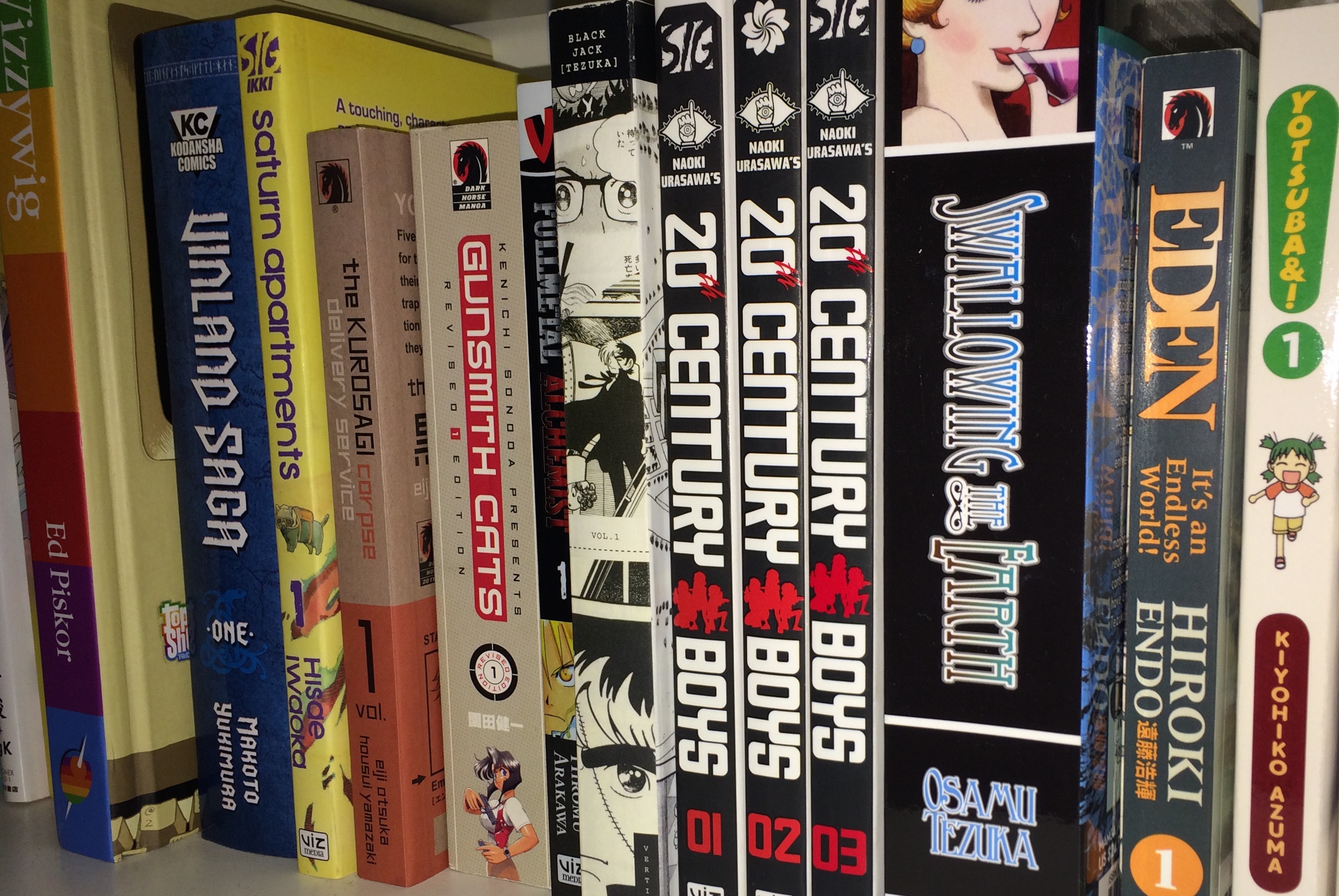 From the realm of "How the hell did this happen?!" comes the announcement that Dark Horse has licensed the "Mob Psycho 100" manga.  It's from ONE, the co-creator of "One-Punch Man," and focuses on a con man who exploits a kid with psychic powers to run a ghostbusting operation but also has to act as a mentor/counselor to said kid to keep his emotions in check lest they explode into an "Akira"-level crisis.  The series was adapted into an anime last year and it was successful enough that a second season has already been greenlit. So I'm not surprised that it's been licensed, just that Dark Horse is publishing it. As it's published by Shogakukan in Japan, Viz should've had first rights to this and publishing a new series from the co-creator of "One-Punch Man" should've been a no-brainer.
Yet in the same way that Yen Press is publishing "Silver Spoon" (published by Shueisha in Japan -- Shueisha and Shogakukan merged over a decade back but continue to publish under their respective names) they've decided to let Dark Horse have "Mob Psycho 100."  I'd love to know how the negotiations for this title went, particularly if the company negotiated with ONE directly to get this license. It's also worth noting that while people are happy to see this title picked up, the comments on Anime News Network's article regarding the license are (quite understandably) a little skeptical that Dark Horse will be able to publish all sixteen volumes and a little bitter over other titles the company has put on hiatus.  For the record, I do think the company will be able to publish all sixteen volumes since the hard work of making people aware that it exists has been done by the anime. There's even a chance that the first volume will receive a boost if the second season arrives in time for the manga's debut this October.
Quantum Age:  From the World of Black Hammer #1:  The world of "Black Hammer" is proving to be particularly fruitful when it comes to spinoffs.  First we had "Sherlock Frankenstein," then "Doctor Star" and now "Quantum Age." As the title implies, this takes place in the far future of the "Black Hammer" universe where a group of heroes who were inspired by those that were stuck on The Farm must work together to overthrow a planet's totalitarian regime.  Lemire is writing this as he did with the other spinoffs and Wilfredo Torres provides the art. Oddly, this is listed as an ongoing title when the previous two spinoffs have been miniseries. It's even more curious when you consider that the "Black Hammer" ongoing is itself missing from these solicitations. Hmmmmmmm…
She Could Fly #1:  New from the Berger Books imprint is this series from "Halt and Catch Fire" co-creator Christopher Cantwell and artist Martin Morazzo.  In it, a woman appears out of nowhere flying at speeds of 120 mph, 2,000 ft. above the ground only to die in a fiery midair explosion. As conspiracy theories and rumors about the woman fly, a disturbed 15-year-old girl named Luna obsesses over this event herself.  I've never seen an episode of "Halt and Catch Fire" but like everyone else I kept hearing about how good it got after the first underwhelming season. I'm curious, even though the solicitation text doesn't make it explicitly clear if this woman could actually fly or if there's some darkly comic reason she found herself flying through the air at 120 mph.  It's worth noting that this issue is $5, but it's also promising 32 full pages of story.
The Alcoholic:  Tenth Anniversary Expanded Edition:  Like "Incognegro," this is a "Tenth Anniversary Edition" that's been license-rescued from Vertigo courtesy of Berger Books.  It's about a boozed-up, coked-out writer who's failing professionally and personally, and finds himself looking for hope at the bottom of a bottle.  This gleefully upbeat-sounding tale comes to us from writer Jonathan Ames who created HBO's "Bored to Death," and wrote the story that the current film "You Were Never Really Here" is based on, and artist Dean Haspiel who illustrated Harvey Pekar's "The Quitter" among other titles.  If you've bought this before then be advised that this edition promises an additional prose piece from Ames expanding on the story and a sketchbook section from Haspiel.
Anthony Bourdain's Hungry Ghosts HC:  It's not really "Anthony Bourdain's" since he co-wrote this with his "Get Jiro" collaborator Joel Rose, but it's his name that'll sell the title.  This is an anthology series about a group of chefs who engage in a game of Hyakumonogatari Kaidankai to outscare each other. Each tale is illustrated by a different artist, with the likes of Mateus Santolouco, Vanessa Del Rey, Leonardo Manco, and Irene Koh contributing.  I like Bourdain just fine, though "Get Jiro" didn't really blow me away. I was on the fence about picking this up, until I saw that it's a hardcover priced at $15 for five issues. I don't know how the economics on that work but it's low enough to get my attention.
Disney/Pixar The Incredibles 2:  Crisis in Mid-Life and Other Stories #1:  Yeah, licensing stuff can be weird sometimes.  If the business with "Mob Psycho 100" wasn't odd enough, here we have Dark Horse publishing a Disney property.  Which is pretty bizarre when you consider they have their own comics-publishing arm to handle stuff like that. That said, this comes to us from writers Christos Gage and Landry Walker, and artists Gurihiru, J. Bone, and Andrea Greppi as we get three stories of family action set before, during, and after the upcoming film.
Starcraft:  Scavengers #1:  The Dark Horse/Blizzard ties deepen with this new miniseries.  Jody Houser and Gabriel Guzman give us this story about a group of Terran scavengers who ignore a treaty in order to pillage a derelict Protoss ship.  I've barely played any "Starcraft" so this holds no interest to me at all. Still, it's nice to see Dark Horse publishing licensed series from companies that aren't likely to sell out to Disney anytime soon.
Usagi Yojimbo/Teenage Mutant Ninja Turtles:  The Complete Collection:  As I mentioned when I reviewed their latest crossover, Usagi and the Turtles have a long history of meeting up.  However, not all of their adventures together have been reprinted in accessible formats. So while I already own "Turtle Soup and Rabbit Stew," "Shades of Green," and "Namazu," I'll have to pick this up if I want to read "The Crossing" and "The Treaty" at a reasonable price.  At least "Usagi" creator Stan Sakai is one person I don't mind giving more of my money to.
Koshchei the Deathless:  Diving into the history of the character from Russian folklore following his appearance in "Hellboy:  The Wild Hunt." There, we saw him indebted to the witch Baba Yaga and I'm betting things didn't go well for him with her after Hellboy escaped.  To the point where this miniseries promises a meeting between the two after Hellboy found himself in Hell. It's another Mignolaverse title from the man himself and artist Ben Stenbeck, of course I'm going to pick this up as soon as it comes out.
Conan Omnibus vol. 6:  Collecting vols. 15-17, the last two from Brian Wood's run and the first of Fred Van Lente's.  If you're thinking about picking this up, I'd say that the quality of Wood's volumes offsets the mediocrity of Van Lente's.  Since this omnibus is set to come out in September, that leaves Dark Horse with precious little time to publish a seventh omnibus to close out the reprinting of all the volumes with the same trade dress before the license becomes Marvel's again.
Danganronpa 2:  Ultimate Luck and Hope and Despair vol. 1 & Eromanga Sensei vol. 1:  Questions about how Dark Horse managed to get the license for "Mob Psycho 100" aside, the fact that they're publishing it is a GOOD thing as far as I'm concerned.  It helps offset the fact that the majority of the company's manga publishing output these days consists of Japan-based spinoffs of anime, videogames, light novels, and Vocaloid.  If you like this stuff, then more power to you. My experience has been that there's usually precious little quality control on titles like these where Japan is concerned. Dark Horse themselves have trained me to expect quality work on licensed titles which is why I can pass on these two without feeling that I'm missing anything.