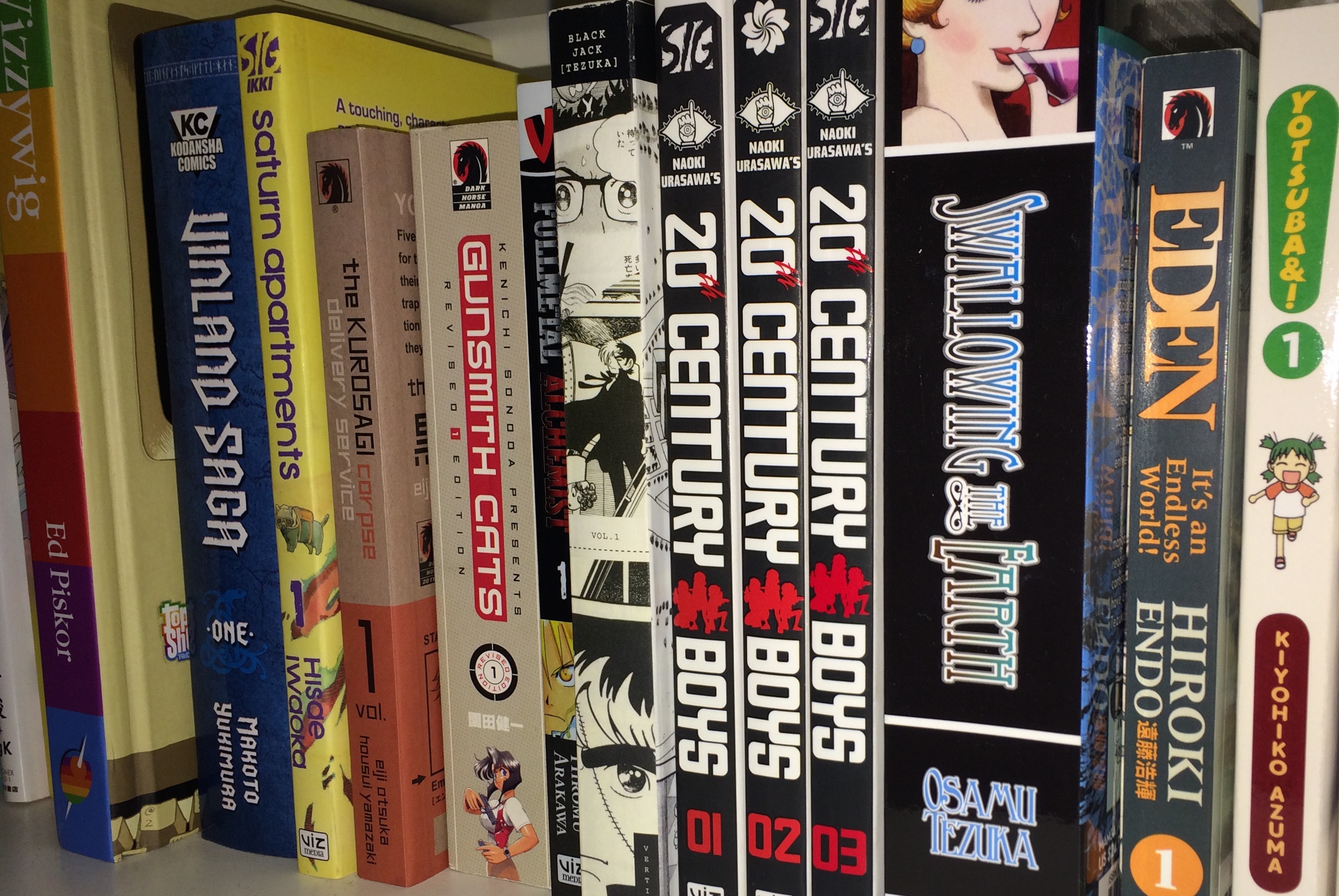 This month, my feelings towards waiting for the softcover editions of some comics are severely confused.  Two of the trade paperbacks offered this month, "Angel & Faith" vol. 3 and "Star Wars:  Knight Errant" vol. 3 have price points and page counts of $18/132 pages and $19/120 pages, respectively.  Then you also have the first volume of Matt Kindt's acclaimed series "Mind MGMT" in hardcover for $20/200 pages.  Even though the latter series sells far less than the other two, it's clear that their licenses are driving up the prices of the collected editions.  It's also possible that Dark Horse wants to present Kindt's work as deserving of the treatment (like Yen Press with "A Bride's Story" and "Thermae Romae") to make it stand out on the bookstore shelves.  With stats like these (and the overall price creep from the major publishers over the past few years) picking up "Mind MGMT" in that format seems downright reasonable right now.  Which is likely what they were aiming for all along.
Aliens:  Inhuman Condition HC: A 56-page collection of the story from "Dark Horse Presents" by John Layman and Sam Kieth.  The story involves security synthetics being manufactured on a distant planet and pitted against the title creatures in order to test their quality.  I'm intrigued more due to the creators involved than the story, which has one of the developers finding out that "man is the most savage species."  That's the oldest news to anyone with any basic knowledge of the franchise.  Still, the off-kilter sensibilities of Layman and Kieth give me the impression that this standard premise may play out in a non-standard fashion.  It's doubtful that I'll pick this up when it comes out, but I may just go "What the heck," if I see it at Comic-Con.
The Creep HC: Apparently what I mentioned above about hardcover pricing only applies to Kindt.  John Arcudi and Jonathan Case's story of a detective with a freakish appearance investigating a teen suicide clocks in at $20/136 pages.  That's not a ratio that I find appealing, even though I've generally liked Arcudi's work over the years.  I may buy it eventually, sometime after it comes out.
Dark Horse Presents #21: Neil Gaiman teams with Paul Chadwick for "The Day the Saucers Came."  If you can think of a better way to spike the sales of a comics anthology than by having Gaiman contribute a story, then I'd sure like to hear it.  I might even have to pick this up because unless they start collecting all of the "other" stories that run here, it seems unlikely that this will see a collection until Dark Horse starts putting together a comprehensive collection of everything the writer has done for the company.
Gantz vol. 27: Aliens start laying waste to a military superpower.  Gantz teams gathered in Italy are ripped to shreds.  Then, they're all released from their obligations with no explanation.  While I have not been thrilled with the series' current arc, it seems that mangaka Hiroya Oku is stepping things up in a big way as the manga moves towards its conclusion.  Guess I have to keep reading to see how it all turns out.
Mind MGMT vol. 1 HC: As for the content of this series itself, it involves a young journalist stumbling upon the secret "Mind Management" program which deals in weaponized psychics, talking dolphins, and hypnotic advertising.  Her quest centers around a missing individual on a plane where everyone lost their memory who was described as the program's greatest success and greatest failure.  I've heard good things about this series even though Kindt has yet to really click with me as a creator.  His parallel worlds drama "Revolver" was very interesting while "3 Story:  The Secret History of the Giant Man" ended up not really going anywhere.  I didn't know what to make of this series when it first launched, but I'm inclined to give it a shot now that the word-of-mouth is good.