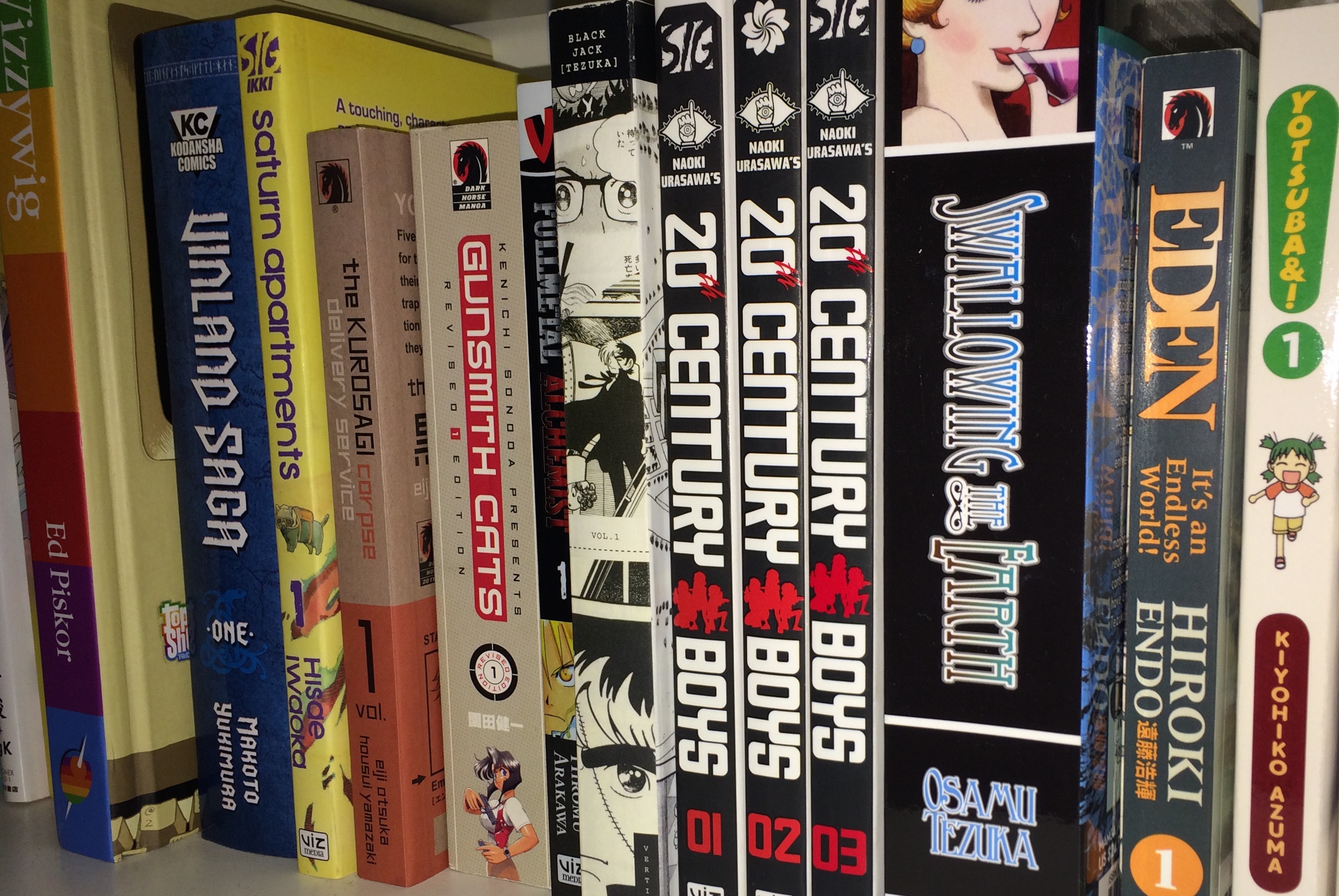 Above-the-Board Recommendation:
Hellboy and the B.P.R.D.:  The Seven Wives Club
I'll be honest, not much stood out to me in this round of solicitations.  Most of the trade paperbacks on offer either had some kind of issue holding them back or just seemed outright mediocre.  There were some promising-sounding miniseries coming from unknown (to me) creative teams, so it's hard to know how excited I should be for them.  So I'm going with this latest "Hellboy" one-shot from creator/writer Mike Mignola and artist Adam Hughes. This one has Big Red teaming up with a young girl on a ghost hunt in an abandoned medical school where a grisly murder took place years ago.  Otherwise known as "The Usual" for Hellboy.
With the conclusion of "B.P.R.D." and the overall Hellboy saga, Mignola has gone back to the good old days of publishing random one-shots and miniseries featuring the weird adventures of Hellboy and his buddies in the Bureau for Paranormal Research and Defense.  This is also his second team-up with Hughes after the Eisner-winning "Krampusnacht" one-shot from a year back. One more and they might have enough for a full Mignola/Hughes "Hellboy" collection!
Aliens vs. Predator:  Thicker Than Blood #1 (of 4):  Predators board a luxury spaceliner looking for a good hunt and they wind up getting a little more than they bargained for.  We're told about an adolescent girl and her "brother" (the quotation marks are from the solicitation text) being the quarry, but this still sounds pretty thin for an "AvP" story.  What it does have to recommend it is art from Doug Wheatley who routinely knocked it out of the park on the "Star Wars" comics he illustrated for the company. So all writer Jeremy Barlow has to do is give us a story that's not terrible and this will likely still wind up being a decent read thanks to the art.
Berserker Unbound HC:  Jeff Lemire and Mike Deodato Jr.'s miniseries about a barbarian who is definitely Not Conan who finds himself stranded in our modern world gets its first collection… and it is EXPENSIVE!  $25 for 120 pages, some of which will be taken up by the sketchbook and pinup sections advertised in the solicitation text. While I'm glad to see that the four issues collected here clearly contain more pages than you'd expect, $25 is still way too much to pay for a slim collection like this.  Even in hardcover. I'm giving this a hard pass until it either hits paperback or a deep discount.
B.P.R.D.:  1946-1948:  The three spinoff miniseries are collected in paperback together for the first time.  Sounds nice, doesn't it? Well, if Dark Horse was really doing a good thing then they'd have packed in "B.P.R.D.:  Vampire" in along with it. That's because it's the conclusion to the story of poor, doomed Agent Anders in these volumes.  There's a nice arc to these volumes when that one is considered. Taken alone they're just three very loosely-connected stories.  Plus, "Vampire" along with "1947" is written and illustrated by Gabriel Ba and Fabio Moon, and more of them makes any collection better.
The Butcher of Paris #1 (of 5):  Now this sounds cool -- it's a true crime story of a serial killer who operated in Paris during WWII.  Under the guise of spiriting frightened citizens away from the city, he managed to rack up a body count of almost 200 victims before he was caught.  And caught he was, because after the Nazis and the Allies found out about him they both made an effort to bring him down. This comes to us from writer Stephanie Phillips and artist Dean Kotz and if I knew more about either of them I'd probably be more excited for this new miniseries beyond appreciating its basic premise.
The Complete ElfQuest vol. 7:  Huh, I should've seen this coming.  This volume collects the four volumes of "The Final Quest" which were published by Dark Horse.  Which means that this is very likely the final "ElfQuest" omnibus... At least until we get more post-"Final Quest" projects like "Stargazer" to warrant their own omnibus.
Criminal Macabre:  The Big Bleed Out #1 (of 4):  "Criminal Macabre" was a concept that I wanted to like more than I actually did.  It involved hard-living P.I. Cal McDonald as he tackled noir-style mysteries involving monsters on the mean streets of L.A.  Cal was a fun character to watch stumble into situations way over his head, but the plotting from Steve Niles always felt like it was being propped up by the art in the first two volumes from Ben Templesmith and Kelley Jones.  Now that everything old is new again, Niles is back to put Cal through the wringer again as he's dragged out of his retirement of vagrancy to deal with some vampires. Gyula Nemeth provides the art.
Kill Whitey Donovan #1 (of 5):  Anna Hoyt's sister is dead.  Driven to suicide by her fiancee Whitey Donovan who has run off to Atlanta.  It's a great place to hide in the mid-1800's and Anna is going to need some help if she's going to make good on the title of this miniseries.  Which is why she's teaming up with one of her family's slaves, Hattie Virgil, to help put Whitey in a grave. While a shot at freedom is great, Hattie's got reasons of her own for accepting Anna's proposal.  Like "The Butcher of Paris" this miniseries with a cool premise comes to us from two more creators that I know nothing about: Writer Sydney Duncan and artist Natalie Barahona.
Ms. Koizumi Loves Ramen Noodles vol. 2:  Yeah, I'd forgotten the first volume was coming out until I saw the new release list at Diamond a few weeks back.  On that note, I wonder if anyone remembers the anime version of this series which came out a couple years ago. I kinda doubt that they do, which doesn't bode well for this title's commercial chances.  That being said, the new "Blade of the Immortal" anime debuts next month and here's hoping it drives sales of the omnibus edition of that series to the same level enjoyed by "Berserk." I know that probably won't happen either, but I can still dream!
The Orville Season 1.5:  New Beginnings:  Note to self -- Remind John about this the next time we get together to record.
Skulldigger:  From the World of Black Hammer #1 (of 6):  Fool me once, shame on you.  Fool me twice, shame on me. Fool me three times and I'll stop buying the spinoffs of your ongoing Marvel/DC homage series.  That's how I feel about "Sherlock Frankenstein," "Doctor Star," and "The Quantum Age" -- three miniseries spinoffs of "Black Hammer" which have all disappointed compared to the main series.  This one doesn't sound any more promising as writer Jeff Lemire teams with artist Tonci Zonjic for a story about a dark and gritty vigilante named Skulldigger who guards Spiral City.  At first I thought this would be a riff on "The Punisher" what with "Skull" in his name, but the solicitation text also mentions he has a ward named Skeleton Boy. So maybe this is a mash-up of the "Punisher" and "Batman" mythos?  If that's the case, then I hear there's a better version of this in "The Grim Knight" one-shot collected in "The Batman Who Laughs" hardcover. Which is currently on my to-buy list, so I don't need to bother with this one.
Wes Anderson's Isle of Dogs HC:  Giving the first volume of "Berserker Unbound" a run for its money for the title of "Most Overpriced" in these solicitations is this manga adaptation of the Wes Anderson movie.  That such a thing exists at all is impressive. Even more so is the fact that it comes to us from a creator that I'm actually familiar with: Minetaro Mochizuki, who gave us the excellent "Dragon Head" a decade ago courtesy of TokyoPop.  It's still not enough to get me to fork over $20 for a slim 80-page hardcover. Especially when I haven't seen the movie. Not because I have anything against Anderson, I just thought the premise behind the film was fatally flawed. I mean, why couldn't it have been "Isle of Cats?"