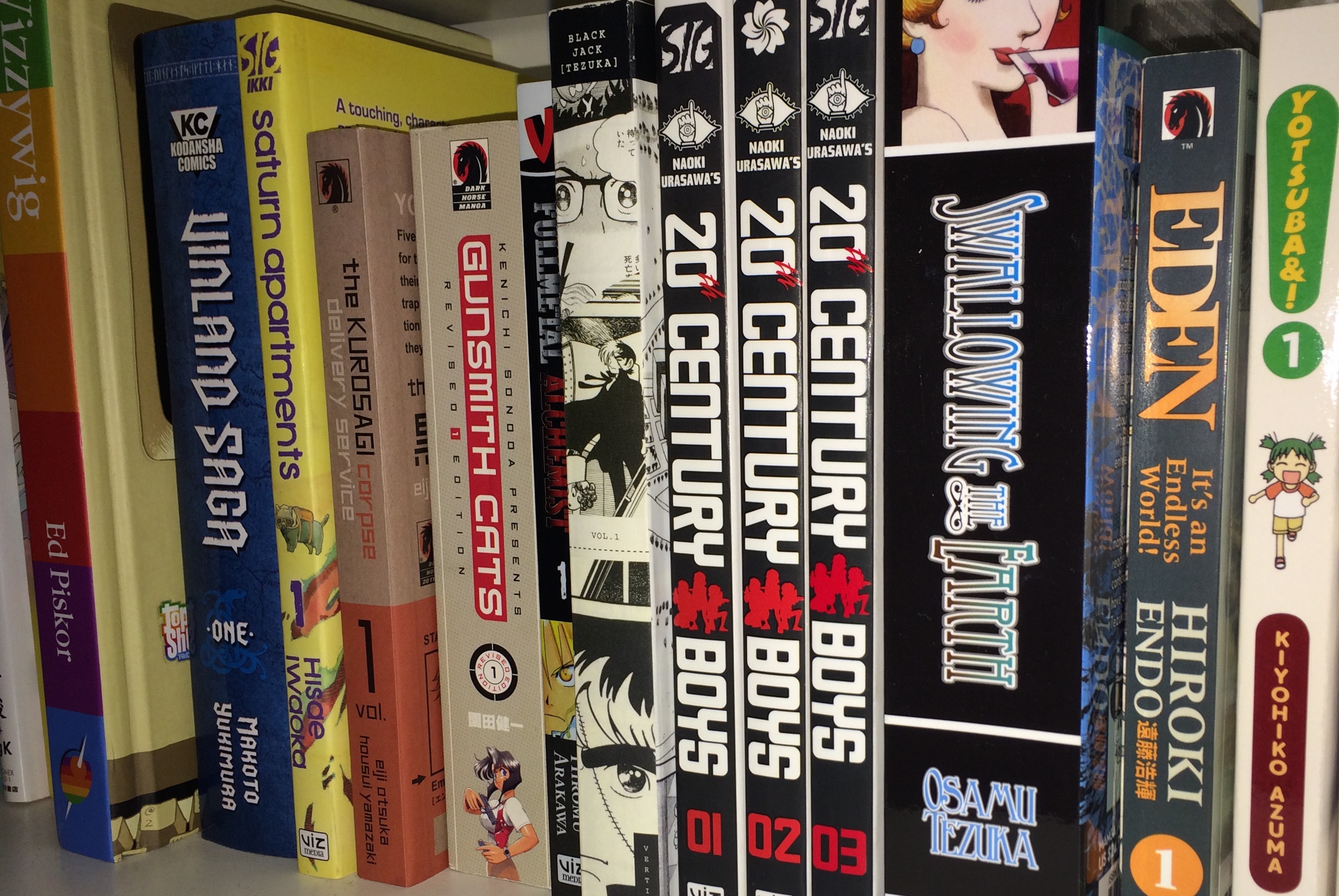 Above-the-Board Recommendation:
She Could Fly vol. 3
Vol. 1 boasted a compelling illustration of mental illness, along with a lot of quirk to go along with it.  Vol. 2 had me getting better acclimated to this title's quirkiness while also giving us a quasi-ending that wrapped up the story as best it could.  It also left the door open for a third volume of the adventures of Luna Brewster, which is where we are now.  Following in the recently-established tradition of Dark Horse putting out new volumes of previously serialized series (why hello there "Invisible Kingdom") comes this latest volume from writer Christopher Cantwell and artist Martin Morazzo that sees Luna getting a better handle on her life.  She's 18, estranged from her parents, and experiencing fewer mood swings and hallucinations.  While these are all good developments, a new flying woman has emerged on the scene.  One bent on using her flying machine to raise all kinds of hell.  Now it's up to Luna to put a stop to her, for her own sake and the memory of original Flying Woman Mayura, and for Cantwell and Morazzo to send off this series on a high note.
The Unbelievable Unteens #1 (of 4):  Another month, another "Black Hammer" spinoff miniseries.  This time the series turns blanding gaze to the "X-Men" as the "Unbelievable Unteens" are a group of misfit teenage superheroes who attend school and battle the forces of evil under the guidance of their teacher.  Or did they?  That's because everyone thinks that they're a comic book team created by artist Jane Ito.  She's convinced of this too, until she gets a visit from one of her "creations" after a visit to a comic convention.  Tyler Crook co-writes and provides the art for this mini, while "Black Hammer" creator Jeff Lemire co-writes.  If you're expecting a really clever metafictional twist on the "X-Men" mythos here, then you'd best check your expectations now.  There's nothing in the history of "Black Hammer" to suggest you're getting that.  Crook's art should be good, as always.
Creeping HC:  "Creeping," as it's described in the solicitation text, is a hot new online trend where people spend the night in scary places and document the experience.  Graveyards, morgues, decrepit buildings, and the like.  One group tries to seize some internet fame by pledging to stay overnight in a medieval fortress turned insane asylum.  You can probably see where this is going.  "Creeping" is based on an idea from Dark Horse Publisher Mike Richardson and actually written by Zach Keller with art from Doug Wheatley.  I'm most familiar with Wheatley's "Star Wars" work, so if I'm going to check this out at all, and it does have a decent premise for a horror story, it's going to be to see how he handles that genre as opposed to sci-fi.
The Golem Walks Among Us #1 (of 2):  This is the last of the announced projects for the expansion of Mike Mignola and Christopher Golden's "Outerverse."  That's the name given to the shared universe of the "Baltimore" and "Joe Golem" stories the creators have written together.  This one looks to involve Joe himself as the solicitation text tells us that, "After being awakened from his long sleep in a shrine in Eastern Europe, Josef the Golem aids in the fight against the witches that once again terrorize humanity."  I mean, what are the odds that the Outerverse would have two golems named Joe in it?  Amirite?...  Anyway, "Baltimore" has shown me that you can always count on Mignola and Golden for some quality weirdness.  Latter-day "Baltimore" artist Peter Bergting returns to illustrate these issues, which is fine.  I'd rather see original artist Ben Stenbeck handle these, but you can't always get what you want.
Enigma:  Definitive Edition HC:  Berger Books is reaching waaaaaaay back into the Vertigo Vault for this one.  "Enigma" was Peter Milligan and Duncan Fegredo's mind-bending tale of superhumans and sexual identity that broke some ground when it was originally published in the 90's as it gave us the first gay superhero in mainstream comics.  I've got a copy of it on my shelf, though the one thing that sticks out in my mind about it was its very bizarro ending.  Talking lizards may have been involved.  This just means that it's time for a re-read and I think I can get by with reading my own copy.  The Definitive Edition does sound nice, as it's including an extra 50 pages of sketches from Fegredo and notes on the making of the comic.  So if you're a fan of either creator and don't already have this comic in your library, you should rectify that when this edition comes out in October.
Lucky Devil #1 (of 4):  Just your average story of a guy who has had the bad luck to be possessed by a demon.  However, his luck starts turning around when the exorcism doesn't go as expected and he finds himself in possession of the demon's powers.  Now he's looking to get everything he feels he has coming to him and Heaven help anyone who gets in his way.  Well, maybe not Heaven, because Hell doesn't take kindly to those who take its powers without permission.  This comes to us from writer Cullen Bunn and artist Fran Galan, and chances are that you've probably read enough of the writer's work by now to determine if this is one for you.  Or maybe you're like me and you still  feel the need to flip a coin in that regard whenever you see his name on a series.
Orphan and the Five Beasts:  James Stokoe does over-the-top fantasy martial arts.  You really shouldn't need to know anything more than that to want to pick this title up.
Delver:  When a door to a living dungeon opens in a small town, Temerity Aster makes a decision.  She's going to delve into it and get its riches before all the other adventurers plunder it for all it's worth.  I hear the phrase "living dungeon" and my mind immediately goes to the one featured in "Delicious in Dungeon."  There's no indication that this series is going to be on the same level as that foodie fantasy delight, but I'm certainly a little curious to see if co-writers M.K. Reed and C. Spike Trotman, and artist Clive Hawken can carve out something unique in comparison.
The House:  Just your average story of some U.S. soldiers who get caught in a blizzard during the Battle of the Bulge in WWII, have to take shelter in an abandoned manor, and quickly find out that it's haunted.  Oh, and everyone descends into madness and paranoia once they're inside.  You know, the usual.  I kid, but it's also worth mentioning that this series was a successful digital title whose first physical edition was the result of an equally successful Kickstarter.  Now Dark Horse is publishing a version of the series from writer Philip Sevy and artist Drew Zucker for everyone who hasn't had a chance to check it out.  If "The House" was popular enough to make it to this point, then I think it's worth a look to see how it won so many fans before this point.
The Evil Dead:  40th Anniversary Edition HC:  There's an adaptation of the first "Evil Dead" movie from Mark Verhiden and John Bolton?  I mean, I'm pretty sure I was aware of this at some point, but how did I forget about it until now?  No matter.  It comes out in October and I'll make sure it gets in my library then.
Hellbound:  I see the names of writer Yeong Sang-Ho and artist Choi Gyu-Seok on the cover and my first thought was that Dark Horse might be reviving their Manwha (Korean Comics) imprint.  That's not the case as the cover lets us know that this is soon to be a Netflix series.  Which likely explains why the company is publishing it.  The setup for this series involves random people being sent messages telling them their name, that they're going to Hell, and how much time they have before they're dragged down there.  It sounds almost too straightforward for a horror series, but Sang-Ho is also the director of cult classic "Train to Busan" so one would hope he's got some ideas about how to liven things up.
Cats:  Purrfect Strangers:  I don't know what writer Frederic Brremaud and artist Paola Antisa have done before this, but it doesn't matter.  They're doing a graphic novel about three young women and the cats they own.  As an avowed Cat Person, that's good enough for me.
God of War:  Fallen God:  Seeing this volume solicited here reminds me that there's another "God of War" collection by the same team, writer Chris Roberson and artist Tony Parker, that I should pick up at some point.  I don't say "pick up before reading this one" because this volume looks to be telling a specific story.  That of how Kratos went from Greece to the Netherlands after slaying Zeus at the end of "God of War III."  While we all know he survived the trip, I'd imagine there's some storytelling potential to be mined from finding out how Kratos put himself back together after how that panned out.
Blade of the Immortal:  Deluxe Edition HC vol. 4:  Just keep these coming and I'll keep buying them.