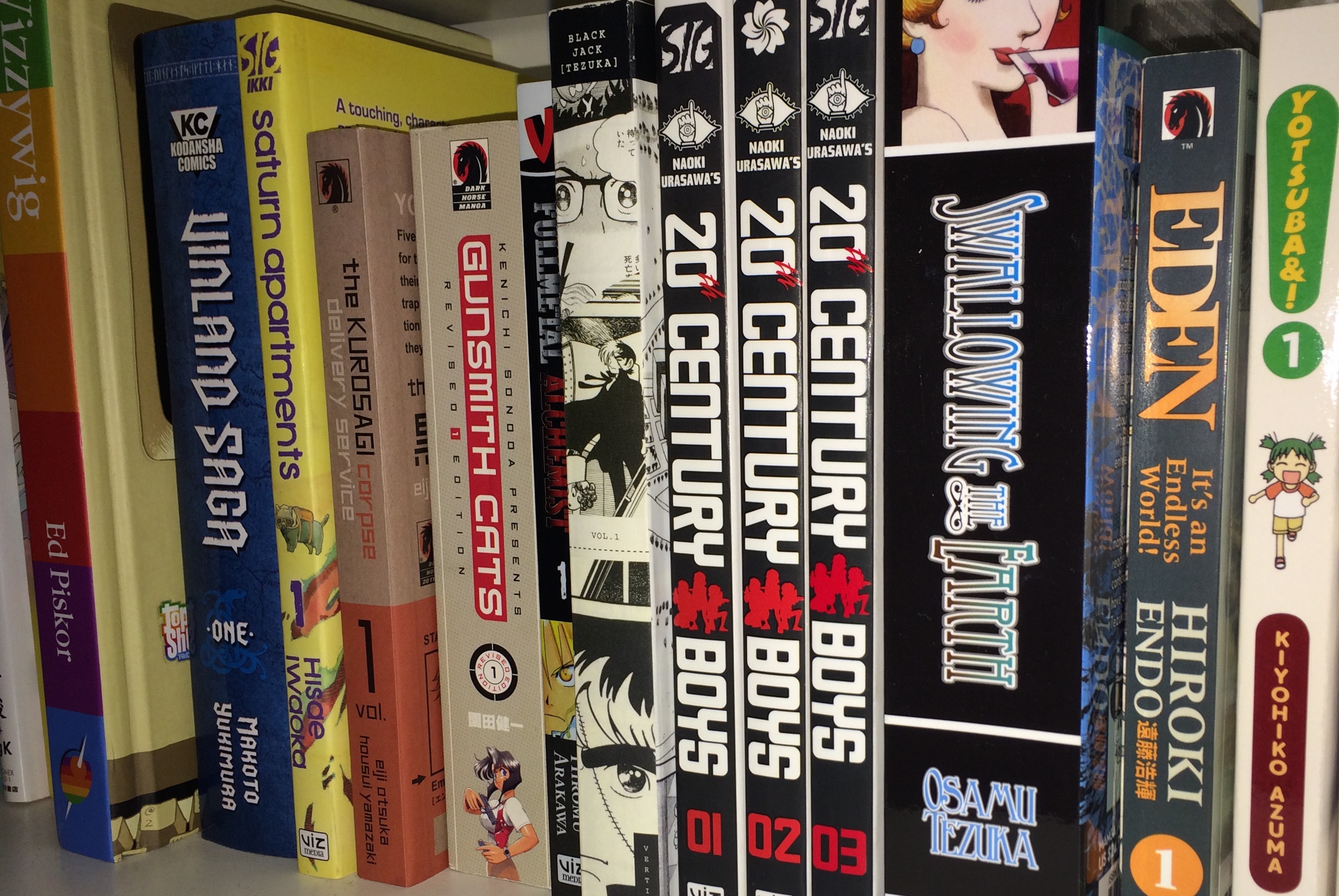 I've been writing these "Previews Picks" ahead of my trip to Fanime and I've been saving this one for last.  Mainly because I thought that after nothing came out of Sakura-Con, we'd get some juicy news from Dark Horse Manga at Anime Central this past weekend.  As it turned out, they didn't even have a panel at the convention.  Carl Horn will be at Fanime carrying the banner for the company, but I'm not expecting any announcements from the con.  Much as I love it, Fanime just isn't high profile enough for a major manga publisher to use it as a platform.  I wouldn't mind being proven wrong here, though.
So since the major news about Dark Horse in the past month is a lack of news, let's talk about that new Comixology Unlimited service that was just announced.  It's a Netflix-style subscription plan for titles from Dark Horse, Image, IDW, Kodansha, and more where you can add trade paperbacks and single issues to your library for the low price of $5.99 a month.  Anyone interested can try out the service with the free 30-day trial Comixology is offering right now.
It sounds like a fantastic deal.  Who wouldn't want the comics equivalent of Netflix for these publishers!?  After a closer look, I don't think that's what we're getting.  While Netflix rose to fame on the wide variety of movies, and (in particular) TV shows it had available for streaming, Comixology Unlimited appears to just be offering readers the first few volumes or issues of a given title.  The plan here looks to get readers started on a series and then transition them over to actually paying for it if they like that first free taste.  It's not a bad deal for what it is, but it's not what I wanted.  Which would be free access to EVERYTHING from these publishers.  I'll see what I can read for my 30-day trial and that'll be it.
Black Dog:  The Dreams of Paul Nash:  Nash was a surrealist painter who lived during WWI who produced "psychoscapes" to help deal with the trauma of the war.  This graphic novel based on his life comes from writer/artist Dave McKean, best known for his collaborations with Neil Gaiman on "Black Orchid," "Mr. Punch," and the covers for every issue of "The Sandman."  McKean's surrealist art is something of an acquired taste and while I can certainly respect his talent, I'm not about to rush out and buy this when it arrives in October.  If anything, I should probably get around to checking out his older, and enduring work as a writer/artist "Cages" which is being offered again by the company in this month's solicitations.
Briggs Land #1:  Brian Wood is back in the creator-owned game at Dark Horse with a promising new crime story.  The title site in this series is home to the largest anti-government secessionist movement in the country.  It's also one that has undergone a change in leadership as matriarch Grace Briggs has wrested control from her incarcerated husband.  Now she has to deal with the members of her family who aren't too happy with her actions, and do so in a way that doesn't bring down the F.B.I. on their heads.  Wood has done a lot of good stories over the years about people fighting the forces in power, though this one seems more grounded in current events than the others.  So long as he avoids the sci-fi shenanigans that dragged down "The Massive," this should be a must-read series when it's collected.
The Goon Library vol. 4:  Worth mentioning because it collects vols. 10-12 of the series.  Or, the last time it was truly funny and entertaining before creator Eric Powell became bored with his signature series and decided to turn it into a full-on tragic drama.  If you like what you read here, then don't bother with vol. 5.
Hatsune Miku:  Mikubon & Oreimo Comic Anthology:  While I'm still waiting for word regarding the company's new round of manga licenses, here's a glimpse into its future.  These are two titles with a significant presence in other media -- Hatsune Miku being a world-conquering virtual ido and "Oreimo" (the colloquial version of the full Japanese title which translates to "I Can't Believe My Little Sister is This Cute!") being an anime that was kinda popular a few years back.  The "Hatsune Mix" manga was Dark Horse's biggest manga success in recent years while the "Oreimo" manga apparently sell well enough to keep bringing more over.  "Mikubon" is about Hatsune Miku and her other Vocaloid friends attending the St. Diva Academy and "Comic Anthology" has 21 artists taking on "Oreimo" along the same lines of the "Evangelion Comic Tribute."  I look at these two titles and see a horrifying future for manga at Dark Horse where it only has appeal to fans of the properties that a given title is being spun off from.  It's why I was so emphatic about recommending "I Am A Hero" to readers in my review of it.  On that note…
I Am A Hero Omnibus vol. 2:  In which disturbed mangaka Hideo Suzuki continues his flight from the epidemic of rabid zombies.  The first volume ended with the man realizing that the gun he was carrying might be of some use in this scenario.  Maybe he'll actually get around to using it here.  If it sounds like I'm being rough on the series, that's just because the slow pace of the first omnibus was its only real flaw.  I'm really looking forward to seeing what fresh new hell awaits our protagonist, which is said to include an encounter with a young girl in a "suicide forest."
Hellboy in Hell vol. 2:  The Death Card:  That's it?  Hellboy's odyssey in the underworld comes to an end after ten irregularly published issues over three years and two collected editions?  This strikes me as being somewhat… underwhelming.  We are promised the introduction of his sister(!) and the destruction of Pandemonium in this volume, so it's not like there won't be a lack of action.  Is it meant to mark the end of the character's adventures in the ongoing arc regarding the end of his world?  That's what I really want to know.  The answer I get may determine whether or not Hellboy's narrative has finally been upstaged by the one over in "B.P.R.D."
Moebius Library:  The World of Edena HC:  The late, legendary French artist's work is getting the deluxe treatment from Dark Horse, starting with this series about a couple of interstellar repairment.  Stel and Atan start off trying to find a lost space station and its crew and wind up on the path of the mythical paradise planet known as Edena.  My experience with Moebius can be described as, uh, lacking.  So I'll be looking to rectify that starting with this hardcover.  I would say that it's a bit pricey at $50 for 344 pages, but then I remember that the "Secret Wars" hardcover cost the same and offered less.  Picking this up seems like a no-brainer now.
World of Tanks #1 (of 5):  Yes, this is a miniseries based on the popular MMO game that has players fighting each other with tanks in a WWII setting.  This doesn't sound like the most promising setup for a miniseries, until someone at Dark Horse had the bright idea to get Garth Ennis to write it and Carlos Ezquerra to illustrate it.  I don't think the game has any real plot to speak of, so I'm betting that it was easy to get Ennis onboard since the only requirement would have to be for him to write a WWII story that featured tanks.  As he has shown in the "Tommy's Heroes" arc from "Hitman" and the "Tankies" stories from "Battlefields," this is not something that the writer has a problem with doing or doing well.  The collected edition is as anticipated as any Ennis war comic can be around here.