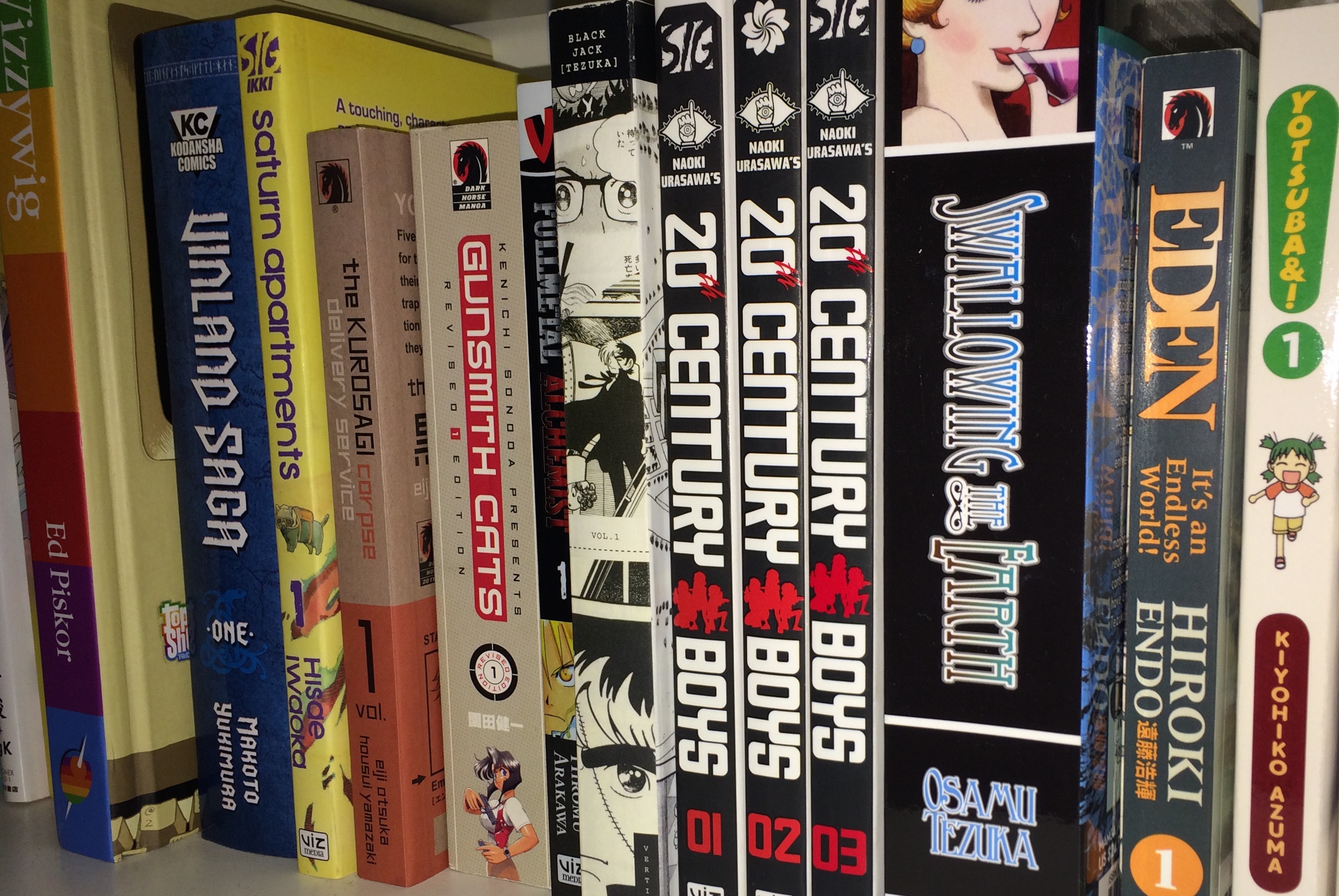 Make of this what you will:  Last week, Kodansha Comics announced several new manga licenses.  Of particular interest to me was "Die Wergelder," a new manga from "Blade of the Immortal" creator Hiroaki Samura.  This is notable because it's his first series to not be published by Dark Horse.  In addition to the mangaka's signature series, the company has also put out the "Blade" artbook and light novel, and the short story collections "Ohikkoshi" and  "Emerald."  Given the apparently tight relationship between Dark Horse and Samura, you'd have thought that "Die Wergelder," about three female specialists fighting over money, would be coming their way as well.  Apparently not.  Unfortunately, short of someone from either company breaking their silence, it's hard to say if this represents a one-off or any kind of sea change in who will be publishing Samura's works here in the future.  That is, unless Kodansha starts republishing "Blade" in an unflipped, omnibus format after it completes its run here.
Also of note:  Dark Horse's Vocaloid manga collection, "Hatsune Miku Unofficial Mix," has done something no manga of theirs has done in quite a while.  That would be topping the New York Times manga bestseller list (twice in the past four weeks).  I haven't bothered with it, but the collections success would seem to indicate we'll be seeing more Vocaloid and/or idol-related projects like this from the company down the line.
Archie vs. Predator (#1 of 4):  Well, if he survived the "Punisher" then America's favorite teen shouldn't have too much trouble with this alien hunter from outer space.  It's worth noting that the infamous "Punisher vs. Archie" special from back in the 90's was actually pretty fun.  The story was played fairly straight and was all the funnier for it.  I wouldn't say the bar for this project is set all that high as a result, but writer Alex De Campi and artist Fernando Ruiz will actually have to put some thought into making this work if they want it to compare favorably to that previous crossover.
B.P.R.D. 1946-1948 HC:  Someone in Dark Horse's publishing division looked at these numbered sidestories to the main "B.P.R.D." series and had the bright idea that they'd make a great omnibus collection.  Because all of the titles for these three volumes were years, you see!  Problem is that these three volumes set up the story of Agent Anders with the payoff coming in the (so far) stand-alone collection "Vampire."  Publishing these three volumes together is like watching a version of "Star Wars" with the last half-hour missing.  It just doesn't work.
Colder vol. 2:  The Bad Seed:  So I did finally get around to reading the first volume of this horror series.  The story, involving a man who was doomed to grow colder in preparation for being an insane spirit's feast, felt underdeveloped with some plot holes that undermined its tension.  What saved it was Juan Ferreyra's art.  The level of detail he invested in it was impressive, but the work itself was fantastically creepy in the way it created a grounded world with unreal monstrosities lurking around the edges.  It was still a mixed bag and I won't be picking this up right away as a result.  Maybe sometime down the line…
The Courageous Princess vol. 2:  The Unremembered Lands:  This comes out in June, so I have to re-read the first volume before then.  Good to know.  The plot for this second volume involves Princess Mabelrose finding out that her father was coming to rescue her, and now he and a posse of princes need rescuing.  Sounds delightfully post-feminist to me.
The Hero Book 1 HC:  This came out of nowhere in the solicitations to catch my eye.  "Who is David Rubin and why should I care that he's doing a modern retelling of the legend of Hercules?"  Is what I thought on my first glance through the solicitation text.  It wasn't until I saw the blurb of praise from Paul Pope that I remembered where I had seen Rubin's work before:  He was the artist for the "Battling Boy" spinoff book "The Rise of Aurora West"  Which explains why it's getting praise from Pope.  I can only hope that Rubin has developed a more distinctive style for this work, or maybe I'll be able to give his work a better appraisal when he's not working in the exact same vein as one of the medium's most talented writer/artists.
The Kurosagi Corpse Delivery Service vol. 14:  When this volume hits in June, it'll have been two-and-a-half years since vol. 13 graced these shores.  If you don't want that kind of a wait for the next volume, then BUY THIS ONE as soon as it comes out.  Also, if you haven't started on this series at all, then the solicitation text tells me that the first omnibus edition of this excellent series will be arriving in August.  It will be very much worth your time and money to check it out then.
The Massive vol. 5:  Ragnarok:  There will be a podcast for this volume, most assuredly.  While the new twist introduced in the third volume still doesn't sit right with me, I will give writer Brian Wood credit for not shying away from it in the most recent volume (expect a review of that in the next week or two).  I'm not saying that it was a good surprise to begin with, but it's clear that this is the story he wanted to tell.  Much like everything else in this series, it probably would've gone better had Wood begun the story at the start of the ecological disaster known as "The Crash" instead of showing us its aftermath.
Rebels #1:  The start of Wood's latest ongoing series is also solicited here.  It's about a homegrown militia group that is formed in rural America in response to an oppressive government.  The catch:  This series doesn't take place in the present day.  It takes place in 1775, and the militia are the original freedom fighters for our country's independence.  This sounds like it'll make for an interesting companion piece to the writer's best work, "DMZ."  That series took a look at our country's present through an imagined future, while this one sounds like it'll do the same only with the actual past.  I'm encouraged.
Usagi Yojimbo vol. 29:  With this volume, all of the outstanding issues of "Usagi Yojimbo" will have been collected.  An impressive feat for a series that has been running as long as this one has.  Of course, with "Senso" providing a potential "end" for the series, will we be seeing any more of it in the future?  I'd bet that the answer is certainly "yes."  It's just a matter of seeing what form future "Usagi" stories will take.