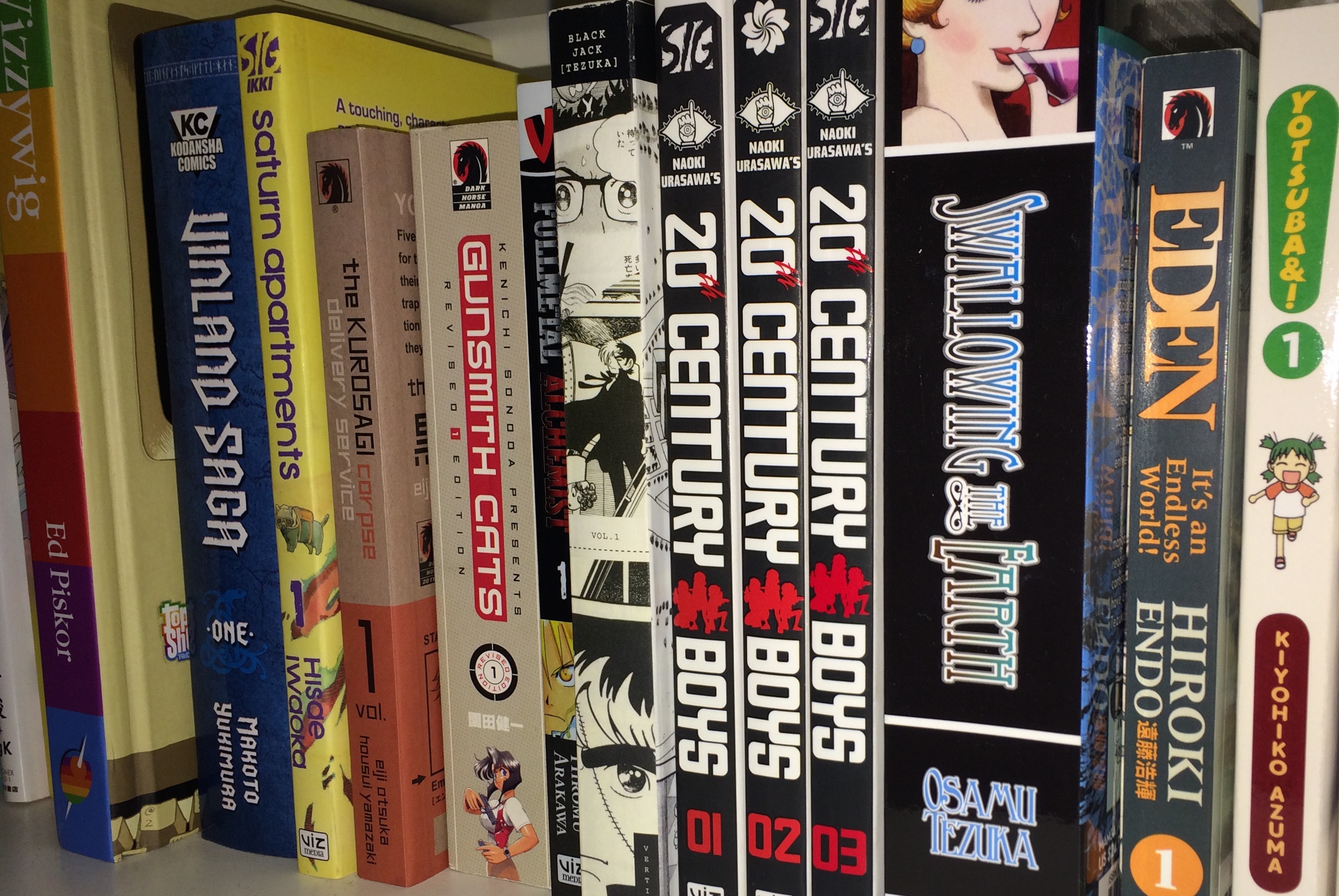 Yup, fine.  Between driving down on Friday and hanging out with Steve afterwards and on Saturday, I probably spent less time at the con than I have in past years.  There was still plenty of rummaging through the half-off bins as well as the four panels I attended, and fun was had in these activities.  Particularly in seeing creators I like in person (as well as one industry person that I could've done without) and to hear them talk about their craft.  Tsutomu Nihei's appearance on Saturday was my main reason for attending; though, I may scale things back to just attending one day next year.  Yeah, I'm complaining about a first world problem and deserve to be mocked for it accordingly.  That's probably not the best lead-in to my thoughts on the four panels I did check out, but they can be found after the break.
Teen Superheroes:  Hormones & Super-Powers:  Had I attended the con on Thursday, I would've shown up early enough to check out Kieron Gillen's spotlight panel where he was interviewed by his frequent partner-in-crime and artist extraordinaire Jamie McKelvie.  As a bonus, Gillen's mom also joined him on stage later in the panel from what I heard.  Not wanting to take an extra day off, I went to see him and McKelvie, along with "Monstress'" Marjorie Liu & Sana Takeda, "Batgirl's" Babs Tarr, "Ms. Marvel's" G. Willow Wilson, and "Nimona's" Noelle Stevenson talk about their experiences writing teen superheroes.  It was an okay experience, hampered by the fact that the moderator didn't have a strong set of questions for the creators or do a good job of making sure they all got to speak regarding them.  Gillen had one good bit noting that writing these characters was basically superpowers plus volume, while Stevenson's description of her "Runaways" series for "Secret Wars" made me want to check it out.  This wasn't a waste of my time, as I can now put proper faces to all of the creators mentioned here, but it was a disappointment.
Manga Publishing Pros Industry Roundtable:  This was disappointing as well after last year's panel turned wound up being the highlight of my Comic-Con experience.  Back for a second year were Kurt Hassler from Yen Press, Ben Applegate from Kodansha, and Erik Ko from Udon.  No rep from Viz this year, and Dark Horse's Michael Gombos skipped out for the second year running.  New to the panel were Ed Chavez from Vertical and… Stu Levy from Tokyopop.  There wasn't as much enthusiasm or spirited debate to the questions posed to the panel this year.  The closest we got to that was a bit of a back-and-forth between Hassler and Levy about the bursting of the "manga bubble" from years past.  There was an interesting question towards the end where moderator Deb Aoki asked the panelists if they could name a manga they published that they considered to be a gamble at first, but turned out to be a sales success.  Levy named "Fruits Basket," Applegate brought up "Princess Jellyfish," and Hassler mentioned "Yowamushi Pedal."  It's worth noting that all three titles were preceded by well-liked anime adaptations.  Had there been more time in the panel (and if I'd been quicker with the raising of my hand), I would've asked them to name a real publishing gamble -- a title without an anime adaptation -- that worked out for them.
I also want to mention that a pamphlet about Tokyopop's latest publishing ventures was passed around to the panel attendees.  While their partnership with Disney is kind of a big deal, they've also got a number of new Global Manga titles being put out on their comics app.  I can only hope that these new Global Manga creators are better at reading Tokyopop's contracts than their predecessors.  Also, while I'm sure the Disney manga will sell for the company, I can only assume that their bridges with other Japanese publishers are so burnt that they only way they could get back into the manga publishing game was through this 500 lb. gorilla of a middleman.
Spotlight on Derf Backderf:  Well-deserved by the creator, to be sure.  Except that it was depressing to see how few people showed up for this panel.  C'mon people!  He's the creator of "My Friend Dahmer," "Trashed," and "Punk Rock and Trailer Parks," three excellent graphic novels that belong in any serious comic fan's library.  If Derf, and panel moderator Tom Spurgeon, were disappointed by the turnout they didn't let it show.  What we got from the two was a good overview of Derf's career and insight into the creation of these graphic novels and his alt-weekly strip "The City."  (As well as a photo of a teenage Jeffrey Dahmer spazzing out.)  The best news I got from this panel was that Derf's next, actually current, project is a webcomic sequel to "Punk Rock" called "The Baron of Prospect Avenue.  I didn't think we'd ever see more of the Baron, so this was a welcome surprise.  Also noteworthy was the fact that his graphic novels are apparently huge in Europe as his stories of the American Experience struck a chord with the comics-reading population over there.  It was also nice to learn that Derf picked up an Eisner award for "Trashed" (Best Lettering) and, before the panel was over, one of Comic-Con's officials showed up to present the creator with the con's Inkpot Award for his contributions to the medium.
Spotlight on Tsutomu Nihei:  Nihei also picked up an Inkpot at his panel, though he had to endure the presenter's mangling of his name.  (Seriously, how can you not take the time to learn the name of the person you're presenting with an award?)  Though this was ostensibly a "spotlight" panel, Nihei was accompanied by the director of the "Knights of Sidonia" anime, and one of the show's producers from Kodansha.  Much like his protagonists, Nihei was a man of few words, with his fellow panelists noting that this was the most they've heard him speak in one sitting.  There was a decent amount of focus on the "Sidonia" anime with both the audience and director acknowledging that they'd like to see a third season at some point.  However, that would have to wait until they're done with the new "BLAME!" anime arriving on Netflix next year.  We got to see a teaser for it at the panel, and it looks pretty slick.  Nihei himself was so impressed by it that he asked to see it again before the panel was over.  The mangaka is very involved in this new anime adaptation of his work, to the point where the "Sidonia" manga's end was prompted by his desire to work on it.  (It's a credit to his skill that the ending of the manga didn't read like it was rushed if that was the case.)  Nihei also mentioned that the new anime is going to be a re-imagining of the manga as the original work is nearly twenty years old at this point and there are some parts of it that he's really not happy with.  Stills of one of "BLAME!'s" female characters and her counterpart from the new anime were presented to the audience for comparison and the difference was striking to say the least.  Though the new "BLAME!" anime is Nihei's focus for now, he did say that he has another series that he's working on for the future.  It'll be SF, but not likely a sports manga -- though I'm with the rest of the panel in agreeing that I'd love to see his take on that particular genre.