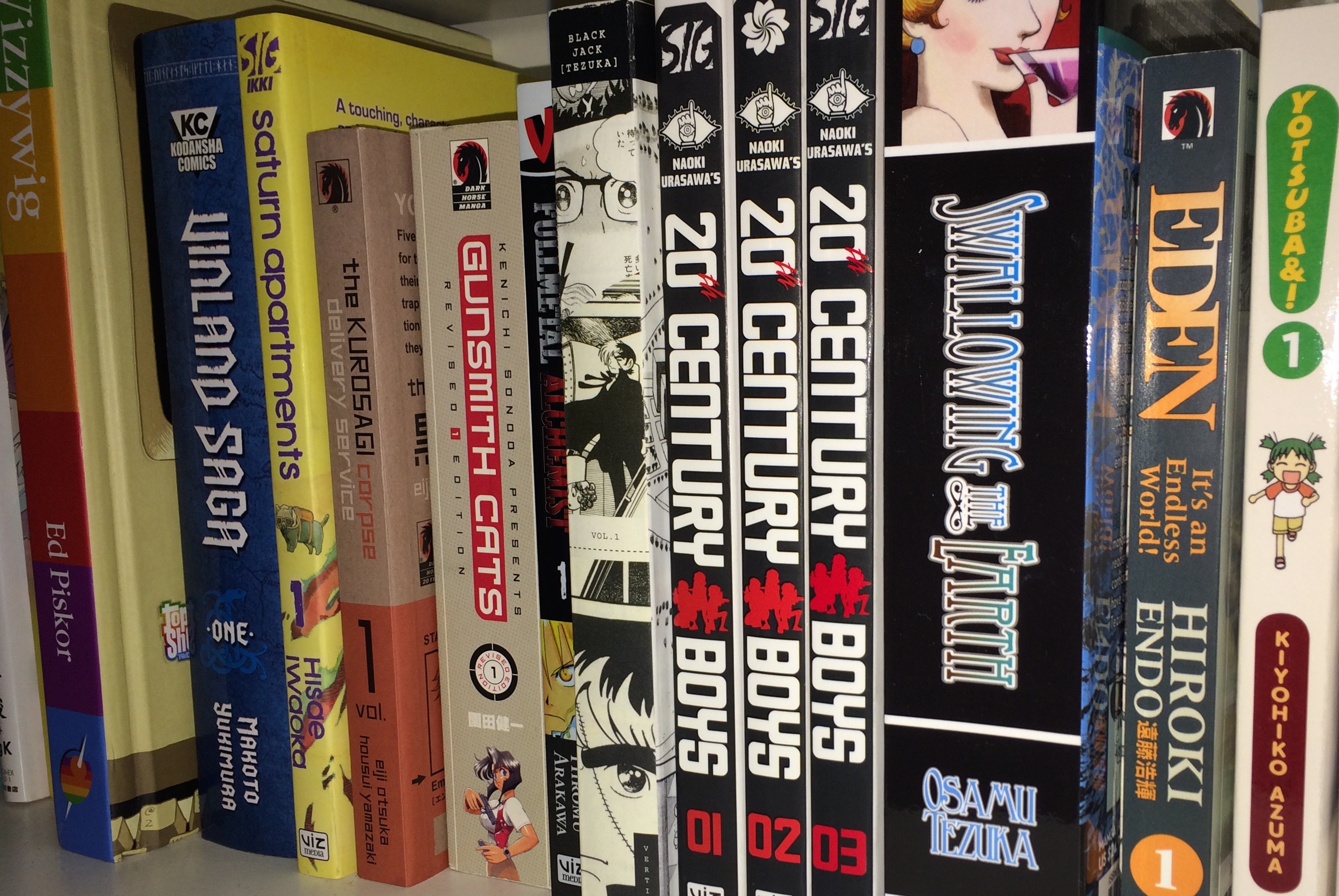 That's one more Comic-Con down.  Even though the con was insanely packed as usual, it still felt pretty manageable to me.  Maybe that's because I've made it a habit to stay away from the craziness of the Hall H and Ballroom 20 lines and focus more on panels geared towards comic creators.  Of course, it still doesn't mean that I won't get shut out of certain ones.  I did come back with a giant haul of comics and reviews of the most interesting ones will be trickling out over the next few weeks (and months as well).  I had a good time overall, even if there was one bit at the end that put a real damper on things.
Spotlight on Dan Slott:  With "Superior Spider-Man" over with, I figured I'd check this out to get some more insight into its architect.  As you'd expect from someone who has written "Spider-Man" for as long as he has, Slott is a pretty funny guy and someone who can play off of his moderator and the room quite well.  Some of the more interesting tidbits about his career included the fact that after years of writing for DC's animated titles, his big break out of them came when his "Batman" pitch got "telephoned" through several DC editors into an "Arkham Asylum" pitch.  Which is how we wound up with "Living Hell."  Slott also talked up how his editors have kept him on track over the years, knowing when to shoot down "5AM" ideas like Spidey getting infused with Pym particles and taking on Fing Fang Foom in a giant kaiju-style battle.  The writer also mentioned that, more often than not, anything that seems like editorial interference in his comics is usually something he asked for himself.  If you thought that Marvel cynically timed the end of "Superior Spider-Man" to coincide with the release of "The Amazing Spider-Man 2," then you (and me) thought wrong.  Slott took all the credit, saying that his editors thought it would be a six-month storyline and he countered by proclaiming that he could stretch it out until the movie.  In the end, his plan worked out pretty well.
Image Comics:  I is for… Infinity:  You'd think that this would be the Image panel to feature Jonathan Hickman, but that wasn't the case.  Instead, the likes of Nick Dragotta (artist of "East of West"), Jason Latour (artist of "Southern Bastards") and writers Stuart Moore and Rick Remender talked about their various projects and approaches to creating comics.  Remender offered the most notable bits in talking about how -- secret assassination school under San Francisco aside -- "Deadly Class" is the closest thing to an autobiographical work he has ever created.  The man also had some choice words for the recent pseudo-controversy surrounding his recent "Captain America" work, stating that you can't be beholden to what other people think as that will just water down your vision.  Moderator David Brothers was offering comics to whoever asked a question, so I went up and asked the panel about how they adapt to telling their stories based on the relative success, or lack thereof, they experience from sales.  I didn't get a good answer, but I did get a comic… which turned out to be "MPH #1" from Mark Millar and Duncan Fegredo.  It's still in the trunk of my car.  If you ever see me in real life, ask me for it and I'll give it to you.
The Sergio and Mark Show:  Every year Sergio Aragones and Mark Evarnier have a panel to talk about what's been going on in their lives and what they have planned for the coming year.  The big news is that after years of nothing, the creators of "Groo" finally have a new comic featuring the dim-witted barbarian on the stands.  It's the long-awaited "Groo vs. Conan" crossover and the artist of the non-Groo portions of that series, Tom Yeates, was also on the panel along with the pair's regular letterer Stan Sakai.  In addition to the "Conan" crossover, there's going to be another twelve-issue "Groo" miniseries titled "Friends and Foes" to follow immediately after and as the title implies, each issue will focus on a new encounter with a particular member of the title's recurring cast.  Better news than that -- though not official yet -- is that Aragones and Evarnier are very close to making "The Groo Archives" a reality.  As the name implies, this project will collect EVERY comic featuring the barbarian and then some.  It's not quite official yet, but the panelists sounded optimistic.  In talking about why they're doing this (aside from fan demand, I imagine) Evarnier quipped, "We took a look at what was selling on the show floor and figured… Why the hell not?"
Spotlight on Mike Mignola:  It was a tossup between seeing the "Hellboy" creator in person, or checking out the "Shadow of Mordor" or "Batman in the 80's and 90's" panels.  In the end, the fact that I've never been to a panel featuring Mignola or even seen the man in person was the deciding factor.  I'm glad I did as the writer/artist had a lot of interesting things to say about his creations.  Whether it was how he freely and jokingly admitted to adapting really weird and obscure folklore tales and then basking in the glory he receives when no one recognizes the source, to how a Universal exec told him in an extremely polite manner after "Hellboy 2" that they'd never use his characters again, the man had plenty to say.  Also of note was how he views "Hellboy in Hell" as the book where he can just go nuts with whatever strikes his fancy.  Though the series does have a plot, Mignola admitted that he's mainly doing that title to please one person:  himself.  At least the results of that kind of self-indulgence have been pretty entertaining so far.
Spotlight on Brian K. Vaughan/Fiona Staples:  The panels for the "Saga" creators were held back-to-back, which caused one of the people I was with to wonder why they didn't have a joint panel.  As I told him, it was done this way so that the focus could be on each creator without having one overshadow the other.  Hence the term for these "spotlight" panels.
Vaughan's panel was the highlight of the convention for me.  He was a one-man show and bounced off the fans asking him questions like a real pro.  Questions about everything from "Saga," to "Y:  The Last Man," "Runaways," and his stint as showrunner on "Under the Dome" were brought up.  It was interesting to hear him talk about "Dome" as something that he felt really out of his depth on, with the biggest thrill for him simply being that he was adapting a book from one of his favorite authors.  Having suffered through the first season, this explains things and I'm glad he decided to quit and focus on comics full-time again.  The man also said he has a new comic project in the pipeline, though we shouldn't expect any news about that until next year.
If Vaughan was a quick-on-his-feet raconteur, then Staples balances their working relationship by being more reserved.  She had a moderator for her panel and the first half was spent on a career retrospective taking us from her 24-hour comic debut, through her years at Wildstorm on titles like "North 40" and "The Secret History of the Authority" to "Saga."  We also got to see how she creates the digitally painted art for that title in a video showing her work in Manga Studio.  One neat bit of continuity through these panels was Vaughan telling everyone that Staples doesn't like for him to tell her where the series is going.  She likes to be surprised by reading what's going to happen to Marko and Alenna  in the scripts and then channeling those feelings into her art, which Staples stated for herself without any prompting in her panel.
Spotlight on Don Rosa:  (Why yes, nearly all of the panels I went to were "Spotlight on" ones.)  The creator of the most memorable "Uncle Scrooge" comics since Carl Barks is finally getting republished in deluxe editions through Fantagraphics.  I picked up my copy of the first volume at their booth (along with the early-bird release of the deluxe hardcover edition of Ed Piskor's "Hip-Hop Family Tree" -- complete with bonus comic about the time Spike Lee filmed a jeans commercial with Rob Liefeld) and it was a treat to see its creator in person.  Having an appreciation for these stories hardwired into me courtesy of watching lots of "Ducktales" as a kid, it was interesting to hear Rosa say that he almost wound up working on the show before he wound up hitting it big (relatively speaking, unfortunately) creating "Uncle Scrooge" stories for Edgemont in Europe.  Though Rosa had a long, winding road to being a comics creator he came off as genuinely humble and appreciative of the praise his work has earned.  He also had some choice words for Disney and their treatment of publishers and creators which just made me despair at their ignorance/incompetence in how they manage their comics business.
Spotlight on Jim Steranko:  Having heard about this legendary creator's antics on Twitter and after catching a bit of his panel at last year's WonderCon, I was expecting this guy to come off as a real firecracker.  The reality of Steranko's panel turned out to be a bit more subdued as he gave a long, rambling history about his early years as a kid and the trouble he got into at school.  We did get to hear him give the story about the time he bitch-slapped Bob Kane, which was cool, and he even had some additional insight about how the infamous/legendary creator outsmarted himself through his tightfisted methods.  Turns out that DC was more than happy to persuade toy companies to make Superman toys than Batman toys thanks to Kane's ways.  Steranko also talked about the circumstances which caused him to leave Marvel back in the 70's, and his antagonistic relationship with Stan Lee.  They had their issues, but we also learned that Stan thinks of Jim as the son he never had, which ended the panel on an *awwwwwwwwww* note.
The Best and Worst of Manga  Nope, that's all folks:  Much as I'd like to talk about how I didn't manage to embarrass myself in front of the panel this year, I can't.  That's because I couldn't attend.  You see, a friend of mine told me to check out Phil's BBQ at Petco Stadium after he'd been talking it up for years, and we saw the location there on an online map.  However, when I finally arrived at its location on the map I found out from a helpful security guard that Phil's is only available when they have games there.  So I wound up walking around downtown looking for familiar places to have lunch.  Eventually, I found my way to Horton Plaza and a Fish 'n Chips place there.  I got some shrimp 'n chips (because I could) and sat down to have my lunch.
Then I looked down at my lanyard and saw that my badge was gone.
Yeah.  So that meant my time at Comic-Con was over in no uncertain terms.  While I had it after I left the Steranko panel at the convention center, after walking through a good portion of downtown I figured that it was gone for good.  So I walked over to the train station and read comics until the coaster came to take me back to my car.  It was very disappointing, more for the fact that it meant I was going to miss out on one of my favorite panels at the con than anything else.  Even so, I can probably find a summary for it online.
Next year, however, is the year that John and I try to see if we can attend as members of the press.  By Comic-Con's standards, we should qualify.  If not, then I'll throw my hat into the madness of open registration and see what I get.  Worst case scenario is I'll just have less time to attend panels and buy comics.  There are worse fates to be had in this world.