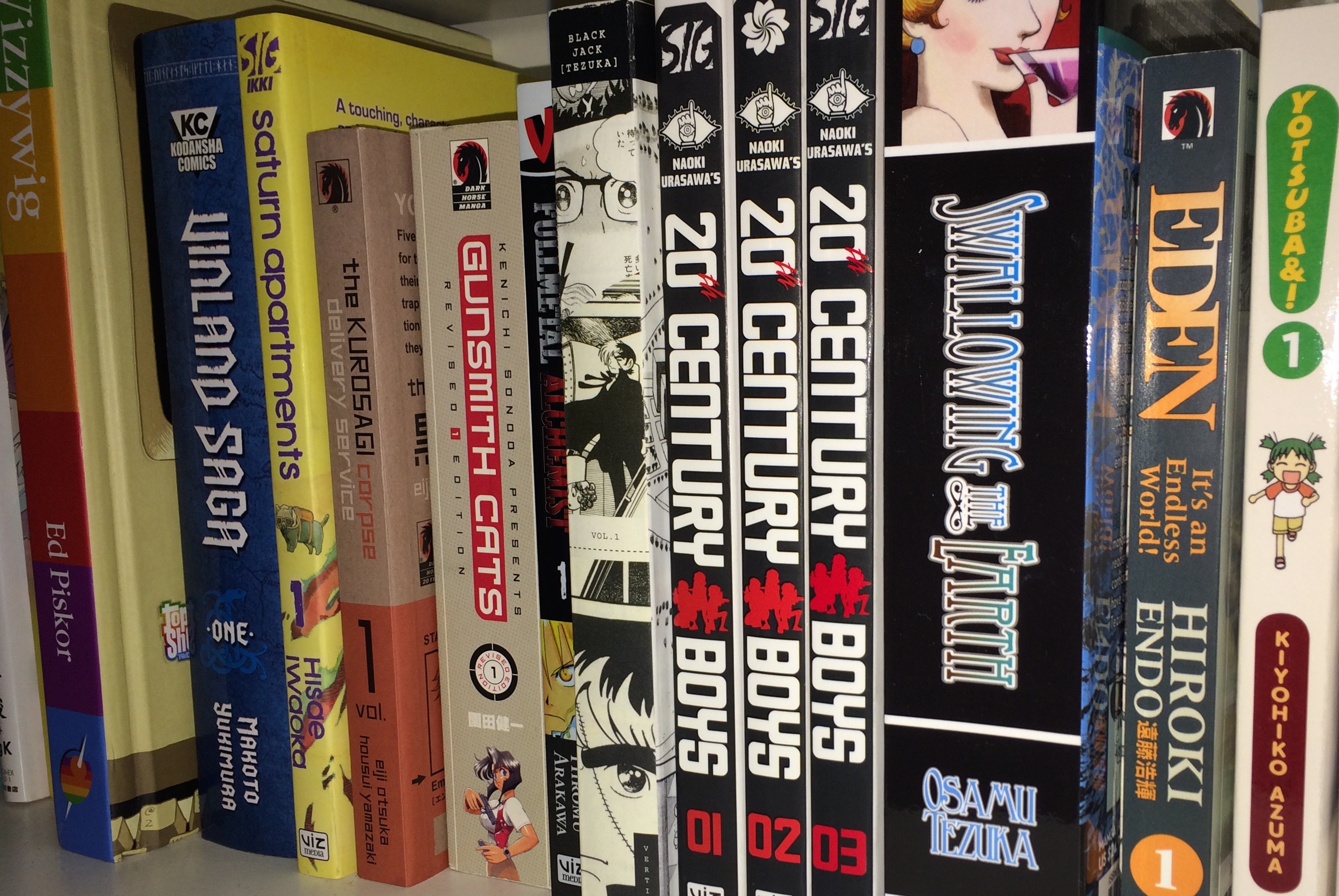 Some people come back from Comic-Con with stories of the long lines they had to stand in so they could get into the panels they wanted to see.  Not me, though.  I stayed the hell away from Hall H and the other big media panel rooms and only went to comic-focused panels.  So not only was I able to get into every panel I wanted to, I didn't have to wait in any lines for them either.  Which… was also just the tiniest bit depressing now that I think about it.  Anyhow, what follows below the break is my recap of the panels I attended.  Expect lots of Image and Dark Horse creators talking about their titles, what to do when the FBI tries to sting you with child porn, good news about a digital title I read from Kodansha, and no news from Dark Horse manga.
Image Comics:  Excellence in Storytelling:  This panel featured Nick "East of West" Dragotta, Dustin "Descender" Nguyen, Marjorie "Monstress" Liu, Marc "Genius" Bernardin, Amy "Rocket Girl" Reeder, and Greg "Black Cloud" Hinkle discussing their craft.  David Brothers was moderating and he got some good responses from each creator.  We learned about how Marjorie picks the first image for "Monstress" storylines, how Dustin comes up with the covers for "Descender," and how Amy blocks out her action sequences in "Rocket Girl."  In fact, the scenes we saw from "Rocket Girl" were striking enough -- imagine a slap fight that escalates into a full-on brawl -- that I went and picked up the first volume of the series afterward.  Best of all was Dragotta's response when Brothers asked him about some of the more risque descriptions he had to illustrate from Jonathan Hickman's scripts.  In relation to a S&M-themed scene in "East of West" Dragotta said, "Hey if this is what you want I'll give it to you good and hard."  No wonder the two make such a great team.
Artists Who Write:  The Art and Craft of Comics:  It's funny that a panel with this title featured Adam "Empowered" Warren, Joelle "Lady Killer" Jones, and Larry "Beanworld" Marder.  I say that because of the three panelists, only Jones really fits that description.  Adam has been exclusively illustrating his own scripts since the third "Dirty Pair" miniseries back in the 80's and Marder's only creation has been "Beanworld" which he writes and illustrates.  That aside, this was still a fun panel as the three of them all had interesting anecdotes to share.  Jones talked about shopping "Lady Killer" around to various publishers until she came to Dark Horse, who published it to sellout success.  We heard Marder talk about the ongoing difficulty to describe what "Beanworld" is about, and he mentioned that a review in a scientific journal said it was about "the amount of science in art, and the amount of art in science" which he thought was good.  Warren (who was the main reason I attended this panel) talked about his days in the Joe Kubert School after he discovered manga and promptly freaked out his instructors by adapting it into his style.  Fortunately for us, he focused on cranking out his assignments as fast as possible in order to graduate and get away from the instructors he described as "irrelevant."
The Trials of Underground Comix:  The Comic Book Legal Defense Fund sponsored this panel which featured two iconic underground comix creators of the 70's and 80's, respectively, Joyce Farmer and Mary Fleener.  There was supposed to be a third, Ron Turner, but this worked out well since it provided an interesting female-centric look into the creators' respective eras.  Farmer talked about how the anthology she worked on, "Tits 'n Clits," was mainly done to provide a female response to the works of male underground comix creators like R. Crumb.  She also mentioned that while her fellow creators weren't in any danger from the authorities of the time, the real danger was to booksellers being busted by the police.  Fleener faced more direct danger as the editor of "Slutburger" when she received a pamphlet advertising child porn in the mail one day.  She called up the CBLDF to ask for their help and they advised her to get any questionable material out of her home as this was a tactic they had encountered from the FBI in previous cases.  Chilling stuff, and as moderator Charles Browenstein pointed out, still relevant today in their struggles in defending manga.
An Introduction to Berger Books:  From one female-centric panel to another, this is the new Dark Horse imprint fronted by Karen Berger.  For those of you who aren't familiar with her, she was a longtime editor at DC who effectively founded the Vertigo imprint and presided over its glory days.  Now she's back with a new imprint at Dark Horse ready to get back in the business of making comics.  While it was cool to see Berger in person, along with creators like Dave Gibbons, Ann Nocenti, and Mat Johnson, this was basically a reiteration of the already-announced titles for the imprint.  So if you didn't know about Nocenti and David Aja's future dystopia "The Cells," Anthony Bourdain's "Hungry Ghosts," Johnston's new "Incognegro" series, and the deluxe reissue of Gibbons' "The Originals" then there was plenty to take in.  The announced titles do sound interesting and I am interested in checking them out when they start arriving in early 2018.
Manga Superheroes:  Super Differences Between Japan and U.S.:  I've been to a lot of manga panels at Comic-Con over the years and this one featured a lot of familiar faces.  Deb Aoki, Brigid Alverson, Chris Butcher, the aforementioned David Brothers were all here in addition to U.S. Shonen Jump editor-in-chief Andy Nakatan and to my great surprise Carl Horn.  Horn has been absent from Comic-Con for the past 13 years and while I was expecting to see him at the Dark Horse Manga panel, it was great to see him here too.  All of the panelists had a lot to offer in talking about their favorite manga superhero series and the talk wasn't just specific to "One-Punch Man" and "My Hero Academia."  We got to hear about the current and classic iterations of series like "Cyborg 009," "Gatchaman," and "Ultraman" as well as manga featuring Marvel characters from the 60's and 70's.  Brothers even brought up the fact that Kazuo Koike did an "Incredible Hulk" series in the 70's, which I was surprised to learn.  As the title of the panel implied there was also plenty of talk about the conventions of American comics here as well, but it was generally good natured and not put out to show the superiority of one culture's approach to the genre over the other.
Kodansha Comics:  Now I usually avoid these kinds of industry panels because you can usually find out about all the important information from them online after they've happened.  So even though I was surprised to learn that the new "Neo Parasyte M" anthology will feature contributions from creators like Hiroki Endo and Moto Hagio, it wasn't the reason I attended.  No, I was here to ask the panelists about the status of Endo's "All-Rounder Meguru" which has been on hiatus after Kodansha put out the first three volumes from March to May earlier this year.  Asking any kind of, "What's the status of 'X' title?" at these panels is kind of a crapshoot, but I was very surprised to learn that they're still working on "All-Rounder Meguru."  The panelists assured me that more volumes are on the way, and they said that we'd get them before the end of the year after I posited that as a potential timeframe.  So yeah, that was pretty great to hear and it was the highlight of my con experience this year.  (Even if it did turn out to be somewhat misleading -- more about that on Monday.)
The Official Image Comics Panel:  With a title like that you'd expect some A-list guests and announcements, right?  Well this panel, also moderated by Brothers, didn't have either.  Ed Brubaker was scheduled to show up, but he didn't.  Fortunately charismatic creators like Tini "Magdalena" Howard and Donny "God Country" Cates did provide the panel with some energy.  Particularly the latter's penchant for casual profanity in the description he provided of his series.  I should also mention that I spent most of the panel reading the Dark Horse edition of the soon-to-be-an-Image-title "Buzzkill" co-written by Cates.  It's about a superhero who gets his powers through drugs and alcohol and how he tries to put his life together after a particularly destructive bender.  While the idea behind it is solid and the miniseries has some fun character moments I think it ultimately leans too hard into its superpowers-as-metaphor-for-addiction setup.  It's not a bad thing for the creators to work out their own issues in this manner, it ultimately doesn't make for a truly cohesive story.
Dark Horse Manga:  In addition to Horn, editors Philip Simon and Megan Walker, and Director of Asian Licensing (and occasional translator) Michael Gombos were on this panel.  Now, after Sakura-con and Anime Expo went by with no new licensing announcements from Dark Horse, I was expecting that they'd have something to say along those lines here.  To my disappointment, they did not.  So that was a real bummer.  What they did have was a power-point presentation from Horn about the 1980 Comic-Con where four manga creators were invited to attend.  The creators in question:  Osamu Tezuka, Monkey Punch, Go Nagai, and Ryoichi Ikegami.  Now that's a Comic-Con I wish I could've attended!  Tezuka was even awarded the con's Inkpot award for his contributions to the medium and got to stand onstage with Chris Claremont, John Byrne, Wendy & Richard Pini, and the King himself Jack Kirby.  Even if they didn't have anything to announce, the panel was still a worthwhile learning experience.
Between the presentation and the rundown of some of the upcoming Dark Horse manga titles for the rest of the year, the panelists only had time for one question.  But what a question it was!  The guy who got to ask his question asked about the status of "Eden:  It's an Endless World!"  While all four panelists expressed their love of that series and disappointment that they weren't able to put out more volumes at the moment there was one bit that I thought was particularly interesting.  Simon mentioned that the current decision to publish more volumes was "above their heads" which (assuming he's not talking about publisher Mike Richardson) is consistent with what Horn told me at Fanime when he said that they had asked Kodansha about reprinting the series in three-in-one omnibi.  So it would seem that the ball is in Kodansha Japan's court as to whether or not we'll see new volumes of "Eden" in the future.  After years of waiting to find out how the series will end, I can only hope that they give Dark Horse an answer sooner rather than later.