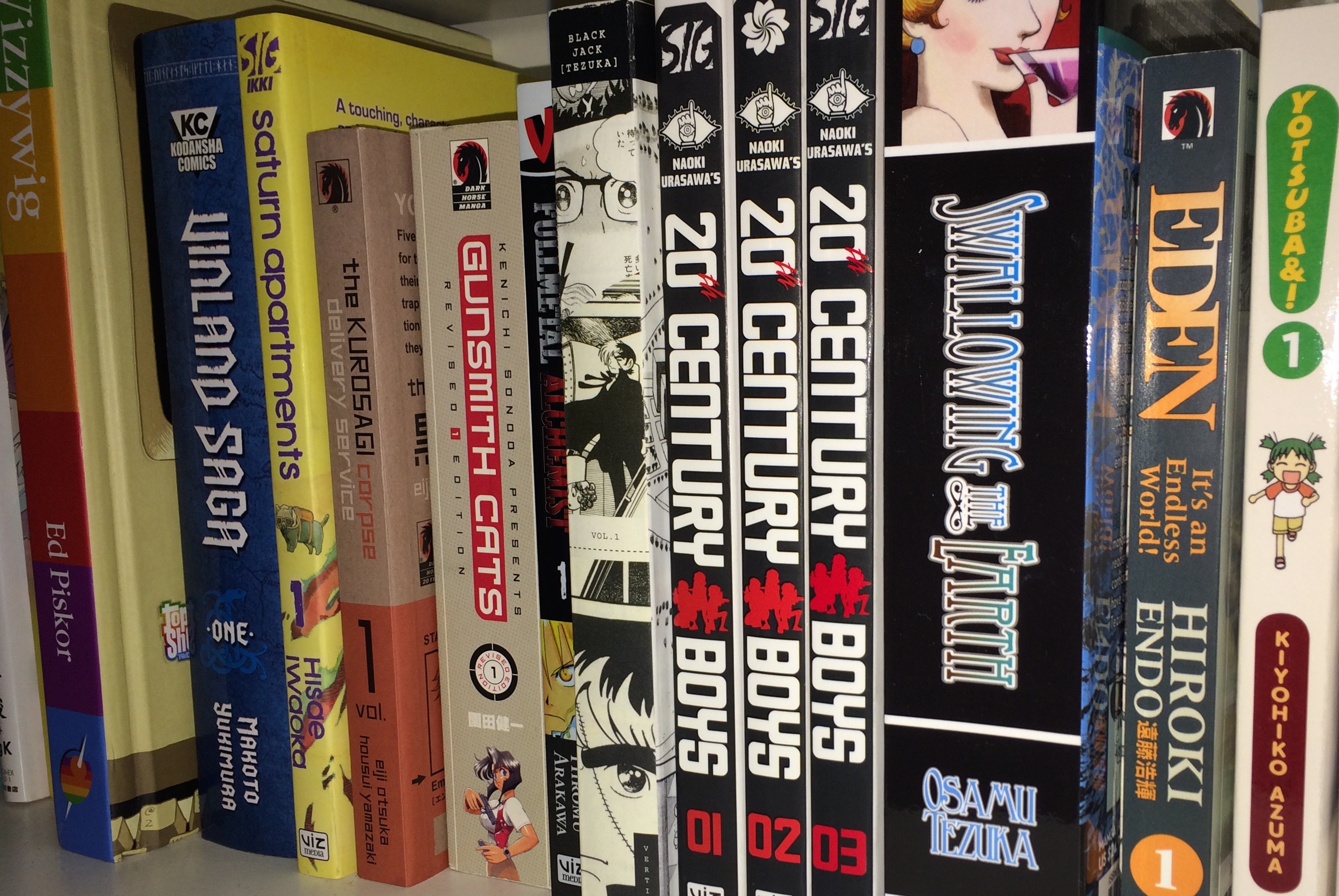 Comic-Con has come and gone and I've got a ton of new material for reviews and podcasts.  Expect something about "Atomic Robo" in the very near future, assuming I can find a way to tie it in to "Batman:  Earth One."  So when I wasn't on the show floor rifling through the bargain bins, I was attending panels... or going out to eat with friends.  What follows is my account of the former, because talking about the latter would be self-indulgent beyond even my tolerances.  One note:  most of the panels I attended were smaller, more niche-oriented because until Dark Horse can bring Hiroaki Samura to Hall H, braving those long, long, LONG lines won't be worth it.
First up on Thursday was the "Sergio and Mark Show," which is a con tradition for me.  Sergio Aragones and Mark Evarnier are the artist and writer, respectively, of "Groo The Wanderer" and the panel serves as an hour long excuse for them to talk about what's up in their lives, publicize new projects, and yuk it up with fellow panelists, "Groo" colorist Tom Luth, and Stan Sakai, creator of "Usagi Yojimbo" and letterer of "Groo."  Of note this year is that Sergio, normally the fastest artist in the industry was laid up for three months after a back injury.  Not only did this delay his monthly title, "Sergio Aragones Funnies," but further pushed back the perpetually forthcoming "Groo vs. Conan" crossover.  They say that things have been ironed out with the "Conan" people, so the first issue may be out either late this year or early next.
Most manga panels are chronically under-attended at the con, so getting in to the Viz Media panel was no problem.  Unfortunately, it mainly served as a place where I could finish reading my copy of "Uncanny X-Force vol. 3:  The Dark Angel Saga Book 1" due to their lack of interesting announcements.  While they're continuing to push their digital and web-based initiatives, none of the new titles they announced appealed to this grizzled, jaded fan of "20th Century Boys" and "Tenjo Tenge."  However, they did announce a new 3-in-1 edition of Yoshiyuki Sadamoto's "Neon Genesis Evangelion" manga to coincide with the new volume of the veeeeeeerrrrrry slooooooowly published series.  I've generally not been a fan of manga "adaptations" such as this, but the title has an air of legitimacy thanks to Sadamoto's direct involvement (he was the character designer on the show and for the movies as well).  Carl Horn also provided the translation, so when this omnibus comes out I'll probably go "Eh, what the hell," and pick it up.
Horn's presence also loomed over another panel that I regularly attend at the con.  "Manga:  Lost in Translation" is a frequently fascinating look into the work that goes into translating series from the practical standpoint of how the language should be localized to the demands of the licensors.  Jonathan Tarbox is usually the ringleader for these panels, as the man has plenty of insights to share about the process and industry thanks to his career trajectory from working for the NFL in Japan (yes, our National Football League), to running the ill-fated Raijin Comics, and starting up CMX before forming his own company.  He was joined on the panel by Shaenon Garrity, who, aside from her day job as manga editor, is also a fantastically talented cartoonist in her own right -- go read "Narbonic" online or pick up the two "perfect collections" of the series for proof.  She was also the one who brought up Horn specifically at the panel as she noted his choice of an nearly unintelligible English accent for one of the characters in "Excel Saga" was just one way to interpret a Japanese dialect.
Listening to the panelists talk, you got the impression that trying to translate any kind of dialect was a fool's errand since they're basically untranslatable due to their specificity to a region.  Stephen Paul, another translator on the panel, discussed this in detail when he recounted his efforts to translate Ayumu Kasuga's, a.k.a. Osaka, accent in Yen Press' new edition of "Azumanga Daioh."  Noting that the previous manga and anime from ADV had given her southern and "Brooklynese" accents to account for it, he went and tried for a very idiosyncratic approach that didn't really involve any one dialect, but his own amalgamation.  He even wrote a lengthy essay for the translation notes about his process.  Then Stephen told us that he got a call from someone in Yen's editorial department who asked him, "So is her accent southern or Brooklyn?"  It all turned out to be for naught as the man then informed us that most of his dialogue for her was rewritten prior to the volume's publication.  Tragic, to be sure but at least he got to tell his story here.  Stephen also let slip that he had already turned in pages for "Thermae Romae" for Yen, a series about a designer of baths from Roman times who gets transported to modern-day Japan to research the technology for his own time, which wasn't part of the company's announcements at the con.  It's a fascinatingly bizarre premise which only could've come out of Japan, and I'll be looking forward to it once the title is released over here.
I was planning on closing out the night at Ric Meyers' "Superhero Kung-Fu Extravaganza" but missed the first hour which was spent on a forthcoming American-based martial-arts production called "Death Grip."  The clips I saw gave no indication of any plot, but offered decent action.  Once we got into the actual Asian Kung-Fu features, it was apparent that most of what we'd be seeing here would be a rehash of what Meyers had shown at Fanime.  Disappointing, but it at least allowed me to call it an early night.