Episodes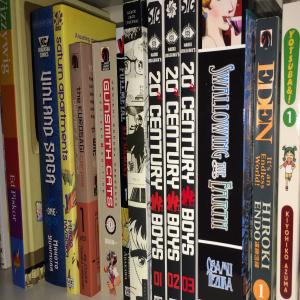 Saturday Sep 14, 2013
Saturday Sep 14, 2013
"Ten Grand" by J. Michael Straczynski and Ben Templesmith has been one of Image's biggest launches this year, spurred on by the reputations of its creators.  However, a good launch doesn't guarantee long-term success -- one only needs to look at how fast the Kirkman/Liefeld collaboration "The Infinite" sunk in four issues.  While overall quality is certainly the key to a series' long run, creative stability is one of the main contributors to this.  What does this have to do with "Ten Grand?"  About a week ago, an announcement went out from Straczynski that he was replacing Templesmith with artist C.P. Smith after the former stopped communicating with him about a month ago.  I was prepared for another round of creator-driven internet drama, but the catch here was that no one had heard from Templesmith in the last month.  Fortunately, within 24 hours of the story breaking Templesmith came online and reassured everyone that he was alive and that his silence was down to a bad moving experience and other personal drama.  Though he patched things up with Straczynski in the process, "Ten Grand" will be moving on without him.  Whether or not the creative turmoil here has an effect on the title's sales is yet to be seen, but my magic 8-ball says, "Signs are not good."
Templesmith is a fantastic artist with a distinct macabre style and I'm sure he'll land on his feet with another project in due course.  I can only hope that the result is more issues of his and Warren Ellis' "Fell," assuming the writer has been quietly producing scripts for it in the past few years.
Dead Body Road #1:  From Justin Jordan of "Luther Strode" fame and the very busy Matteo Scalera who is also illustrating Rick Remenders new title "Black Science" in addition to other projects at Marvel.  The premise is simple, a man's wife is killed and he's going to kill them all.  It's a premise so unoriginal that your interest in this title will likely hinge on how much you like the creators.  I liked the first volume of "Luther Strode" well enough and the second was if nothing else a very different animal (more on that tomorrow).  What's here isn't enough to get me interested in the title, though maybe that'll change if the reviews are any good.
The Saviors #1:  A man stumbles upon an extraterrestrial conspiracy to take over the world and has to band together with the few others who are aware of its existence.  It's the same premise as the old TV series "The Invaders," which creators James Robinson and J. Bone hope to put their own unique spin on.  While I really liked Robinson's "Starman," he's best with characters rather than plotting.  The question here would then be if the characters will wind up being interesting enough to compensate for that.  I'm not expecting it will, but I wouldn't mind being wrong.
Black Kiss 2 Christmas Special:  From the solicitation text:  "Because nothing says "holiday fun" like an endless stream of incredibly nasty revenge sex."  I think that says it all.
Fatale vol. 4:  Pray For Rain:  I still think that it was the wrong time in the title's run to do a story full of flashbacks for the previous volume.  Fortunately we're back to the main narrative here with a story that centers on a struggling band in Seattle during the '90's.  That means this story will likely read best while you're wearing flannel and haven't shaved or showered for a week.  Kidding aside, this is certainly an interesting setting for a horror story as I can't think of one off the top of my head that takes place in this time and place.  According to Ed Brubaker, he got the idea from Joe Hill of "Locke and Key" fame, and that's another reason to look forward to this volume when it arrives.
Jupiter's Legacy #1 Studio Edition:  If you thought that the first issue would've read better if Frank Quitely's art was in black-and-white and contained Mark Millar's original script, then this is the issue for you.  It also means that with issue #4 scheduled to ship in October, the title has fallen off of its bi-monthly schedule.  Given the creators' history, it was a matter of "when" this would happen rather than "if."  I wonder if Vegas will be offering odds on whether or not issue #5, the end of the first "volume" will make it out by February…
Great Pacific vol. 2:  Nation Building:  The first volume had an irresistible idea behind it that creator Joe Harris didn't really explore the full potential of.  Rather than focus on the logistics and political maneuvering of starting a new country on a trash heap floating in the pacific, he treated it an adventure story with sci-fi overtones with logic being a secondary concern.  I like the idea enough that I'm willing to read this volume to see if he'll deliver on its promise, but expect something quite bitter if Harris just delivers more of the same of what we got in vol. 1.
Happy!  Deluxe HC:  So if you didn't rush out and pick up Grant Morrison and Darick Robertson's quirky surrealist hitman story when it came out, your patience is rewarded.  This volume may cost $10 more, but it comes with an extra 10-page story by the creators and is being released at the beginning of December so that its Christmas-themed story can be enjoyed as part of the season proper.  I know that shouldn't matter that much, yet it does to me.  Not enough for me to go out and re-buy it.  I don't have that kind of money to burn.
The Complete Multiple Warheads:  While I've generally liked what I've read from Brandon Graham at Image, that's because he's possessed of a fearsome imagination that can conjure up situations and ideas that I've never seen before.  His main issue, though, is finding a way to tie them all into a coherent story.  This one involves an ex-organ smuggler and her werewolf boyfriend traveling across a sci-fi/fantasy version of Russia.  So… call it "More of the same?"  "'King City' with a Russian accent?"  I'll let you know what I find when it comes out.
Snapshot & Thief of Thieves vol. 3:  Not content to give you one volume of comics from Andy Diggle this Christmas, Image is going to give you two.  So you're getting twice the action, bodycount and double-crosses that you'd have gotten had they only decided to ship one of these volumes.  Of the two, I'm looking forward to "Snapshot" more.  It's a story about a guy who finds a hitman's cellphone and all of his "kill confirmed" pictures and winds up being hunted by the hitman himself.  Sure, it sounds pretty straightforward when I say it like that, but the art is from Jock who collaborated with Diggle on the excellent "The Losers" and "Green Arrow:  Year One."  "Thief of Thieves," however, has an uphill struggle in order to get back the sense of fun it had in the first volume and to convince me that Conrad's son is a worthwhile character.  So yeah, the edge goes to "Snapshot" for now.
Secret #7:  Here we come full circle to another series that was delayed due to turmoil with the creative team.  Though not of the kind that involves "drama," at least not the public kind.  Jonathan Hickman's spy story launched at around the same time as "The Manhattan Projects" last year and lasted all of two issues before artist Ryan Bodenheim's health issues put the series on hiatus.  However, it came back a couple months ago and has now reached its final issue.  So even these kinds of things can have a happy ending depending on the patience of the parties involved and their willingness to work through these issues.
Jason Glick