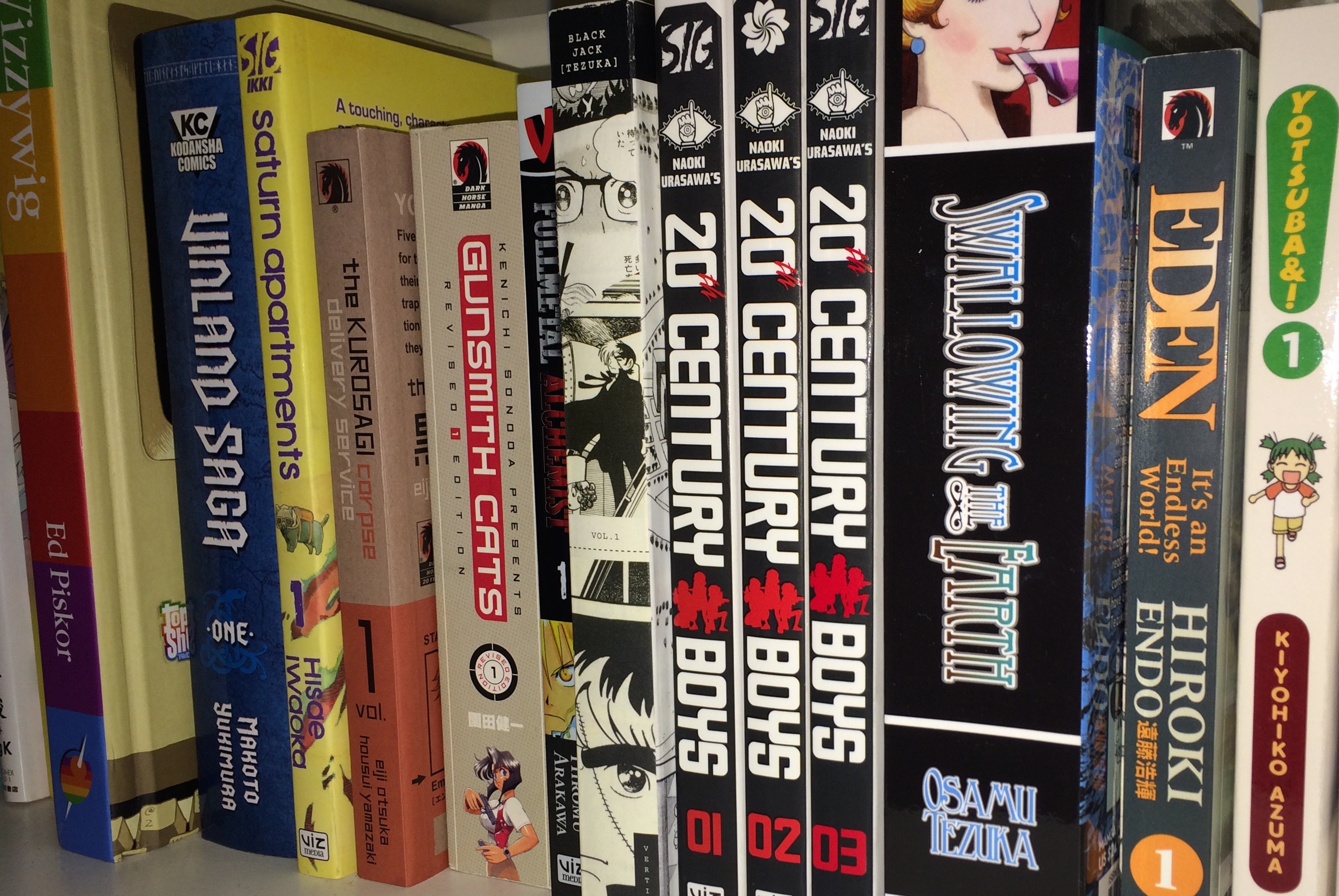 It turns out that Image will be doing away with retailer-exclusive variants for single issues of their comics.  Apparently they don't do much for a title's long-term health and only serve to feed the speculator market.  Instead, they'll be offering retailer-exclusive trade paperback editions instead.
This may seem like it'd be more up my alley, but it's just a cover.  I could not care less.  For a retailer-exclusive stunt that actually did get me to order a collection through my local comic store, you have to go back to Vertical's release of Tezuka's "Black Jack" manga.  In order to boost sales of the first three volumes, they were offering them in hardcover with an EXCLUSIVE STORY that wouldn't be in the paperback edition.  Yes, it was a huge markup from the paperback edition, but… EXCLUSIVE STORY!  I'm a sucker for additional content like that, and Vertical even provided commentary as to why the stories in question haven't even been reprinted in the Japanese editions.  So to anyone at Image who is reading this:  Now you know what you have to do in order to get me to buy any of these retailer-exclusive trade paperbacks you'll be offering in the future.
Alex + Ada vol. 3:  I never got around to picking up this "What if CLAMP's 'Chobits' was re-imagined by Western creators" series.  Heard a few good things about it, never enough to get me to pick it up.  This is its final volume, meaning that the series has a nice compact fifteen-issue length.  I have to admit that makes picking it up a more attractive prospect.  Or I could just wait longer to see if they'll collect the entire series in a one-volume omnibus.  That could happen too.
Black Science vol. 3:  In which the cast realizes how their actions are hurting the multiverse and vow to leave each world in better shape than they found it.  Okay, the world-jumping premise of this title was already more than a little like "Sliders" and this description makes it sound even more like the old Fox/Syfy series.  At least creators Rick Remender and Matteo Scalera have shown that they can bring balls-out action like that show never saw with their title.  But, I'm still more interested in finding out how repentant scumbag Kadir is going to try and make himself into a better person.
Chew vol. 10:  Blood Puddin':  You know, I was going to give whoever wrote the solicitation text props for just using the bog-standard description for a new volume of the series.  Because it doesn't need anything else to sell itself, you see.  Then I noticed, "CAN TONY STOP HIS MOST DANGEROUS ENEMY?" and was just a little disappointed.  At least I won't have any issues like these when I actually read this forthcoming volume.
Dark Corridor #1:  A crime series with an interesting style, judging by the cover.  It's set in the fictional city of Red Circle which has been completely at the mercy of its mobsters for quite a while now.  That's changing as they're being picked off by unidentified female assailants.  Sounds promising enough, except for the fact that it's also described as "a 'Goodfellas' script re-imagined by Quentin Tarantino."  The nerd in me has to go, "But there was only one 'Goodfellas' and I've seen 'Reservoir Dogs' and 'Pulp Fiction' so I think I can guess what this would be like!"  Sorry, couldn't keep the snark or smart-assedness reined in there.
Kaptara #5:  End of the first arc.  Described as a "Great jumping-on point for anyone who likes to read stories in reverse-order!"  Oh Chip Zdarsky, why are you so cray-cray?
Morning Glories #50:  Described as the climax of the "second season" and featuring a finale that will have everyone talking.  More than likely because the series will raise even more questions without providing answers for the ones it already has.  That seems to be the way this title has rolled for a while now.  However, writer Nick Spencer has previously said that "Morning Glories" was set to run for sixty issues.  So we're in the home stretch now.  Unless these 25-issue-length "series" is an indication that the title will be wrapping up with issue #75.  Which sounds like a terrible idea when I think about it.
Also, I like the design of issue #50's cover.  Yet I also feel that it's covering up a great "cast photo" from artist Rodin Esquejo.  Maybe the alternate covers will have the full image revealed.
Oemnibus:  I've been aware of the various one-off projects that Michael Avon Oeming has put out through Image over the years.  What I didn't realize was that there have been enough to warrant the publication of a 300+ page omnibus collecting them all.  I like the man's art and for $25 the price is right.  One I'll be looking out for in the coming months.
Phonogram:  The Immaterial Girl #1:  Finally!  After YEARS of waiting the third volume of Gillen and McKelvie's "music as magic" series returns.  Thanks to the increased profile of its creators, this latest batch of issues should sell well enough to allow McKelvie to eat while they're being serialized.  This time out, delightfully bitchy phonomancer Emily Aster takes center stage.  The solicitation text helpfully informs us that she sold half of her personality nearly a decade ago in order for the power to rule a coven of phonomancers.  It's a good thing that the person who wrote the solicitation text doesn't seem to think that anything could ever go wrong with such a deal.  Otherwise, I might be worried for Emily.  Looking forward to seeing how the tables will be turned as she'll likely have to seek out the help of perfect ass David Kohl in a reversal of their fortunes from the first volume.  Or, not.  Gillen's slippery like that.
Satellite Sam vol. 3: Satellite Sam And The Limestone Caves Of Fire:  Okay, now here's a series with the balls to only let you know that it's collecting issues #11 to 15 in its solicitation text.  Which represent the finale of this murder-mystery-cum-exploration-of-the-early-days-of-TV series.  Vol. 2 was an improvement over vol. 1, so we'll see if writer Matt Fraction and artist Howard Chaykin can stick the landing in their finale.
Sunstone vol. 3:  Stjepan Sejic's series has always been about more than kinky lesbian BDSM-themed sex.  Though there's plenty of that too.  The second volume (review forthcoming) only furthers that as the relationship between Ally and Lisa becomes deeper and more complicated as Lisa is introduced to her mistress' friends and finds out more about her past.  Yes, the sex is a draw but it's the character drama which helps this title stand apart from the crowd.  The extras in the first two volumes have also been a perfect example of the kind of bonus content I like to see in my comics. Unless you're completely turned off by the subject matter, this is the rare erotic title that's worthy of a spot in your library.
The Walking Dead vol. 24:  Life and Death:  "Review forthcoming" for the latest volume of this series as well.  Spoiler Warning:  It's great and I'm sure Chandler Riggs can't wait until they get to it in the TV show.  While the solicitation text doesn't give much away, I was more surprised to see that this volume was being solicited in August.  I mean, the most recent volume debuted after the show had ended and this new one was going to come out before the start of season six.  Then I realized that the spinoff, "Fear the Walking Dead" will be arriving in August.  Also, since the number of this volume is divisible by eight, that means another compendium will be arriving in the near future.  It'll be in October from what I've heard.  Just in time for the start of season six.