Episodes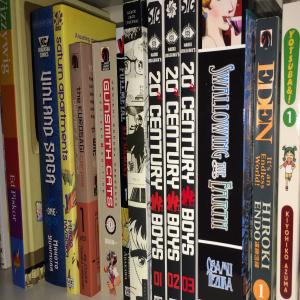 Monday Sep 18, 2017
Monday Sep 18, 2017
It's been three years and five months since we last saw a volume of "Drifters" on these shores.  The only reason we're getting a new volume now is because the series had a popular anime adaptation last year.  I just want to let that sink in for a bit.  The reason the "Drifters" manga -- and by extension "Blood Blockade Battlefront's" return in December -- is coming out again is all down to its successful anime adaptation.  Not because of any extraordinary effort on Dark Horse's part, but because of the anime.  So while I'll continue to ask along with everyone else about the status of titles like "The Kurosagi Corpse Delivery Service" and "Eden:  It's An Endless World!" it helps to remember that there's really only one thing that moves the needle when it comes to getting Dark Horse to bring a series back from hiatus.
...well, unless you manage to convince three thousand of your closest friends to pick up a copy of the above-mentioned titles' most recent volumes.  I don't have that many, but do any of you?
Anyway, the good news is that "Drifters" returns in good form with the members of the title group working to stage a swift takeover of Worlina, Capitol of the Orte Empire.  While this would appear to be an impossible task in the best of circumstances, there's just enough crazy between its leaders -- samurai Shimazu Toyohisa and military genius Oda Nobunaga -- to pull it off.  The battle that follows is a genuine struggle between the good guys (Drifters) and the bad guys (Ends) that actually had me anxious as to how it was all going to turn out.  Even if the civilization-building aspect of the series that I like best about it was mostly sidelined here, the drama of that struggle and the balls-out action on show from mangaka Kohta Hirano still make this volume a thrilling read.  If you liked the anime and still haven't picked up a copy of the manga do yourself a favor and start reading this now.