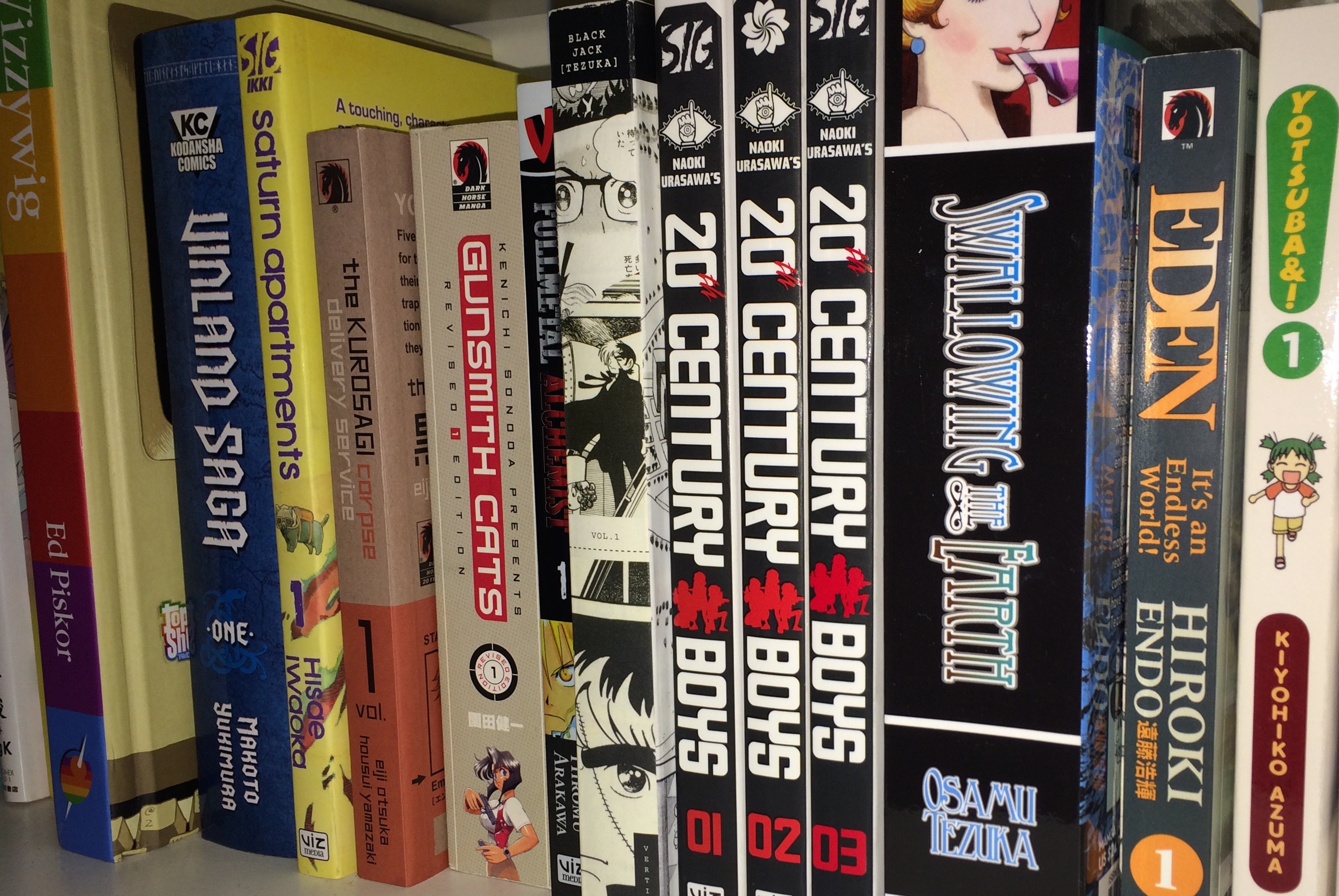 Above-the-Board Recommendation:
Cover vol. 1 & Pearl vol. 1:  The former is about a comic book creator who is recruited to be an undercover operative by the CIA.  The latter is about a tattoo artist who is also a Yakuza assassin. Linking the both together is the fact that they're both written by Brian Michael Bendis.  The writer has shown, much to my surprise, that he's actually committed to putting out his creator-owned work on a regular basis with his move to DC. While it's nice to have continuations of long-dormant series like "Scarlet" and "The United States of Murder Inc.," "Cover" and "Pearl" are notable for being all-new titles making their debut through DC.  They've also got a strong artistic pedigree with David Mack illustrating "Cover" and Bendis' "Jessica Jones" collaborator Michael Gaydos handling "Pearl." I've gone on about the writer's uneven output during his latter years at Marvel, but the move to DC appears to have reinvigorated him and I want to see if that carries over to the quality of his creator-owned work in addition to its quantity.
Six Days:  The Incredible True Story of D-Day's Lost Chapter:  When it comes to WWII-era war stories written for the American market, the best (and pretty much all) of them usually have the words "written by Garth Ennis" on the credits page.  This one is looking to be an exception as it comes to us from co-writers Robert Venditti and Kevin Maurer, and artist Andrea Mutti. "Six Days" tells the story of 182 members of the 82nd Airborne Division who parachuted behind enemy lines on D-Day and found themselves way off target and forced to take refuge in the village of Grainges.  While the villagers are willing to hide them, it isn't long before the Germans find out and the soldiers are forced to hold off a contingent of 2,000 soldiers looking to wipe them out. It feels reductive to call this "a solid hook for a story," but it's a welcome reminder that there are still plenty of stories to be told about people's experiences in WWII.  As well as the fact that comics are an ideal format for this.
Batman #68:  Amanda Conner doesn't do a whole lot of interior comics work these days, so the fact that she's doing a whole issue of "Batman" is notable.  Even better is that her comic sensibilities look to be perfectly aligned with this issue's subject matter as we get a look at what Catwoman's "Catchlorette" party would've been like.  That's "would've been like" because it apparently never happened and this whole "Knightmares" arc is about someone (probably Scarecrow) trying to break Batman's mind. Even if this is an imaginary story, it should be fun to see Conner showing Catwoman, Harley Quinn, Poison Ivy, et. al. having a good time.
Damage #16:  Another of the "New Age of DC Heroes" titles bites the dust.  This just leaves "The Silencer" and "The Terrifics," the latter of which gets a new writer in Gene Luen Yang this month, as the sole survivors of the initiative.  Remember kids, if you're going to start a new initiative that purports to put artists first on it, you've got to get the artists to stick around for longer than the first arc.  Or first issue in the case of Jim Lee and "The Immortal Men." Which is why you forgot that series existed until I reminded you about it just now.
The Dreaming #8:  I didn't mention it last month, but Si Spurrier's second arc of this series looks to be kind of a big deal.  Why? Because Dream of the Endless looks to be front and center for it. You rarely see the Endless in DC comics these days because the characters, Dream in particular, are so closely associated with Neil Gaiman thanks to his work on "The Sandman."  These characters aren't owned by him but DC and the creative community have observed a kind of deference to using them in comics. Which is why you heard that Scott Snyder talked to Gaiman about using Dream in "Metal" prior to the character's appearance in that event last year.  Gaiman gave his blessing to this "Sandman Universe" initiative as well, but "The Dreaming's" initial arc focused on the supporting cast of "The Sandman" and I thought that's where its focus was going to stay. That's not the case anymore and I'm very interested in seeing what a writer as ambitious and creative as Spurrier is going to do with Dream.
The Wild Storm #22:  I've been anticipating this series' version of "The Authority" since the first volume.  The cover to this issue lets me know that the band has finally come together. I'm not sure if they'll have the same world-changing levels of power that their original incarnation had, but with only three issues until the (very likely) end of this series they're going to have to make their mark as soon as they can.
Astro City vol. 17:  Aftermaths:  Just a reminder to myself that I've got a LONG way to catch up on this series.  I'm currently at *checks bookshelf* vol. 3. At least I'll have some time after this one comes out as the series is transitioning to an original graphic novel format for new stories from here on out.
Hitman Book One:  The classic Ennis and McCrea series about metahuman hitman Tommy Monaghan and his friends gets the first in a series of new editions.  "Book One" collects the first two volumes of the series, which will bring things more in line with the final three volumes that collected its long-out-of-print back half.  One for the "If you haven't bought it by now…" category to be sure.
Justice League Odyssey vol. 1:  The Ghost Sector:  You know, I was thinking about picking this series up once was revealed that Stjepan Sejic was providing the art.  Then it kept getting pushed back due to lots of rewrites that in turn forced Sejic to go back and redo a lot of his art as well.  I imagine this led to him only doing the first three issues as his name has been absent from its credits ever since. It makes this series a lot easier to ignore too.
Lucifer Omnibus vol. 1:  Collecting the first half of the "Sandman" spinoff series from writer Mike Carey, and regular artists Peter Gross and Ryan Kelly (a whole lot of other talented people from Scott Hampton, Chris Weston, Dean Ormston, Jon J. Muth and more contributed to this series' art as well).  Not only does this fall into the "If you haven't bought it by now…" category but the "Far better than it has a right to be," one as well.
Suicide Squad vol. 8:  Legerdemain:  By the time this volume arrives it'll have come almost a year and a half since the release of the previous one.  I'm not sure why it took so long to get this final volume of the classic Ostrander/Yale run of the series, but I'm glad it's finally here.  For anyone who's wondering, "Legerdemain" is a fancy way of referring to sleight-of-hand.