Episodes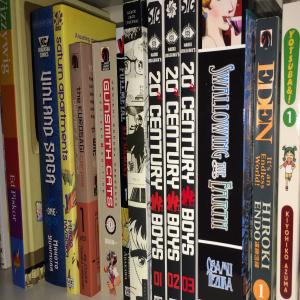 Saturday Apr 23, 2016
Saturday Apr 23, 2016
Between the two sales-challenged manga series that I routinely talk up, "Vinland Saga" and "Eden:  It's an Endless World!," it looks like the former is getting a reprieve later this year.  Kodansha U.S.A. announced at the Emerald City Comic-Con that vol. 8 of Makoto Yukimura's excellent historical viking action series will be coming out later this year.  The appearance of future volumes on these shores was not confirmed.  So if you want to know more about the adventures of Thorfinn and Einar in the New World you'll have to buy a copy of vol. 8 for yourself, and one more for a close friend (which would be Steve in my case).
As for "Eden…"  Hope continues to spring eternal there.  If the two-and-a-half year schedule between publishing new volumes holds, then we'll see a new volume later this year.  Maybe we'll get lucky and Dark Horse will publish the last four volumes in two-in-one editions.  Or maybe we'll get nothing at all.  Anime Central is in four weeks and that's when most of the company's big manga news broke last year.  If they have any more announcements like "I am a Hero" or new volumes of other series that have been on hiatus, it'll be there and I'll have commentary after it happens.
Angel Catbird vol. 1:  Renowned writer Margaret Atwood's first comic and one of the company's highest-profile releases this year as a result.  It's described as a pulp-inspired superhero adventure where a young genetic engineer's DNA is spliced with that of a cat and an owl.  Numerous cat puns are also promised as well.  I'm not sure if this is the comic people were expecting from someone with all of the awards Atwood has won (and are helpfully listed in the solicitation text).  But if she wants to dabble in genre work like this, then all that's going to matter is if it winds up being fun or not.  That'll forgive any amount of silliness.
Black Hammer #1:  This series from writer Jeff Lemire and artist Dean Ormston was announced a while back before it was delayed due to (what I think was) problems with the artist's health.  It's back now, and it has Lemire diving into the superhero genre outside of his work at the Big Two.  The premise is certainly different:  The champions of Spiral City were banished from existence after a multiversal crisis and now spend their days toiling on a timeless farm.  Now, after all these years, they're going to try and find their way home.  You definitely get the feeling that there's more going on here, so it'll be interesting what the first issue sets up.  Assuming the art is your cup of tea.  Ormston's style defaults to "creepy," which makes him a pretty good stand-in for Lemire on art.  Expect an unsettling read, if nothing else.
Bounty #1 (of 10):  "Rat Queens" creator Kurtis Wiebe teams with artist Mindy Lee for a series described as the "[The One I Just Mentioned] meets Firefly."  That's probably reason enough for a good number of fans to get excited about this.  Not me, though.  I've read through vol. 3 of "Rat Queens" and the shine is coming off of that series as it invokes a lot of drama without really taking the time to establish its characters or the world.  In fact, I've read a decent amount of stuff from Wiebe so far and have yet to encounter something that I've enjoyed without reservation.  Maybe this will finally be that series?  Or maybe I'll just cut my losses now and let it pass on by.  We'll see.
Conan the Slayer #1:  Cullen Bunn, writer of the recent "Magneto" series and "The Sixth Gun" as well as Dark Horse's own "Harrow County," takes on the mighty barbarian.  Unlike Mr. Wiebe, I've generally enjoyed what I've read from Bunn and he sounds like a solid fit for the character.  That said, longtime readers should know the drill by now.  Expect a 25-issue run (assuming sales remain steady) where Conan mixes it up with outlaws, runs afoul of dark magic, and beheads a snooty noble or three.  Good fun for the converted, is what I'm betting on seeing here.  Everyone who isn't can safely ignore this, or go check out volume zero, "Born on the Battlefield," to see the best of this series from Dark Horse.
Groo:  Fray of the Gods #1:  He's fought countless battles against all the humans and monsters on this planet that are willing to take him on.  So how does Groo take it to the next level?  Why by becoming an unwitting pawn (not that he could be any other kind) in the battle between the Gods for the spirit and future of mankind.  Regardless of the name or type of deity you follow, rest assured in knowing that getting involved with Groo is certainly the dumbest thing they've ever done.  As it is, I'm actually surprised to realize that Sergio Aragones and Mark Evanier haven't done a story like this before.  It's a twelve-issue maxi-series like "Friends and Foes" and they should have PLENTY of material to work through for the length of it.  Hell, a twenty-four issue maxi-series may not be long enough for this premise.
Neil Gaiman's Troll Bridge HC:  A companion of sorts to the also-forthcoming "How to Talk to Girls at Parties" in that it also adapts a prose story from Gaiman into comics form.  The adaptor this time is Colleen Doran, who has actually worked with the writer before on a couple issues of "Sandman."  If you need a reference point, she did the Element Girl story from vol. 3.  The story, which involves a monster who haunted a boy in his childhood continuing to torment him as a man, is in good hands is what I'm saying here.
Predator vs. Judge Dredd vs. Aliens #1 (of 4):  Dredd has faced off against both of these creatures before.  BUT CAN HE TAKE THEM BOTH ON AT THE SAME TIME!!!  If that line didn't get your blood pumping or cause you to laugh out loud, then this is not the series for you.  Still, the threat of these two alien species doesn't strike me as the craziest encounter Dredd has ever had.  One of his recurring antagonists is an undead monstrosity that comes from a dimension where life is considered the ultimate crime, after all.  Even if this does just amount to a really crazy weekend in the lawman's book, writer John Layman sounds like the right guy to deliver it to us.  His years of work on "Chew" have shown that he can take the most insane concepts and wrangle them into a readable form while still managing to make the experience a whole lot of fun.  I'd expect the niche audience for this to be well served by what's being offered here.
jason@glickscomicpicks.com