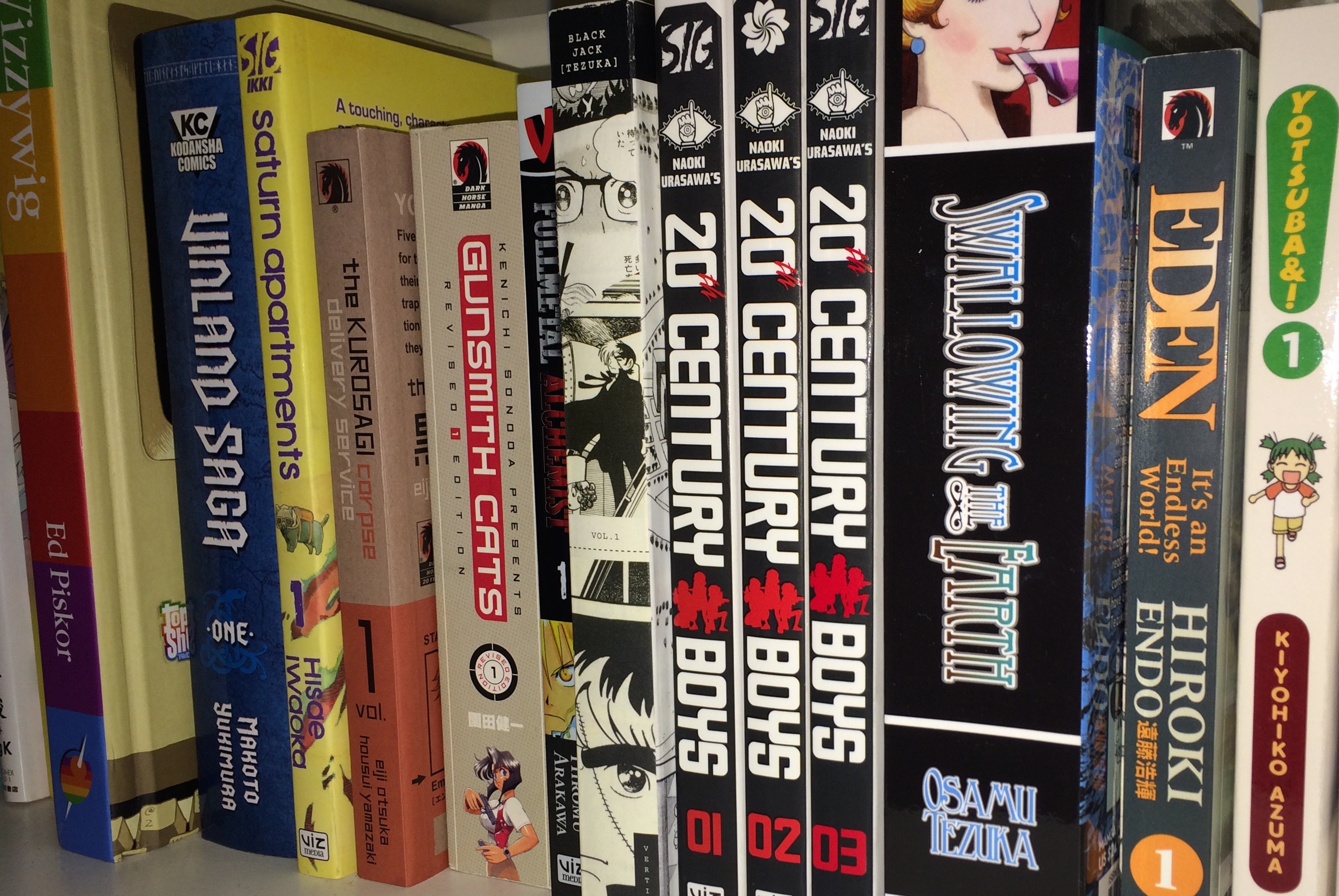 It's official:  The anime adaptation of Kohta Hirano's "Drifters" manga is a hit according to Crunchyroll.  It's the most streamed anime on the site in twenty states, which is a good thing for the manga as well.  While the series is currently up to vol. 5 in Japan, we haven't seen a new volume since the third one was published out here by Dark Horse in April 2014.  Fortunately, the publisher has seen fit to confirm that the two most recent volumes of "Drifters" will be published sometime after April in 2017 (as they're not mentioned in these solicitations).  I'll be picking them up as soon as they're published because I was entertained by the action and worldbuilding Hirano was demonstrating in this series.
While seeing any Dark Horse manga series come off of hiatus is a good thing, there's still cause for concern here.  I'm a little disappointed that the company didn't seize the initiative and get vols. 4 & 5 out while the anime is being streamed.  This is the time when the series has peak awareness and it appears foolish of them to not take advantage of that.  Particularly when it was the anime of Hirano's previous series, "Hellsing," that drove sales of the manga for the company.  Also, Dark Horse's announcement that the subsequent volumes of "Drifters" will be coming out in the wake of the anime's success further underscores their apparent inability to sell a manga without a successful anime or other media (see also, "Vocaloid") tie-in.  I might as well just give up waiting for them to finish "Eden" until it gets an anime at this rate…
Aliens:  The Original Comics Series vol. 2 HC:  So it looks like the reprint of the original miniseries was a success.  Now it remains to be seen how far the company will go in reprinting their backlist of "Aliens" comics in this format.  I wouldn't be surprised if this was it, though.  The first three "Aliens" miniseries from the publisher represent a nice, complete story before future installments took the form of an ongoing series-of-miniseries.  Continuity with the films is also thrown further out the window with Ripley's appearance in the two miniseries collected here.  Then again, if the fans who bought the first volume weren't put off by Newt and Hicks' appearance in the previous volume that's likely not going to bother them here.  A more pressing issue is the fact that the two miniseries collected here just aren't as good as the original.  Writer Mark Verheiden's cerebral approach to the material is still present here, but with a lot more tropes and action to distract the reader.
Baltimore:  The Red Kingdom #1 (of 5):  The final "Baltimore" miniseries!  While the collected edition of "Empty Graves" has yet to arrive, it doesn't look like things ended well for the title character and his crew.  The solicitation text mentions that while the members of Team Baltimore are either dying on the frontlines of the fight against The Red King or hiding, Baltimore himself is missing.  With the deck stacked against them, this sounds like the perfect time for our protagonists to get their act together and stage a stunning, and compelling, come-from-behind victory!  I'm sure it'll be great.  Unless co-writer/co-creator Mike Mignola thinks that his own universe is ending on too positive a note and just wants to see everyone die here.  I'm not saying this will happen, but I wouldn't count it out.
Blade of the Immortal Omnibus vol. 2:  Collecting vols. 4-6, which includes the high point of the series "Rin's Bane."  Everyone who didn't buy those volumes initially is going to pick this up, right?  Right.
Caravaggio vol. 1:  The Palette and the Sword:  Milo Manara takes on the influential painter in his latest work.  Coming from Manara, it's safe to assume that there will be a fair amount of sex and women in various states of undress in addition to the sense of swashbuckling adventure presented by the cover.  You're probably already sure whether or not this is something for you based solely on Manara's involvement.  As for me, paying $20 for 64 pages of comics is a dealbreaker no matter how pretty those pictures are.  I'll hold off on checking this out until we get some kind of omnibus edition as we did with "The Borgias" (which I then found for half-price at WonderCon last year).
Conan the Slayer vol. 1:  Blood in His Wake:  In which the title character falls in with a bunch of Kozaki raiders while his wounds heal and gets into more trouble as a result.  While the story sounds pretty standard issue as far as "Conan" tales go, there are a couple things to distinguish it.  There's the fact that it's writer Cullen Bunn's debut on the title.  The "vol. 1" indicates that Dark Horse is (sadly) dispensing with the numbering scheme it has employed with the series since the start of the character's ongoing adventures with the publisher.  Most appreciated by me is the fact that this volume is eschewing a hardcover version and debuting straight to paperback.
Empowered and the Soldier of Love #1 (of 3):  The first "Empowered" miniseries!  More of this title is always appreciated, and the fact that this is a three-issue mini means that the wait for the next "Unchained" volume collecting the adventures of the character that aren't (fully) illustrated by creator Adam Warren just got that much shorter.  What's this one about?  Well, it's all about how love is tearing apart Emp's city.  And that's "love" as an actual force wielded by an embittered International Magical Girl of Mystery.  Warren taking on magical girls again?  I'm sold!  Art this time is from Karla Diaz, who is completely unfamiliar to me.  That's not a problem as Warren has shown to have impeccable taste in choosing talented artists to work with on "Empowered" spin-offs.
Hellboy:  Into the Silent Sea HC:  In the wake of "The Island," Hellboy finds himself on a ghost ship whose pirate is in pursuit of a powerful sea creature.  Mignola is working with artist Gary Gianni for this novella.  This is a good thing as Gianni's talent is as great as his output is scarce.  Even if Hellboy's story is over, it's still good to know we have stories like this to look forward to.  As Mignola finds artists he wants to work with, I imagine.
The Visitor:  How and Why he Stayed #1 (of 5):  Also this month from Mignola and co-writer Chris Roberson is this new Mignola-verse mini.  While we all know that Hellboy found himself in the hands of Prof. Bruttenholm when he was summoned to Earth, it turns out that something else was watching over the boy.  An alien, in fact.  Apparently this is the story of the alien that shows up in "Conqueror Worm," which was something I had forgotten about in the time since I read that story.  These Mignolaverse spin-offs have usually been quite good, so I'll likely be picking this up once it's collected.  The fact that it's going to feature art from Paul "I'd love to see him finish 'Kane' one of these days" Grist is also a bonus.
World of Tanks:  Garth Ennis' miniseries based on the MMO, with art from Carlos Ezquerra and P.J. Holden, is collected.  I've never played the game this is based off of and have no intention to.  I honestly wonder if Ennis even gave it a glance as he was writing this.  In the end, I don't think that matters too much as I'm sure he was happy enough to get the chance to write another war story.  With a focus on tanks.