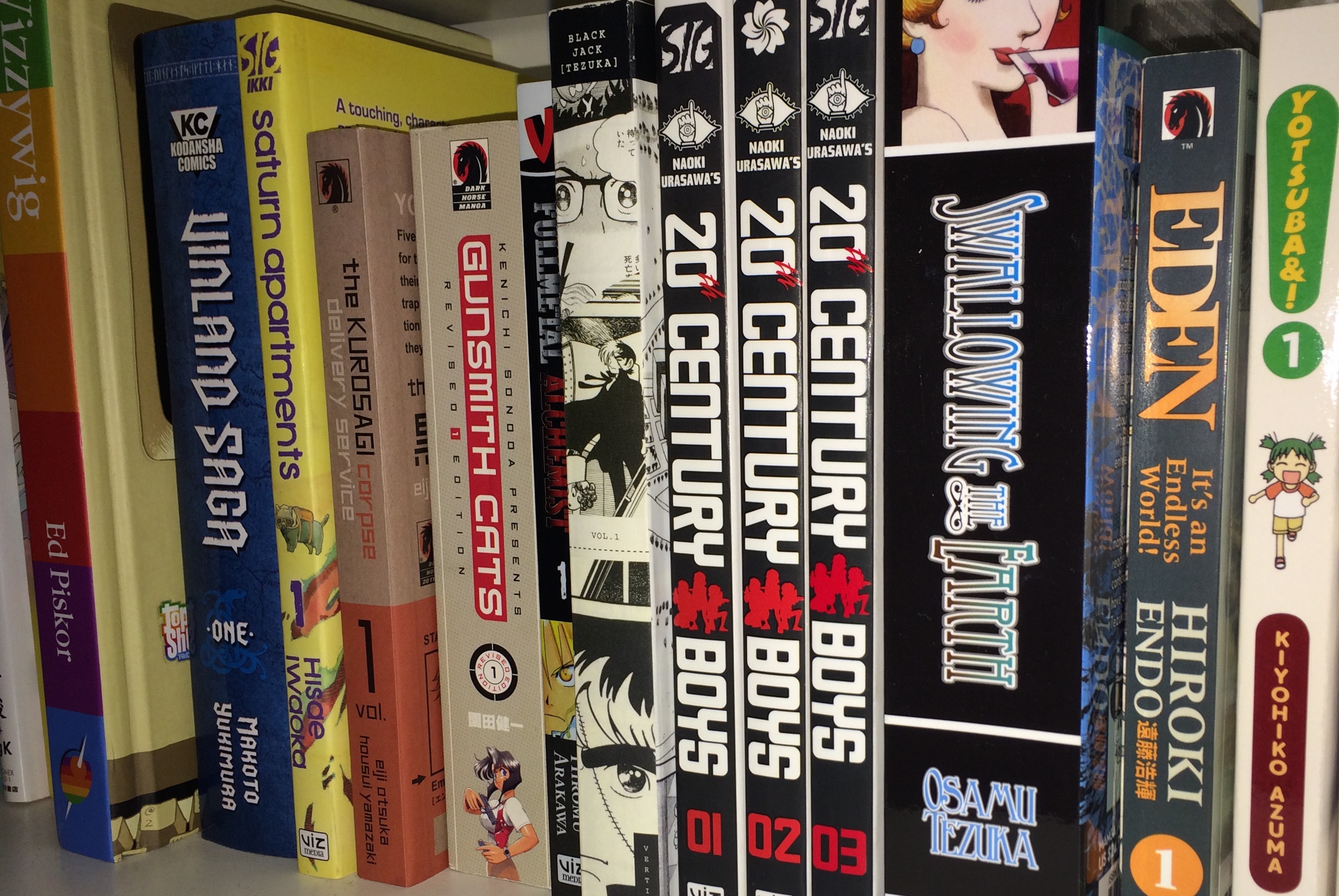 Dark Horse has a new editor in chief as Dave Marshall replaces Scott Allie as the latter moves on to pursue other projects.  While I certainly hope that the company benefits from the move, we now have an indication about how it'll affect their publishing of Japanese titles.  Anime News Network reached out to Carl Horn about the move and got the response that the company is planning to increase its output of Japanese titles by 25% in 2016.  Horn also noted that this number may increase as Dark Horse is still finalizing its publishing plans for next year.  Good news, right?
Depends on how you want to look at it.  When Horn says "Japanese Titles," he's including novels and artbooks in that description.  He even cites two artbooks, "The Art of 'The Evil Within'" and "Dragon Girl and Monkey King:  The Art of Katsuya Terada" that were originally published by the company and eventually received Japanese-language editions.  Consider that the "Hyrule Historia" was one of the most successful projects from the company in quite some time and I'm inclined to believe this 25% increase in the publication of Japanese titles will likely consist of artbooks, licensed and original ones.
Of course, I could be wrong.  I'd be happy to be wrong.  I'm not a big consumer of artbooks like the ones mentioned above unless they're part of a series I feel really passionate about (see:  "The Art of 'Blade of the Immortal'") so an increase in these projects doesn't excite me.  That said, unless "I Am A Hero" hits big when the first volume comes out in April, I don't think we can expect to see a 25% increase in the amount of manga published by the company.
The Art of Mirror's Edge Catalyst HC:  I wouldn't expect this to be on the company's list of artbooks that get licensed for release in Japan.  The fact that "Mirror's Edge" is getting a sequel is still pretty surprising to me.  You could describe the reaction to the first game as "mixed" at best.  So I find it to be amusing that the solicitation text is already describing the book as featuring "Never before seen art from the hit videogame."  Maybe the sequel will deliver on the promise of the first.  That it's coming from EA and studio DICE (currently busy on making sure "Star Wars:  Battlefront" isn't a trainwreck like the last "Battlefield" game) does not inspire confidence in that regard.
Dragon Age:  Magekiller #1 (of 5):  I'm one of the few who has liked all three "Dragon Age" games.  Yes, two had those awful copypaste dungeons, but I really liked how the main quest played out in a microcosmic "Mass Effect" way with your choices affecting what would happen over successive decades in the city of Kirkwall.  I haven't bothered with any of the comics they've spun off from the games because they've yet to have a writer I really care about attached to them.  Now we've got Greg Rucka giving us a story of two mercenaries who specialise in hunting blood mages and wind up taking on a new job from a powerful patron who is (almost certainly) not telling them everything about it.  Even though Rucka is best known for his crime and spy-fiction works, he's really good with worldbuilding and the detailed realm of Thedas should provide him with a lot of stuff to really dig into.
The Eltingville Club HC:  I've been waiting for this to come out after Dark Horse started publishing new "Eltingville" stories.  Evan Dorkin's comics about the ugliest side of fandom have garnered a lot of acclaim over the years and even a few Eisner awards.  They're something I've wanted to read for a while, but this will be the first collection of the series to date.  That said, it'll be interesting to see how many of the comedic exaggerations of this series actually come off as "quite believable" given the idiocy some fans like to demonstrate online.
Founding Fathers Funnies HC:  From Peter Bagge, creator of "Hate" and a long line of scabrously funny comics.  The title seems pretty self-descriptive even though a crucial qualifying piece of information is missing from the solicitation text.  Specifically:  Are the comics collected here funny because they're true?  America needs to know!
Giganto Maxia:  While a new volume of "Berserk" is… more than likely not coming this year, you can at least satisfy your Kentaro Miura fix with this series he put his fantasy epic on hiatus to create.  Taking place one hundred million years in the future (because why not), the Empire of Olympus maintains its power over the world through the colossal mutant beasts in uses to crush its adversaries.  This is looking more like genocide to everyone else, leaving the gladiator Delos, mystic Prome, and the titan Ghora to stand up to the Empire.  While the setting sounds ripe for the over-the-top action and violence that Miura specializes in, he's shown with "Berserk" that he's just as skilled with developing his characters.  That should allow the protagonists mentioned here to transcend their simple descriptions here and make for an engaging read.  Best case scenario is that the manga makes for a captivating experience that keeps me from wondering when we'll see vol. 38 of "Berserk" while I'm reading it.
King Conan:  Wolves Beyond the Border #1 (of 4):  Writer Tim Truman teased the idea that he and artist Tomas Giorello would be doing a story featuring the Old King Conan who has been narrating their "King Conan" stories in the afterword to "Hour of the Dragon."  Now, it's official and it's going to be great!  If you thought that age has mellowed the title character at all, then you thought wrong.  He's only grown more cantankerous with age, and the fact that he's now facing rumors of a cursed relic and a Pictish invasion doesn't actually make me feel concerned for the king.  I feel sorry for anyone who tries to take him on because King Conan has plenty of anger and fire in his belly to bring to the battlefield.  Truman and Giorello have done so many great "Conan" stories together that I have every reason to expect that this will be a smashing wrap up to the time with the character.
The Massive:  Ninth Wave #1 (of 6):  Before they were trying to navigate the complexities of a post-crash world, the members of "Ninth Wave" were crusaders against the wrongs being wrought on the environment.  My issues with "The Massive" stem directly from how it introduced sci-fi/fantasy elements into its narrative without ever really explaining how they could exist in the context of this story.  Now, either creator Brian Wood is going to provide that explanation in this prequel series, or he'll sidestep it entirely and focus on the day-to-day trials of Ninth Wave before the world went to hell.  As the best stories from "The Massive" didn't involve any sci-fi weirdness, I'm hoping we'll just see the latter in these six done-in-one stories.
The Spirit:  New Adventures HC:  While there have been "Spirit" comics from creators other than Will Eisner -- most notably the twelve-issue run from Darwyn Cooke published by DC -- one run was actually authorized by the man himself.  Back in the late 90's, creators like Alan Moore and Neil Gaiman signed on to create new stories featuring the character.  These stories are now being reprinted by Dark Horse.  If you're wondering whether or not a collection like this belongs in your library, did you not catch the fact that this features stories from Moore and Gaiman?  Along with art from the likes of Dave Gibbons and Paul Chadwick?  I would like to think that the involvement of these creators is going to be typical of the level of quality we'll see from the other stories collected here rather than the exception.  That thought makes this an easy buy for me when it comes out in February.